NEWS
【Match Report】U-22 Japan National Team secure a spot at the AFC U23 Asian Cup Qatar 2024™ with a draw against Bahrain
13 September 2023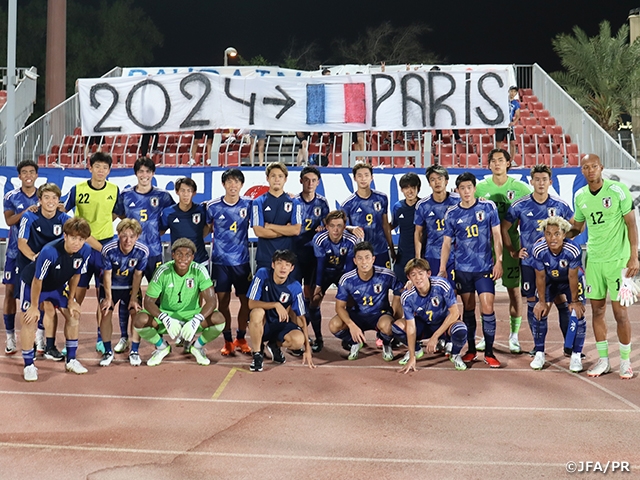 On Tuesday, 12 September, the U-22 Japan National Team played their third match of the AFC U23 Asian Cup Qatar 2024™ Qualifiers against the U-22 Bahrain National Team at Sheikh Ali Bin Mohammed Al Khalifa Stadium in Bahrain.
Having started the group stage with back-to-back wins, Japan were in a position to finish top of the group with a draw or better, while their opponents needed to win to advance.
For this match, Head Coach OIWA Go rotated nine players from their second match against Palestine. SUZUKI Zion (Sint-Truidense VV) made his third consecutive start in goal, with a defence line of UCHINO Takashi (Fortuna Dusseldorf), NISHIO Ryuya (Cerezo Osaka), KIMURA Seiji (FC Tokyo), and OHATA Ayumu (Urawa Red Diamonds). FUJITA Joel Chima (Sint-Truidense VV), MITO Shunsuke (Albirex Niigata), and MATSUKI Kuryu (FC Tokyo) were placed in the heart of the midfield, while SAITO Koki (Sparta Rotterdam) and YAMADA Fuki (Kyoto Sanga FC) were positioned in the flanks. HOSOYA Mao (Kashiwa Reysol) was given the start as the lone striker upfront.
The match began with Japan controlling the ball possession, while Bahrain pinned themselves back in their own half, building up a block in anticipation of their chance to counter-attack. Despite creating a number of chances through set-pieces and Matsuki's runs, Japan were unable to find the back of the net.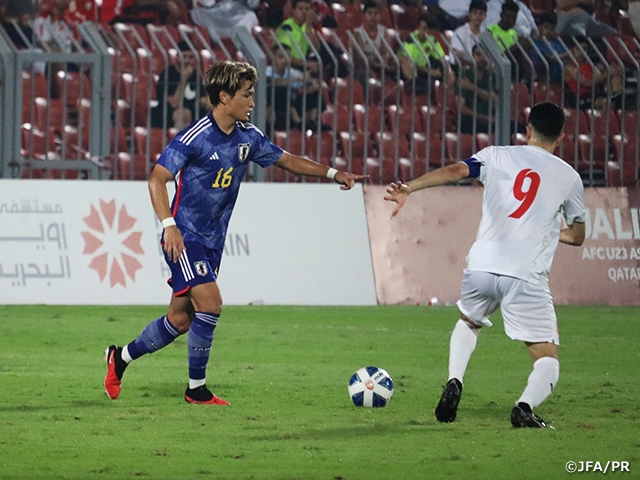 In an attempt to change the dynamics of the game, Oiwa made a number of changes to his side's line-up and tactics in the second half, but they were unable to seize the lead. A close opportunity was created in the 72nd minute, when Fujita initiated an attack that led to the shot of SUZUKI Yuito (Brondby IF), but the midfielder's attempt was denied by the woodwork.
Needing a win to advance, the home side made a late surge that led to them earning a number of free kicks and corner kicks, in which YAMAMOTO Rihito (Sint-Truidense VV) later reflected, "We had to do a better job in those situations." However, led by Suzuki Zion, Japan managed to keep the clean sheet intact to finish the match 0-0. Despite playing through three matches under harsh conditions, Japan managed to secure the group lead and their ticket to the AFC U23 Asian Cup Qatar 2024™ with a record of two wins and a draw, while conceding zero goals.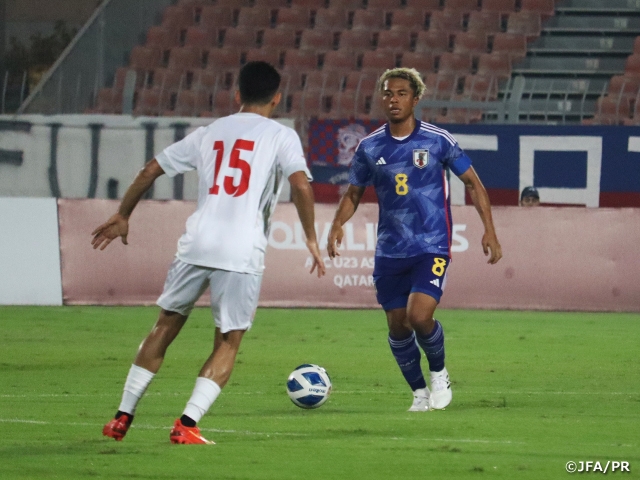 Coach and Players' Comments
OIWA Go, Head Coach
Qualifying for the Asian Cup was our top priority, so we are happy that we were able to fulfil the minimum task. Despite the challenging circumstances, the players competed admirably in these three matches. In light of the game's specific conditions, I am not very concerned about our performance. It served as a further reminder of how challenging these qualifiers can be, but it also greatly boosted our confidence.
DF #5 KIMURA Seiji (FC Tokyo)
It was a challenging match, typical of the Asian qualifiers, with some dangerous scenes near the end. The experiences I gain from playing in these matches will be beneficial to me in the future, so I intend to make the most of it. I had a lot of chances to score from set-pieces, so I am disappointed that I wasn't able to capitalise on them. I will continue to work on my finishing skills once I return to my club.
MF #7 YAMAMOTO Rihito (Sint-Truidense VV/Belgium)
This match served as a timely reminder that if we don't capitalise on our early opportunities, we'll find it challenging to prevail in these Asian qualifiers. We concentrated on maintaining our balance and reducing the hazards because we were continually at risk from our opponent's counterattacks. I wasn't able to slow down the pace of the game towards the end, so that is something I need to work on.
MF #16 MATSUKI Kuryu (FC Tokyo)
This turned out to be a very difficult match, but I am just feeling relieved that we were able to quality for the main tournament. This was a match we should have won, but we were kept scoreless for the entire 90 minutes. We hope to make the most of this experience and try to better ourselves ahead of the final round of the qualifiers.
AFC U23 Asian Cup Qatar 2024™ Qualifiers
Tournament Dates: Mon. 4 September - Tue. 12 September 2023
Tournament information