NEWS
U-22 Japan squad prepare for Myanmar friendly in Chiba training camp (3/9)
10 March 2015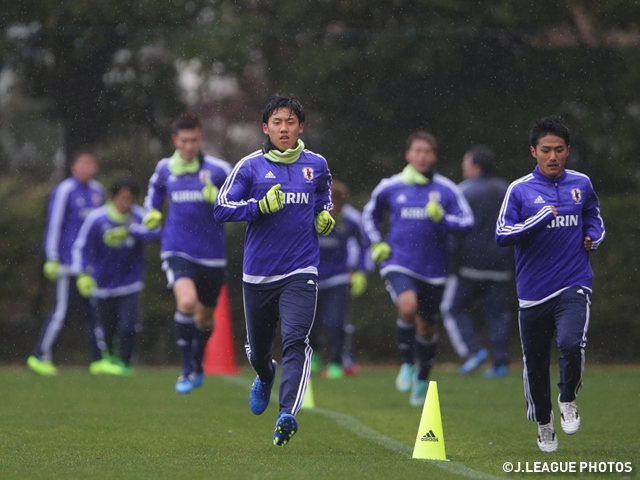 The U-22 Japan national team began a training camp in Chiba Prefecture on 9 March to prepare for their international friendly game against the Myanmar U-22 national squad. The game will be the first-ever game for the Japan Under-22 team to play in front of the home crowds.
The players who came in the dining room had very intrepid faces, and seemed to be psyched up against the big challenges that they'd face going forward. And head coach Teguramori sent the players the following message: ``For the future of Japanese football and the suffered people in the devastated area, let's play a game so we can give them hopes to the two.''
They held the first practice of the training camp in the evening. Before that, there was a presentation ceremony in which they were given encouragement and drinks from Kirin Group, an official sponsor of the Japan national team. The team were forced to have the practice in a low temperature under a heavy rain, but those who had just played in J. League games over the weekend went through recovery menus and the others worked out doing some ball technique and possession practices for about an hour. At the dinner time, they celebrated the birthday of conditioning coach Hayakawa to wrap up the first day of the camp.
The team are scheduled to have an official practice at Fukuda Denshi Arena, the game site, on the 10th.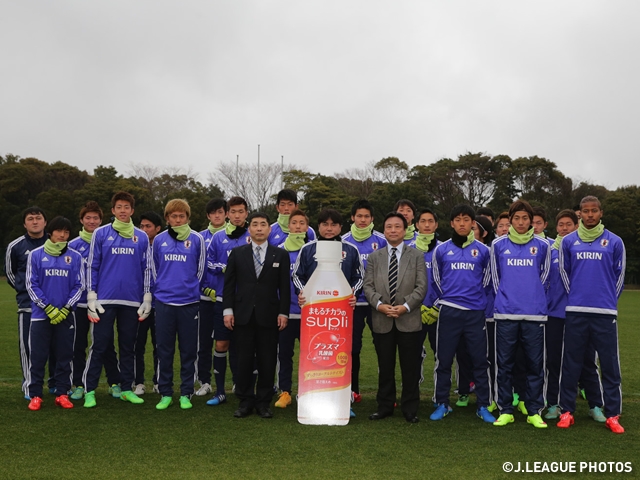 Head Coach and Players' Comments
Teguramori Makoto, Head Coach
It'll be the first time for us to play inside the country. We would like to play a game that can give some hopes to the future of Japanese football. And as we play the game on such a special day of 11 March, we would like to send some energy of our young players to those who have suffered from the Great East Japan Earthquake of four years ago. Also, we want to pour some ray of hopes to them.
Before the Olympic qualifier, I am so settled. I think that I have spent such meaningful time with our players that much. As I've seen the ability of understanding by our players and their unity, I'm absolutely looking forward to the start of the main event.
We would like to show our determination to develop Japanese football and that we are going to be part of it. And we would like to show our fighting attitudes and strengths while we want to play a game so we can convey our ambition no matter who we play.
IWANAMI Takuya, defender (Vissel Kobe)
Because the J. League has opened up, my condition is really good. Because it's the first game inside the country, we want to show a good game. It's 11 of March, so hopefully we can tell people something through our plays. This season, I keep telling myself about my positioning and to not step back too much in 1-on-1 situations. I want to win competitions inside the team and take some leadership. And we want to hold our opponents to zero goals and win them in all the first-round games as part of our process to win a medal in the Olympics.
NAKAMURA Kosuke, goalkeeper (Avispa Fukuoka)
Whether it's at the national team or the club, it won't change my attitudes to play to win. I want to get in it how I usually do. The competitions for positions will be harder, but I believe in myself and I'm not going to yield my spot. More than anything, I hope to do something to help our team win. It's unchanging since I was at the Under-19 team that I am aware of winning every single game I play on this team as well.
NAKAJIMA Shoya, midfielder (FC Tokyo)
I want to be aware of trying to do what I have not been able to do and continuing to do what I've done on this trip. And I would like to enjoy playing football every game. I don't particularly feel pressures towards the Olympics qualifier, but it'll be just fine if I can play as I usually do. I'm excited because it'll be the first game for us to play inside Japan. I would like to show as many plays to make those who watch on TV as possible. And I want to enjoy playing it and make the watchers want to play the game on the following day.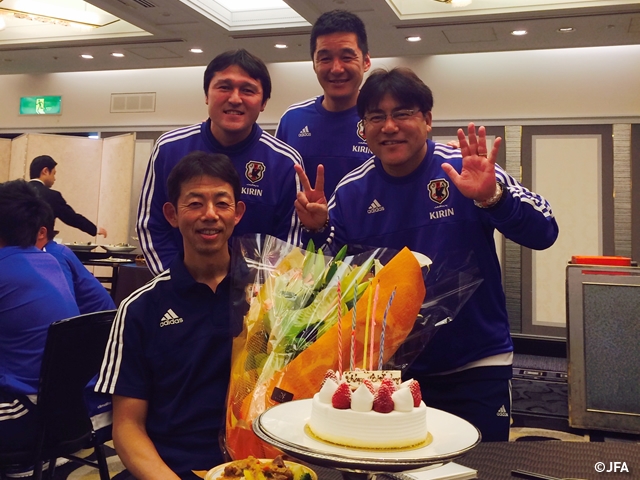 JFA-TV (Japanese version only)
Interview - Head coach TEGRAMORI Makoto

Interview - IWANAMI Takuya

Interview - NAKAJIMA Shoya
Interview - NAKAMURA Kosuke
Schedule
| | | |
| --- | --- | --- |
| Mon. 9 March | PM | Training |
| Tue. 10 March | PM | Pre-Match Training |
| Wed. 11 March | 19:10 | International Friendly Match v U-22 Japan National Team(Fukuda Denshi Arena) |
*The schedule may be subject to change according to the team condition.
International Friendly Match U-22 Japan National Team v U-22 Myanmar National Team
Wednesday,11 March Kick Off at 19:10(estimated time)
Chiba/Fukuda Denshi Arena