NEWS
【Match Report】U-20 Japan National Team lose to Iraq in the Semi-finals of the AFC U20 Asian Cup Uzbekistan 2023
16 March 2023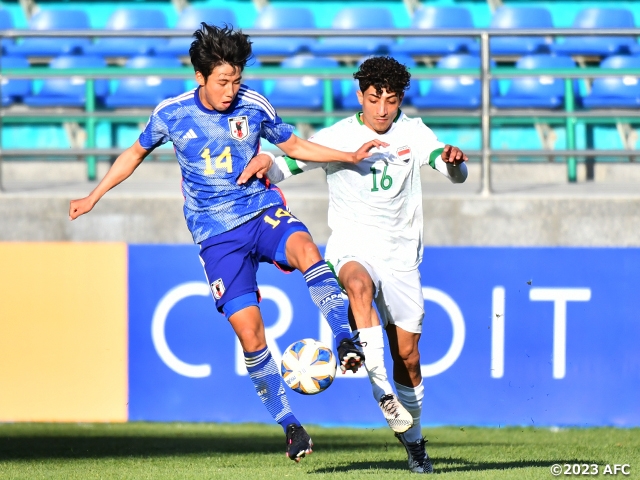 On Wednesday 15 March, the semi-finals of the AFC U20 Asian Cup Uzbekistan 2023 took place at JAR Stadium, where the U-20 Japan National Team faced the U-20 Iraq National Team.
Japan, who have won all four matches in the competition, made six changes to their line-up since the quarterfinals, as Head Coach TOGASHI Koichi commented, "We have changed our starting line-up in all matches so far. There are players who are extremely fatigued, but our basic approach will remain the same."
For this match, HARUNA Ryusei (Mito HollyHock) started in goal with KIKUCHI Shuta (Shimizu S-Pulse), MATSUDA Hayate (Mito HollyHock), YASHIKI Yusei (Oita Trinita), and TAKAI Kota (Kawasaki Frontale) forming the defence line. YAMANE Riku (Yokohama F. Marinos) and YASUDA Kenshin (Oita Trinita) were placed in the middle with ABE Taisei (V-Varen Nagasaki) and SANO Kodai (Fagiano Okayama) playing in the flanks, while YOKOYAMA Ayumu (Sagan Tosu) and SAKAMOTO Isa (Fagiano Okayama) started as the two strikers upfront.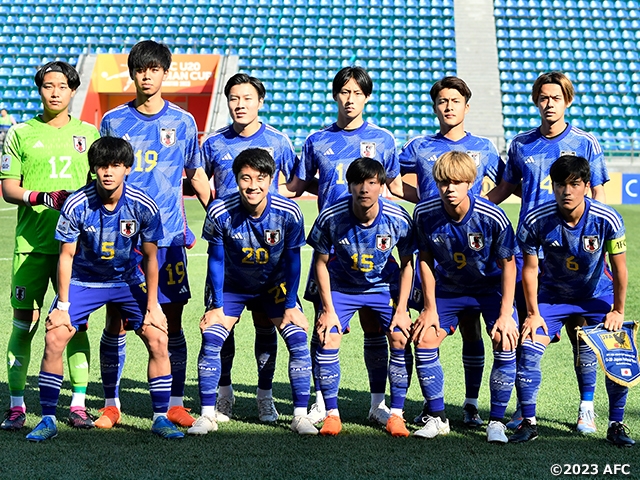 By placing a pair of forwards upfront, Japan tried to "apply pressure from the first half," according to coach Togashi, However, despite having a few good chances in the opening minutes, Japan was unable to take advantage of them, as it was Iraq who scored the opening goal. The goal came in the 12th minute, when Iraq converted a corner kick in which coach Togashi later reflected, "We failed to execute what we were supposed to do in defence."
In efforts to change the dynamics of the match, Japan made three changes during halftime, a move in which the Japanese coach later reflected, "We wouldn't mind being down 0-1 as long as we were the aggressor, but that wasn't the case, so we decided to bring on three players who can provide power to our side." Japan's struggle to find the back of the net continued on, but their drought came to an end when second half substitute EINAGA Takatora (Kawasaki Frontale) fired a well-struck shot to equalise the match in the 83rd minute.
The two sides went back and forth in overtime, as Iraq took the lead in the 103rd minute, before Japan once again levelled the game in the 118th minute, thanks to the goal of KUMATA Naoki (FC Tokyo). After 120 minutes of play, the match went into penalties, where Iraq converted all five of their spot kicks, while Japan missed one, sending Iraq on to the final.
"Although we lost, the players did all they can. It was my shortcoming as a coach. I want my players to stand tall," said coach Togashi, who continued to say, "We now know what we must work on ahead of the FIFA U-20 World Cup Indonesia 2023™."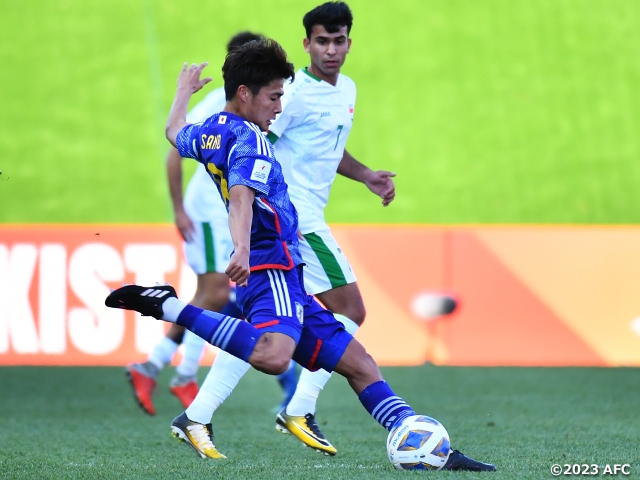 Coach and Players' Comments
TOGASHI Koichi, Head Coach of U-20 Japan National Team
It was a tournament where we experienced all kinds of things. Based on the analysis at hand, I may have made it too difficult for the players, which slowed down the tempo of the game. I think I could have done a better job communicating the information more effectively. I am entirely responsible for the outcome of the penalty shoot-out, as I decided the order.
MF #7 MATSUKI Kuryu (FC Tokyo)
We have a lot of confidence in our ability to score goals, so we weren't worried even after conceding the lead. It was great that we were able to come from behind twice. However, how we enter the match has been a real problem for us throughout the tournament, and we definitely need to fix it for the World Cup. As an individual, I felt that I needed to become a more decisive player in the attacking third.
MF #20 ABE Taisei (V-Varen Nagasaki)
We were once again reminded of how crucial it is to enter the game properly. If we can't win games like these, we won't be successful at the World Cup. I will train even harder and pay closer attention to the details once I return to my team. I feel that my awareness of the quality of my plays has increased since participating in this national team activity. I will try to make the most of this experience to become a better player.
FW #18 KUMATA Naoki (FC Tokyo)
I think I need to be a player who can help the team win in these kinds of matches. This tournament has made me realise that I still have a lot of work to do. (Reflecting on the goal scene) I kept making my runs believing that my teammates would get the ball to me, so I am glad I was able to score that goal. Even if we can possess the ball, it doesn't mean anything if we cannot score goals, so that is an aspect we must strive to improve ourselves.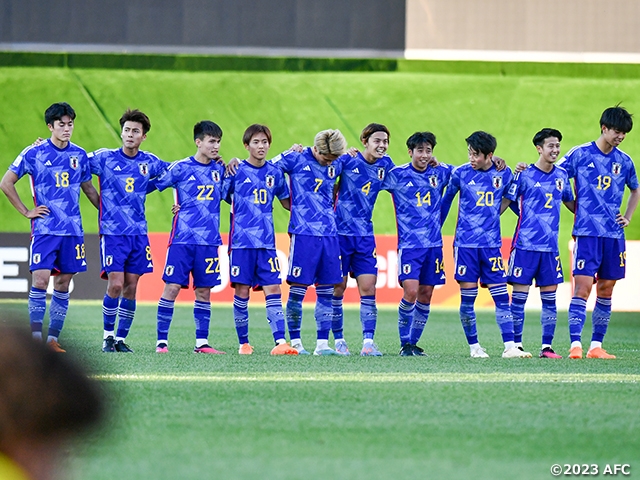 AFC U20 Asian Cup Uzbekistan 2023
Tournament Dates: Wed. 1 - Sat. 18 March 2023