NEWS
U-20 Japan National Team announce squad for the AFC U20 Asian Cup Uzbekistan 2023
16 February 2023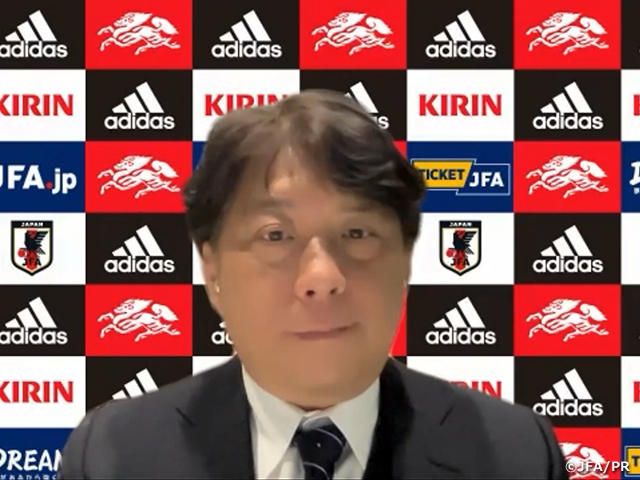 On Wednesday 15 February, Japan Football Association (JFA) announced the 23-man roster for the AFC U20 Asian Cup Uzbekistan 2023, which is scheduled to kick-off on Wednesday 1 March.
Ahead of the tournament, which will serve as the qualification round for the FIFA U-20 World Cup Indonesia 2023™, scheduled to take place in May of this year, Head Coach TOGASHI Koichi shared his aspiration, "We will compete with these 23 players to win the Asian title and earn our spot into the World Cup."
The coach also expressed his gratitude towards the clubs, as he mentioned, "I am truly grateful to the clubs and coaches for understanding and cooperating with us despite being in very difficult situations during the opening weeks of the J.League." He also explained that "versatility" was one of the criteria for the selection process, saying, "We focused on players who can play multiple positions."
Regarding the team captain, the coach mentioned YAMANE Riku (Yokohama F. Marinos), the team's captain during the AFC U-20 Asian Cup qualification held last September, but added, "Riku did a great job as captain, but the rest of the players also did a great job to bring the team together, so I will name the captain once we gather all the players."
The U-20 Japan National Team will be gathered on Monday 20 February before heading to Uzbekistan on the following day. The team will hold a training camp in Uzbekistan before facing the U-20 China PR National Team on Friday 3 March, U-20 Kyrgyz Republic National Team on Monday 6 March, and U-20 Saudi Arabia National Team on Thursday 9 March. "The team struggled dearly as we grew together as a team, and was finally able to reach the world stage," said coach Togashi, as the team will compete in the AFC Asian Cup, where the top four finishers will be granted with their spot into the World Cup in May. (*Fifth place play-off will be held if Indonesia, who are guaranteed with a spot in the World Cup as the host nation, finish in the top four or above.)
Coach's Comment
TOGASHI Koichi, Head Coach of U-20 Japan National Team
Since launching the team from the U-18 category, OIWA Go, FUNAKOSHI Yuzo and I have held numerous training camps to observe many players. Although the team had limited opportunities to travel abroad during the pandemic, each player has worked hard with their respective club and the national team. In order to reach the knockout stage, we must first focus on each match in front of us. We will enter the tournament with the conviction that taking home the Asian title is just as important to us as making the World Cup.