NEWS
U-18 Japan women's national squad domestic training camp: Training Match against Kokoku High School
01 October 2014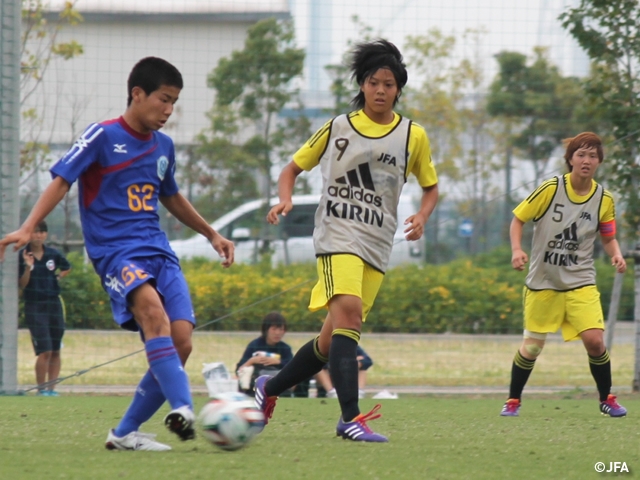 Training Match
Tue. 30 Septembe 2014 Kickoff: 15:00 30min x 4 sets
J-GREEN Sakai S4 Pitch
U-18 Japan Women's National Team 2-8 (1st 0-1, 2nd 1-0, 3rd 0-2, 4th 1-5) Kokoku High School
Scores
13min Goal against (Kokoku High School)
41min KOBAYASHI Rikako (U-18 Japan Women's National Team Candidate)
80min Goal against (Kokoku High School)
83min Goal against (Kokoku High School)
96min Goal against (Kokoku High School)
99min Goal against (Kokoku High School)
102min Goal against (Kokoku High School)
108min Goal against (Kokoku High School)
112min MOMIKI Yuka(U-18 Japan Women's National Team Candidate)
117min Goal against (Kokoku High School)
1st, 2nd game
GK:MATSUMOTO Mamiko
DF:SHIMIZU Risa, NORIMATSU Ruka, TAKEMURA Misaki, MATSUBARA Shiho
MF:ANZAI Yuka, MIZUTANI Yuki, SUGITA Hina, HASEGAWA Yui
FW:SONODA Mizuki, KOBAYASHI Rikako
3rd, 4th game
GK:KITSUKI Yui
DF:ENDO Yu, ICHISE Nana, DOKO Mayo, KITAGAWA Hikaru
MF:KOJIMA Miku, SUMIDA Rin, SENO Yuki, MIURA Momo
FW:SEIKE Kiko, MOMIKI Yuka
Substitutes
46min SONODA Mizuki → SEIKE Kiko
51min MATSUMOTO Mamiko → KITSUKI Yui
60min KITSUKI Yui → NISHINAKA Maho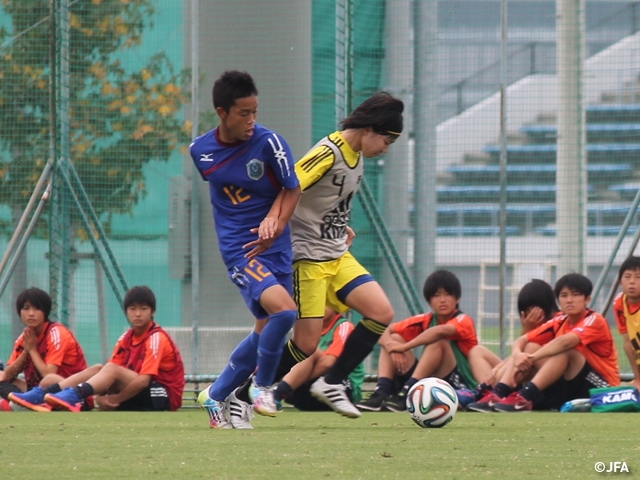 Comments
TAKAKURA Asako, Head Coach
Our first aim in the match was to make a compact form to be able to switch quickly to defense, but we conceded a goal on the 13th minute. The players of opponent team have physical strength and their approach to our play was very strong, so our players could not make many counterattacking opportunities . However, we will have to play against the players just like the boys we played today; we will have to improve combination plays both in defense and offence as well as to be more creative to delay opponent's timing to attack us especially in our building-up moments. Also I think that we will be able to improve on our variations both in offense and defense if we can keep the ball longer. I expect all the players to try their best to improve on what we have found as our issues for AFC U-19 Women's Championship and FIFA U-20 Women's World Cup.
MATSUMOTO Mamiko(Urawa Reds Ladies Youth)
I tried to have more aggressive in defense since our opponents today were male high-school players. I could play with a calm mind even though opponents kept attacking us from the beginning of the match. I think our lighter approach in defense allowed them to score. I learned from this experience that we have to value whatever we do in the matches because we are now in such an intensive environment where a single tiny thing could make a result of the game. We have only 1 day left for this training camp and I want to maximise the rest of this opportunity to share what we need to do to improve ourselves as a team.
KOJIMA Miku(JFA Academy Fukushima)
In defense, we had to chase them eventually because we took wrong positioning due to pressing forward and because of this we gave them good time and space to attack freely. I want to correct our defensive positioning by looking more carefully at opponents' movement and make better prediction on what they may do. I know that most of the players at the world level will have physical strength just like the male players of today's match. We will need a more organised approach to cope with these players with strength, so I want to talk more with all of my teammates to share what we need to do. Also I want to try my best in my local team to improve myself.
TAKEMURA Misaki(Hinomoto Gakuen Senior High School)
I think I have communicated well with various people during the camp even though we have had only 4 days. As a player, I still have got lots of things to improve such as my speed, passing and making tackles to be able to play well against physically strong players. As a team, I thought it is better if we could share ideas more about when to steal a ball to attack. Tomorrow is the last day of our training camp and I want to communicate more and more with my teammates. Also I want to keep a sense of application for being able to play football in such a good environment.
SUGITA Hina(Fujieda Junshin High School)
It was difficult to play against the boys because they are faster and stronger and we had to speed-up our decision making compared to our usual matches. Personally I could play in a calm way even with high pressure from the opponent players and I could correct my defense towards the end of the match. However, I do have many things that I have to improve on such as my quality of passing and shooting. As a team, it was good to communicate each other during the game and to see when to steal the ball, but we were late in deciding our first defender and took time for press-defense, hence we allowed them to have easier opportunities to attack us. We have training sessions tomorrow so I want to try my best to improve as much as possible.
Schedule
Mon, 29 September

AM
PM
Training
Training


Tue, 30 September

AM
2-8

Training
Training Match vs. Kokoku High School

Wed, 1 October

AM

Training