NEWS
U-18 Japan National Team fins first match at SBS Cup International Youth Soccer
17 August 2018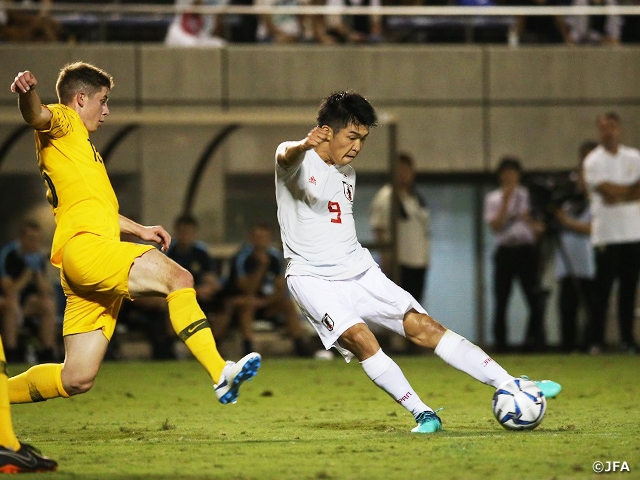 2018 SBS Cup International Youth Soccer
1st Match vs U-18 Australia National Team
Thu. 16 August 2018 Kick-off time 18:30 Match duration 80mins (40mins x2)
Fujieda-sogo Stadium, Fujieda City, Shizuoka
U-18 Japan National Team 1-0 (1-0, 0-0) U-18 Australia National Team
Scores
26' MIYASHIRO Taisei (U-18 Japan National Team)
Starting Line-up
GK: KOKUBO Leobrian
DF: SUGAWARA Yukinari, ISHIO Ryoga, KISHIMOTO Shunsaku, MATSUO Yusuke
MF: KOZUKI Soichiro, KIDA Hinata, IGAWA Sora, DANZAKI Riku
FW: ISHII Kaisei, MIYASHIRO Taisei
Reserves
GK: AIZAWA Peterkwame
DF: OKAMOTO Shosei, OKI Kaito
MF: AJIMA Itsuki, FUKUOKA Shimpei, MIZUNO Yuta
FW: ENOMOTO Itsuki
Substitution
51' ISHII Kaisei → ENOMOTO Itsuki
69' MIYASHIRO Taisei → MIZUNO Yuta
79' DANZAKI Riku → AJIMA Itsuki
Match Report
The SBS Cup International Youth Soccer has finally started. The U-18 Japan National Team faced the U-18 Australia National Team in their first match and earned a 1-0 victory to start off the tournament in the right direction. Japan and Australia have been facing each other in many Asian competitions and have been nurturing a fierce rivalry over all age categories. Over 3,000 people arrived at the match venue to watch the two rivals clash, as the match started off with Japan initiating their attacks with great intensity. Three minutes into the match, midfielder DANZAKI Riku delivered a corner kick that connected with defender KISHIMOTO Shunsaku's header, but his attempt could not hit the target. While Japan applied aggressive pressure from their front line, Australia started to take the initiative with their techniques while utilising the width of the field. With the Australian side taking the upper hand in both physical strengths and speed, they initiated their attacks by penetrating the flanks. The first 15 minutes saw the Japanese side being dominated by the overwhelming pressure applied by their opponents. However, Japan showed great patience during this stretch, as they played simple to exchange short passes, while utilising the open space effectively to keep their possession. Their persistency started to get paid off as the transitions of the Australian side gradually slowed down. In the 17th minute, forward MIYASHIRO Taisei collected a loose ball in front of the opposing goal and struck a powerful shot, but his effort was blocked by the opposing goalkeeper. Japan continued to attack as Miyashiro forced a turnover deep in the opponent's territory in the 26th minute, where he carried the ball into the box and slotted the ball into the goal to give Japan the opening goal. With momentum on their side, Japan sought to score their second goal, but the first half ended with a score of 1-0.
The second half started with Japan creating numbers of opportunities, as they came out with great intensity. In the 50th minute, midfielder KOZUKI Soichiro delivered a cross from the left flank, where Danzaki connected with his header in the far-side, but his attempt went just wide of the goal. A minute later, forward ISHII Kaisei launched a powerful strike from distance, but the goalkeeper came up with a great save to deny this opportunity. Soon afterwards, Danzaki broke through the right flank before sending a low driven cross towards the centre, but no one was able to convert his delivery. As Japan struggled to score their second goal, the match saw a sudden outpour of rain, causing the pitch to get slippery. With the ball losing traction on the field, Japan started to lose possession of the ball, but maintained to keep their composure to avoid any major threats to be created. Japan utilised the remaining time effectively to sustain the 1-0 lead, earning their first win of the tournament. The U-18 Japan National Team will now face the host, U-18 Shizuoka Youth, who has beaten the U-18 Paraguay National Team in penalty kicks on the same day.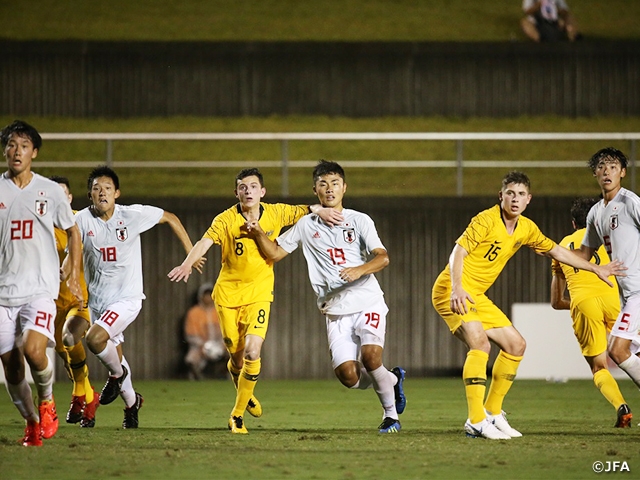 Players' Comments
GK #1 KOKUBO Leobrian (Kashiwa Reysol U-18)
This was my first time being called up to the national team since the U-16 category. I am glad to be given the opportunity to represent my country again. With the team having many newcomers, it was very difficult to have all the players on the same page with just three training sessions, but the team managed to enter the first match with a good vibe. We kept communicating with each other at all times, before the match, on the pitch, and in the locker room during halftime. I think it helped that everyone was seeking ways to win the match and shared their thoughts without hesitation. I personally was a little nervous, but I focused on keeping the plays simple. As a result, we managed to earn a victory while keeping a clean sheet, so that was a major confidence booster for me. We will be facing consecutive matches, but we will play hard in each of the matches.
DF #18 KISHIMOTO Shunsaku (Ichiritsu Funabashi High School)
I am very honoured to be named in this age category's national team. I will like to utilise this opportunity to showcase my strong points and contribute for the team's victory. I had a tough time keeping up with the speed of my teammates' passes and plays, but as we kept on talking to each other, our plays started to synchronise. In our match against Australia today, despite it being our first match, we played with no hesitation and I feel like we managed to showcase our strengths. However, there were still many scenes where I made bad decisions during this match, and I had to have my teammates cover for me, so I must improve on that aspect. We have another match coming up tomorrow, so we will prepare ourselves well ahead of the match and showcase a better performance than today, both as a team and as an individual.
MF #5 IGAWA Sora (University of Tsukuba)
I am very glad to be included in the squad for this SBS Cup. It was a very disappointing experience being left out from the squad for the FIFA U-17 World Cup India 2017, so I would like to work hard and prove that I belong in this team. We have gained great momentum while building our cohesiveness over the three-day training sessions. In today's match, we managed to showcase what Coach KAGEYAMA Masanaga wanted us to do in defence, as we kept communicating with each other to make the necessary adjustments during the match. On the other hand, we kept losing our possession in offence, and we couldn't perform the way we wanted both as a team and as an individual. I hope to utilise the width of the field in our match tomorrow and give my very best to contribute for the team. We must strive higher as a team and improve ourselves each day while giving our best to win each match.
FW #9 MIYASHIRO Taisei (Kawasaki Frontale U-18)
I am very honoured to be called up to this team. This is a great opportunity for me to make a case that I am capable of making it into the U-19 Japan National Team ahead of the AFC U-19 Championship Indonesia 2018. So, I must put up good results as an individual at this tournament. Although we faced a tough stretch in the first half today, we managed to take control of the math as the match progressed and capitalised on our few opportunities to grab the one goal lead. However, we had to do a better job in finishing up the match, as we tend to lack our concentration towards the end of each half. After I scored the first goal, I had many opportunities to score more goals but couldn't convert them, so I must heighten my quality in the final third. Ahead of tomorrow's match, we must recover our conditions and fix what we did poorly today, while continuing to communicate with each other. We will give our best to perform better in our following two matches and try to win them both.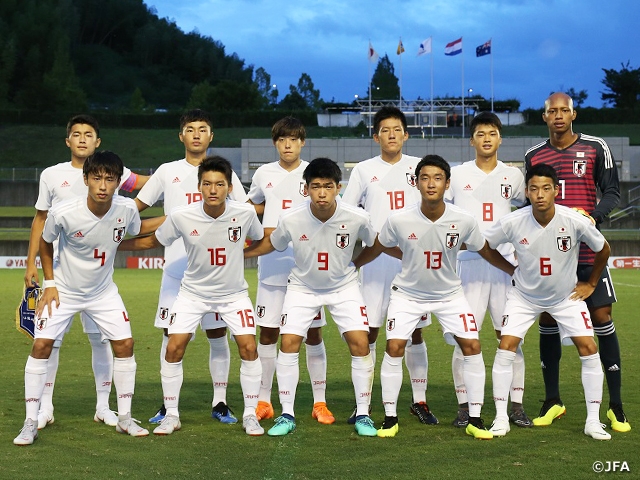 Schedule
2018 SBS Cup International Youth Soccer
Thu. 16 August
1-0
1st Match vs U-18 Australia National Team
(Fujieda-sogo Stadium)
Fri. 17 August
16:00
2nd Match vs U-18 Shizuoka Youth
(Ashitaka Athletic Park Stadium)
Sat. 18 August
AM
Training
Sun. 19 August
17:30
3rd Match vs U-18 Paraguay National Team
(Kusanagi Stadium)
*The schedule is subject to change due to the team condition, the weather, etc.

Tournament Dates: Thu. 16 - Sun. 19 August 2018
Tournament Venue: Fujieda-sogo Stadium/ Ashitaka Athletic Park Stadium/ Kusanagi Stadium, Shizuoka
Tournament Information