NEWS
【Match Report】U-17 Japan National Team start off tournament with a draw in the AFC U17 Asian Cup™ Thailand 2023
18 June 2023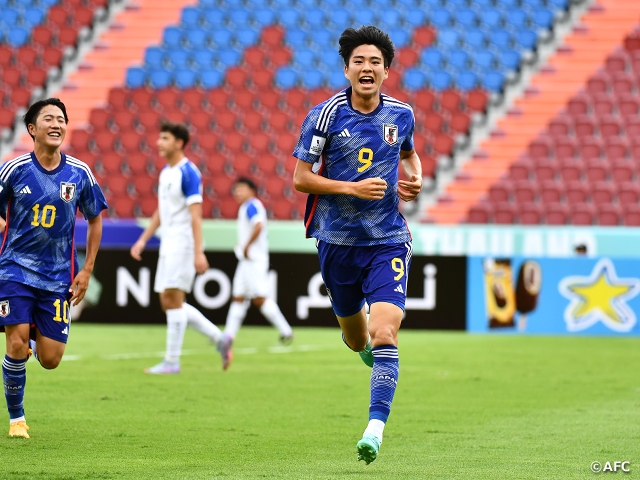 On Saturday 17 June, the U-17 Japan National Team faced the U-17 Uzbekistan National Team in their first group stage match of the AFC U17 Asian Cup™ Thailand 2023.
Uzbekistan has emerged as a major force in Asia, especially after winning this year's AFC U20 Asian Cup, as Head Coach MORIYAMA Yoshiro noted, "They are one of the most formidable countries in Asia right now." The Japanese players went into the match with a strong desire to repay the favour after losing 0-3 to their opponent during their trip of Uzbekistan last August.
For this match, Japan started GOTO Wataru (FC Tokyo U-18) in goal, with MATSUMOTO Haruto (Kashima Antlers Youth), NAGANO Shuto (FC Tokyo U-18), TSUCHIYA Kaito (Kawasaki Frontale U-18), and KOSUGI Keita (Shonan Bellmare U-18) forming the four-man defence line. YADA Ryunosuke (Shimizu S-Pulse Youth) and YAMAMOTO Joi (Tokyo Verdy Youth) were placed in the centre of the midfield, while SATO Ryunosuke (FC Tokyo U-18) and YOSHINAGA Yumeki (Kamimura Gakuen High School) were positioned in the flanks. NAWATA Gaku (Kamimura Gakuen High School) and MICHIWAKI Yutaka (Roasso Kumamoto) were given the start as the two strikers up top.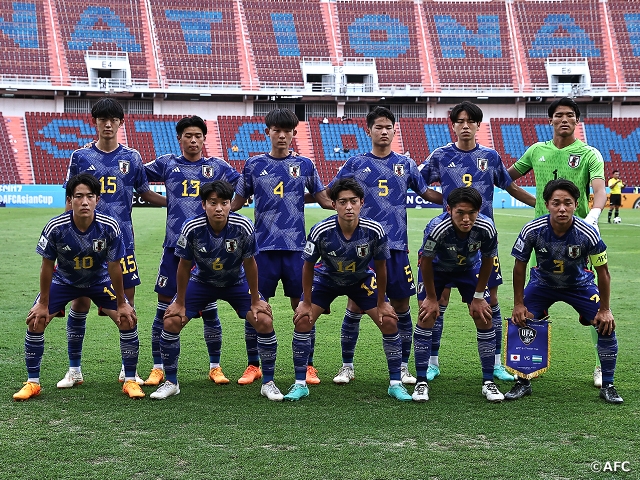 The match started with Japan creating early opportunities, including Nawata's long range shot that struck the post in the second minute.
The opening goal came in the eighth minute, when Yoshinaga responded to a pass delivered by Kosugi and delivered a sharp cross that was converted by Michiwaki, who later reflected, "I was able to execute exactly what our guest coach OGURO Masashi had taught me during our training camp in Japan."
Gaining momentum from this goal, Japan continued to create more chances, including the shot taken by Michiwaki in the 33rd minute, and Nawata's attempt at the beginning of the second half, but both efforts were denied by the opposing goalkeeper.
In an effort to reenergise their offence, KAWAMURA Gakuto (Tokyo Verdy Youth) was brought in at the hour mark, followed by the introduction of TAKAOKA Rento (Nissho Gakuen High School) and SUGIURA Shungo (Nagoya Grampus U-18) in the 69th minute, but Japan struggled to find ways to score their second goal.
Despite all the chances crated by Japan, it was Uzbekistan who scored the next goal in the 83rd minute, as Michiwaki afterwards expressed his regret that his team "was unable to capitalise on our opportunities" and coach Moriyama noted that "In football, you get penalised for spoiling chances."
After scoring the equaliser, Uzbekistan gained momentum and produced plays that posed a threat to the Japanese goal in the closing minutes, but thanks to the outstanding saves made by Goto, Japan was able to escape with a draw to open the tournament.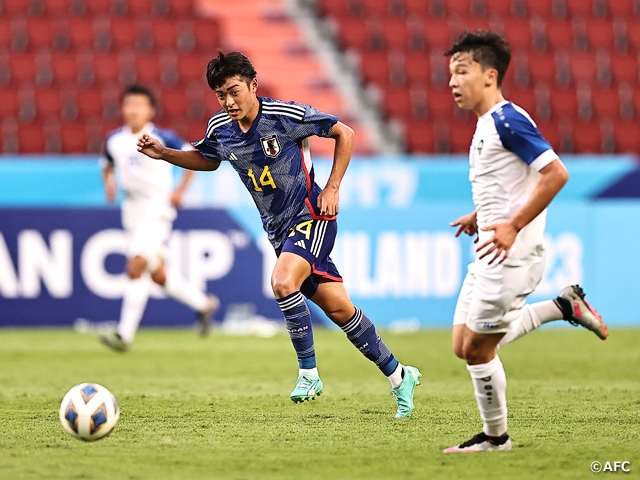 Coach and Players' Comments
MORIYAMA Yoshiro, Head Coach
We were aware that this would be an extremely challenging match even before the game started. We managed to enter the match with great concentration, which allowed us to score the opening goal, but I think this is what happens in football when you spoil too many chances to extend the lead. Uzbekistan was certainly a very tough opponent to play against. We still have two more matches left to be played in this group stage, so we will focus on getting through to the next round.
DF #5 NAGANO Shuto (FC Tokyo U-18)
This was a match we desperately needed to keep a clean sheet, especially after how our offence gave us an early lead. As a team, we really need to reflect on the fact that we conceded from a single pass like that. We must make the most of this experience to improve as a team and give our all to win the next match.
DF #13 YOSHINAGA Yumeki (Kamimura Gakuen High School)
Michiwaki and I had been working very closely on our timing of the crosses, so I was able to deliver that cross as soon as I saw him at the far side. However, I needed to deliver more crosses like that in order to help the team score more goals.
FW #9 MICHIWAKI Yutaka (Roasso Kumamoto)
It felt as if we lost the match, but we were able to walk away with a point, so there is no need to be overly pessimistic. Including myself, our offence had to be more critical in the final third. The heat was worse than we anticipated, so we need to take thorough measures before our next match, such as consuming a lot of water to keep our bodies hydrated.
YouTube(AFC):#AFCU17 - Group D | Japan 1 - 1 Uzbekistan
AFC U17 Asian Cup™ Thailand 2023
Tournament Dates: Thu. 15 June - Sun. 2 July 2023