NEWS
U-17 Japan National Team lose close game to England in Round of 16 of FIFA U-17 World Cup India 2017
18 October 2017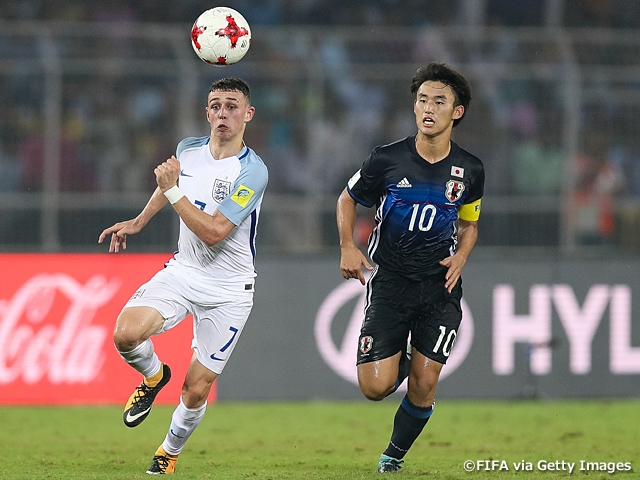 The FIFA U-17 World Cup India 2017 entered the knockout stages on Monday 16 October and the U-17 Japan National Team faced U-17 England on Tuesday 17.
Japan advanced out of Group E in second place with a record of one win, one loss, and one draw, while England topped Group F with three wins. England were the second best scoring team after France in the group stages and had tallied a total of 11 goals in three matches. They are formidable opponents with excellent attacking power for the Japanese team.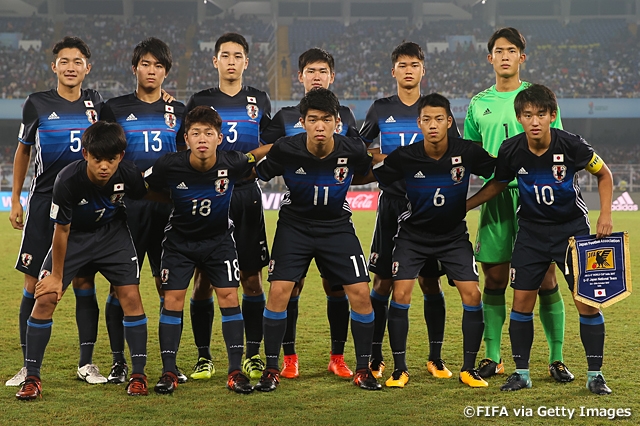 Japan grabbed the very first goal-scoring chance. In the 4th minute, KOZUKI Soichiro, who received a pass on the left side from KUBO Takefusa, cut in and fired with his right foot. Despite being saved by the opposing goalkeeper, it was good start to the game for the Japanese side.
However, this was only a wake-up call for the England Team who came back to display their excellent individual talents. After 14 minutes, the young English side intercepted the ball in midfield and Angel GOMES fashioned a promising chance for Rhian BREWSTER, but his effort was denied by a superb save from the Japanese goalkeeper, TANI Kosei. Another threatening moment for Japan came in the 28th minute, when Brewster surged up to the right of the penalty box, but this time his right-footed attempt struck the right goalpost.
The Japanese backline was under severe pressure with high pressing, and they struggled to create effective goal-scoring chances. However, on 37 minutes, HIRAKAWA Rei dribbled past the solid English defence and found NAKAMURA Keito who fired a shot at goal. Then, Kozuki reacted to a loose ball, coming off an opposing defender, but his effort went wide. One last chance for Japan in the first half came in the injury time, when Kozuki was played through by Kubo, but blazed his shot over the crossbar. Japan were faced with a tough opening half, but kept the opponents from scoring and the match was still scoreless at halftime.
Japan brought on TSUBAKI Naoki for Nakamura Keito in the 54th minute and gradually found their rhythm as Tsukaki and Kubo combined well to initiate effective attacks from the right side. After 69 minutes, FUKUOKA Shimpei collected a neat ball from Tsubaki and squared a heal pass to Kubo, who fired from 20 yards out, but his left-footed shot went directly into the hands of the opposing goalkeeper.
On the other hand, England had created an excellent chance for Nya KIRBY in the 84th minute, but his effort was parried away from danger by a sliding clearance from KOBAYASHI Yuki.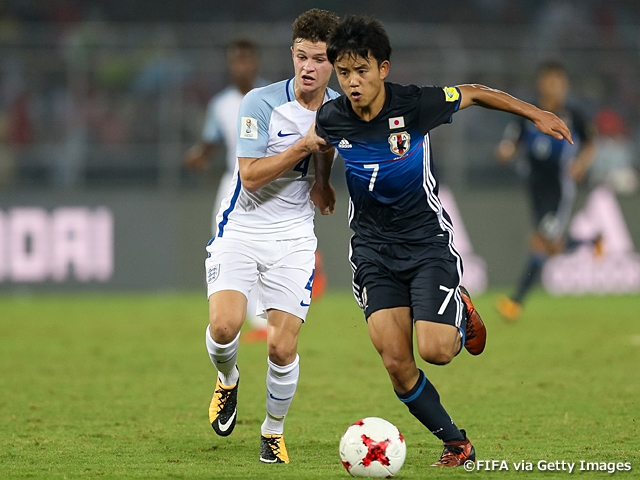 Japan showed their competitive spirit until the end of the match. MIYASHIRO Taisei attempted to score a decisive goal after receiving a pass from Tsubaki in the 87th minute and Kubo dribbled up the pitch to make a one last effort for the Japanese team to break the deadlock a minute later, but both lacked the precision to find the back of the net, before the match ended in a scoreless tie after regulation time. The game went into the very first penalties of the tournament. Both teams successfully scored until the Japan's third kicker, KIDA Hinata, whose shot was saved by the English goalkeeper. All five kickers from England converted from the spot, and Japan lost the match 5-3 on penalties.
U-17 Japan National Team went out of tournament in the Round of 16 and ended their two-and-a-half-year journey to challenge the world with coach MORIYAMA Yoshiro.
Coach and Players' Comments
MORIYAMA Yoshiro, Coach (U-17 Japan National Team)
I was touched that the players never gave up and performed as hard as possible until the very last minute. My two-and-a-half-year journey with the players has come to an end as well. I must say that the players displayed excellent fighting spirit. I believe they played very patiently and stayed vocal as well as showcasing the Japanese style of well-structured football against the stronger opponents. In the future, they will need to improve the quality of shots and have a stronger determination to score goals. All the players cried their eyes out. I hope they can capitalise on this defeat and become better footballers as well.
GK #1 TANI Kosei (Gamba Osaka Youth)
I experienced the toughness of playing in an international tournament, and learned that I needed to improve the quality of every single play in order to perform at this high level. By participating in the U-17 World Cup, my desire to play as a Japanese international became stronger. From now on, I will be aiming to play in the Tokyo Olympics and the 2017 FIFA U-20 World Cup. I believe this competition has given me a precious experience for my future.
MF #10 FUKUOKA Shimpei (Kyoto Sanga F.C. U-18)
I was rather passive on certain plays in the first half, but came out strongly in the second, and displayed competitive spirit and initiated better attacks as well. It was such a wonderful opportunity to play under coach Moriyama for the past two and a half years. I really wanted to make him the best coach in the world. Despite losing the World Cup, he is still the best coach in the world for me. I truly enjoyed playing in this team and with my teammates for the past two and a half years and wished that we won the tournament together. However, there will be new aims such as playing in the Olympics as well as for the top squad of the Japan National Team. I need to keep up my hard work and improve myself, and hopefully meet up again with my current teammates and win the future tournaments together as well.
MF #14 KOZUKI Soichiro (Kyoto Sanga F.C. U-18)
I came in with a strong mind-set that I would not regret even if I challenged the opposing defenders ten times and failed on all those attempts. In the match against France, I played more conservatively by passing ball backwards and only had few occasions where I actually challenged the opposing defenders. Thus, in today's match, I was determined to attack more aggressively. I had several chances to score goals, but failed to net one home. This is one of the areas that I need to work on in the future. I still cannot imagine that we are breaking up this team today, but I believe that we had an excellent team and did our best in all of our games that we ended up not having any regrets as well.
Schedule
FIFA U-17 World Cup India 2017
Fri. 6 October
PM
Training
Sat. 7 October
PM
Official Training
Sun. 8 October
6-1
vs Honduras
(Indira Gandhi Athletic Stadium)
Mon. 9 October
PM
Training
Tue. 10 October
PM
Training
Wed. 11 October
1-2
vs France
(Indira Gandhi Athletic Stadium)
Fri. 13 October
PM
Training
Sat. 14 October
1-1
vs New Caledonia
(Vivekananda Yuba Bharati Krirangan Stadium)
Sun. 15 October
TBC
Travel or Training
Mon. 16 October
TBC
Training
Tue. 17 October
0-0
(PK3-5)
Round of 16 vs England
(Vivekananda Yuba Bharati Krirangan Stadium)
*Local Time
*The schedule is subject to change due to the team condition, the weather, etc.
FIFA U-17 World Cup India 2017
Tournament Period:6 October 2017(Fri.)~28 Ocotber 2017(Sat.)
Round of 16:
17 October(Tue.) 23:30 (Japan Time) vs Honduras