NEWS
U-17 Japan National Team's third-place match against U-18 Hungary National Team in 23rd International Youth Tournament of Václav Ježek 2016
21 August 2016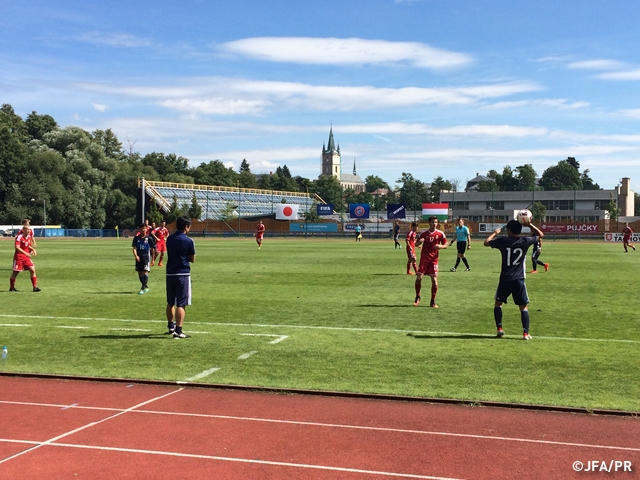 23rd International Youth Tournament of Václav Ježek 3rd match vs U-18 Hungary National Team
2016-8-20 (Sat.) - 11:00 Playing Time: 90min. (45min.×2)
Tachov (Czech Republic)
U-17 Japan National Team 2-0(1-0, 1-0)U-18 Hungary National Team
Scores
29' NAKAMURA Shunta(U-17 Japan National Team)
81' NAKAMURA Shunta(U-17 Japan National Team)
Line-ups
GK: OKI Yuya
DF: SUGIYAMA Danto, NAKAGAWA So, OKANIWA Shuto, AOYAMA Yusuke
MF: NISHIYAMA Taiga, NAKAJIMA Motohiko(Cap.), FUJIMOTO Kanya, SAKAI Masaki
FW: KATO Takumi, NAKAMURA Shunta
Substututes
GK: SARUTA Haruki
DF: YAMADA Kota, TANAKA Riku, MIYAMOTO Toshiaki
MF: TSUBAKI Naoki
FW: TAGAWA Kyosuke
HT NISHIYAMA Taiga → TANAKA Riku
52' SAKAI Masaki → TSUBAKI Naoki
69' KATO Takumi → TAGAWA Kyosuke
86' NAKAMURA Shunta → YAMADA Kota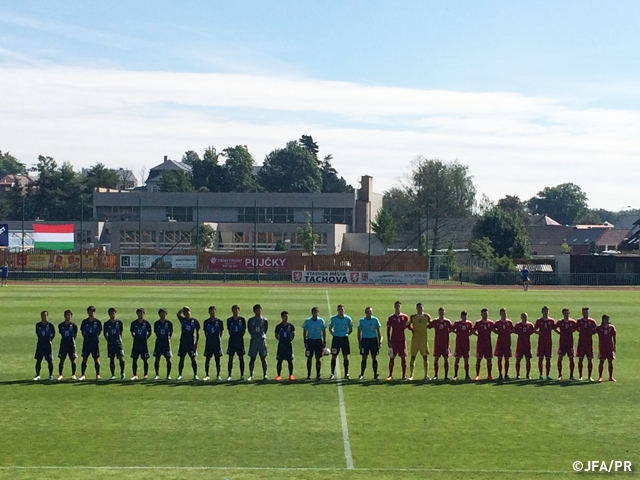 Match Report
Japan met Hungary in the third-place match in the final game of their tour. Until the 29th minute, both teams played competitively and the game stayed in the balance. In the 29th minute, NAKAMURA Shunta seized a momentary chance to get through to the space behind the opponent, striking the opener. Japan started to pass the ball around comfortably with a one-goal lead and gradually took the initiative.
In the second half, Japan stayed aggressive and sought for more goals. In the 81st minute, when the opponents started to look tired, TSUBAKI Naoki initiated an attack from the left. TAGAWA Kyosuke passed the ball to Nakamura, who scored once again to stretch their lead to two goals. Although the opponents came close to the goal several times, Japan kept a clean sheet until the final whistle. Japan finished the tournament in third place.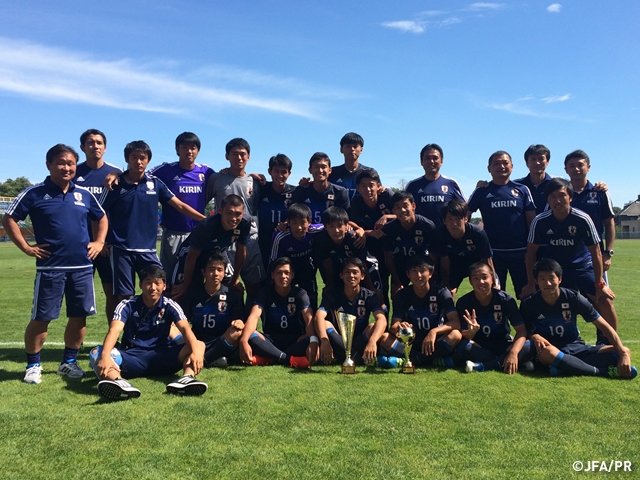 Coach and Players' Comments
YAMAGUCHI Motohiro, Coach
Winning the final game meant a lot to us. It's my responsibility that the players could not reach the final. However, I believe that they had an excellent experience in this tournament and improved themselves as individuals and as a team.
MF #8 NAKAJIMA Motohiko (Cerezo Osaka U-18)
I was determined to win the final game of our tour. As the captain, I stayed vocal from the warm-up and tried to keep my concentration throughout the match. As we scored in the first half, the team performed comfortably, which was great. Personally, I think my stamina lasted for 90 minutes and made a good contribution to the team. I had excellent experience on this trip.
FW #9 NAKAMURA Shunta(Kashiwa Reysol U-18)
I was determined to score and win this game. Despite the opponents' physical strength and power, I found out that they occasionally played loosely. So I'd been trying to find an opportunity to get through to the space behind them. As a result, I scored two goals. It was great that we won the game. It's a shame that the tournament is over, as we're getting better as a team with each game.
Schedule
23rd International Youth Tournament of Václav Ježek 2016
Tue. 16 August
0-1
vs Ukraine (SK Klatovy 1898)
Wed. 17 August
3-2
vs Czech Republic (FK Tachov)
Thu. 18 August
AM
Training
Fri. 19 August
7-0
vs UNITED ARAB EMIRATES (TJ Dynamo ZCE Plzen)
Sat. 20 August
2-0
3rd place play-off vs Hungary (FK Tachov)
*Local Time
*The schedule is subject to change due to the team condition, the weather, etc.
[23rd International Youth Tournament of Václav Ježek 2016]
GroupA: Czech Republic, Ukraine, Japan, UNITED ARAB EMIRATES
GroupB: Slovakia, USA, Hungary, Russia