NEWS
JENESYS U-17 Women's Football Memorial Cup comes to an end
27 March 2023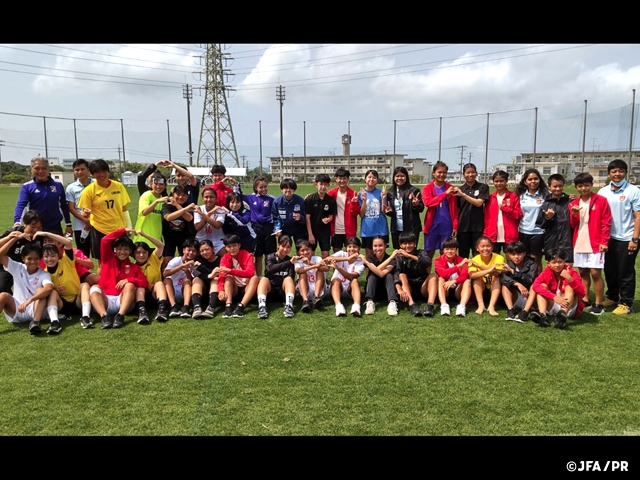 The "JENESYS U-17 Women's Football Memorial Cup," which started on Friday 17 March in Uruma City, Okinawa, came to an end on Tuesday 21 March. After the three-day group stage, the play-offs were held on the final day, with the U-16 Japan Women's National Team and the U-17 Vietnam Women's National Team playing in the final, which the U-16 Japan Women's National Team won the competition title.
During the competition, the players from ASEAN countries and Timor-Leste actively engaged in exchanges with Japanese culture and people, both on and off the pitch, and enjoyed their stay in Japan to the full. Active interactions between the participating countries were also seen, making the tournament a valuable platform for international exchanges.
Many participating players commented on the variety of experiences they gained through the competition and programme, as well as the opportunity to interact with players from different countries, which they found very intriguing.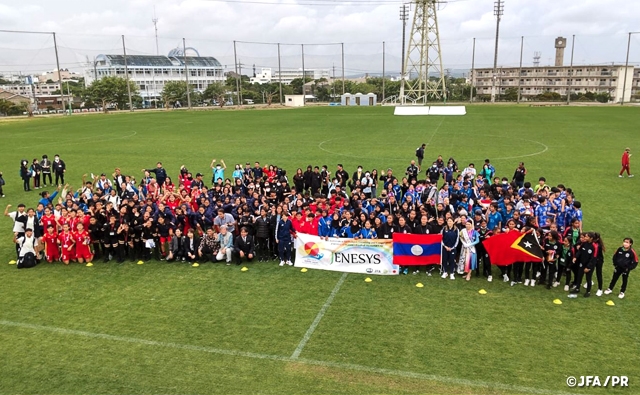 Players' Comments
Yu Ya Naing (U-17 Myanmar Women's National Team)
I am grateful to be given the opportunity to participate in this JENESYS programme. We were in the same group with the U-16 Japan Women's National Team and learnt a lot from them in terms of technique and tactics. We were also able to find out our strengths and weaknesses through matches against teams from other ASEAN countries. Through this programme, I was able to communicate and become friends with players from various countries, which was a wonderful experience for me.
Natacia Flora Boavida Pereira (U-17 Timor-Leste Women's National Team)
Through this JENESYS programme, we felt the hospitality and kindness of the Japanese people everywhere. We were provided with nutritious meals and lots of downtime throughout the programme, which served as a gentle reminder to us that in order to be in top physical condition for the matches, we must be mindful of our daily diet and get enough rest. The local high school volunteers welcomed us with warm smiles every day and helped us organise our trainings and matches. We were delighted to be able to interact with the Japanese players as well.
Jelena Loren Ignacio Soon (U-17 Philippines Women's National Team)
The JENESYS U-17 Women's Football Memorial Cup was a great opportunity to make new friends, experience Japanese culture, and play against teams we had never played before. Through each match, it felt like our team was developing positive chemistry and improve ourselves both as a team and as individuals. I hope to make the most of this experience to further develop my football skills in the future.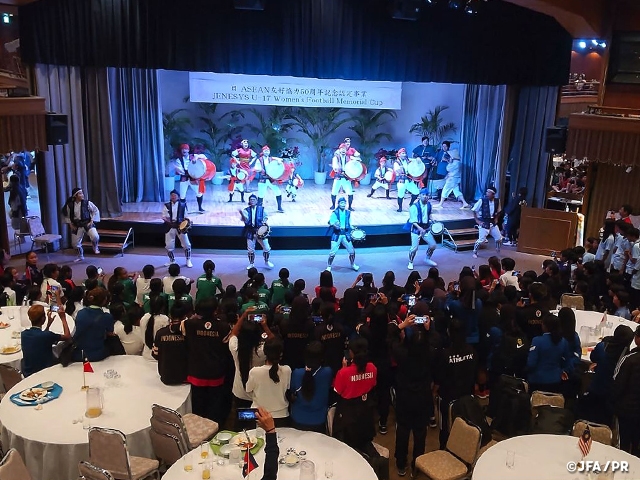 Commemorating the 50th Year of ASEAN-Japan Friendship and Cooperation: JENESYS U-17 Women's Football Memorial Cup
Tournament Dates: Thu. 16 March - Tue. 21 March
Venue: Uruma Gushikawa Multipurpose Baseball Ground (Uruma, Okinawa)