NEWS
U-15 Japan National Team activity report at U-16 International Friendly Tournament in Val-de-Marne 2014 (27 Oct)
28 October 2014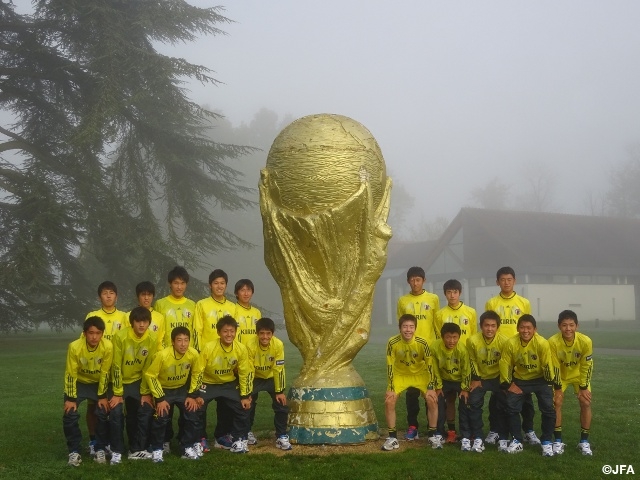 The players held two practice sessions like the day before in preparation for their first match against the Netherlands on Tuesday 28 October. They started at 9:30 and spent the time practicing their attacking patterns on a half-length pitch.
The practice involved constant and careful observation of the opponent and attacking in the gaps effectively. After lunch, the players went through their tactics by having a hand-passing game and a practice match in the afternoon.
The practice ground they used is called 'Le Centre Technique National Fernand Sastre', which the France national team used as their base at the World Cup France in 1998. It contains 11 pitches, accommodation for players, a gymnasium, and a restaurant, all in 56 hectares of land, and it is the home base for the France national team. The players had a productive time before their first game on Tuesday 28 October.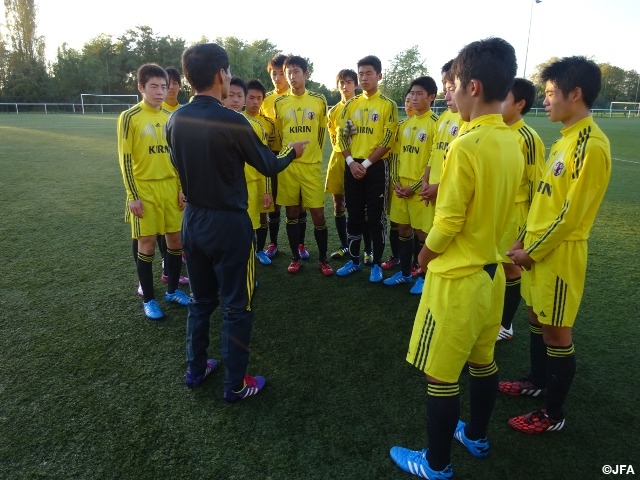 Players' Comments
SENBA Taishi (Sanfrecce Hiroshima Junior Youth)
In today's training session, we were told in no uncertain terms to keep an eye on the opponent's location and get into good positions. I gradually learned how to do this. It was very difficult to move smoothly from the wing back position to get in behind the opponent. The tournament will start tomorrow. As there will be some physical size difference, I'd like to aim at scoring from the wing, using what we practiced today.
SUGIURA Fumiya (Nagoya Grampus U15)
It was difficult to attack by choosing open areas during the build-up. I think it's vital to bear the finishing image in mind when attacking. It's also essential to judge the situation swiftly in order to attack. I'd like to bring what I've learned within these two days to the games from tomorrow in the tournament.
HASHIOKA Daiki (Urawa Red Junior Youth)
I'd like to play Japanese style and show what we can do as much as possible in the tournament tomorrow. We had our practice sessions at the home base of the France national team, which was an excellent environment. I'll bring what we've been practicing in our sessions to the game against the Netherlands tomorrow.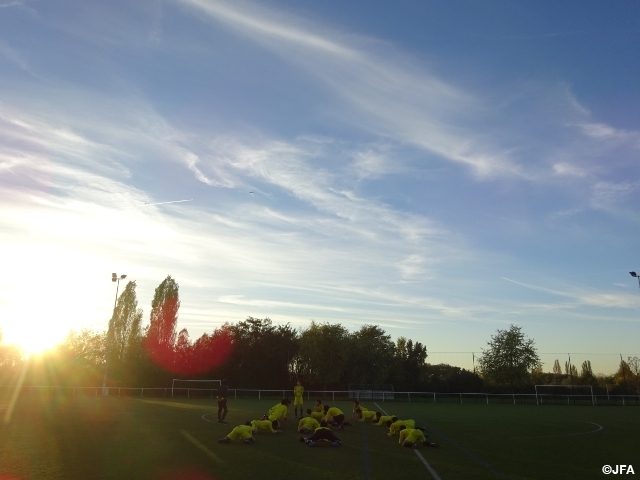 Schedule
Val-de-Marne U-16 International Friendly Tournament 2014

Tuesday 28 October

16:00

vs Netherlands(Vitry Sur Seine)

Thursday 30 October

14:00

vs Belgium(Thiais)

Saturday 1 November

16:00

vs France(Bonneuil/Marne)