NEWS
U-20 Japan Futsal National Team scores 3 goals in first half to win against Tajikistan at the AFC U-20 Futsal Championship Iran 2019
15 June 2019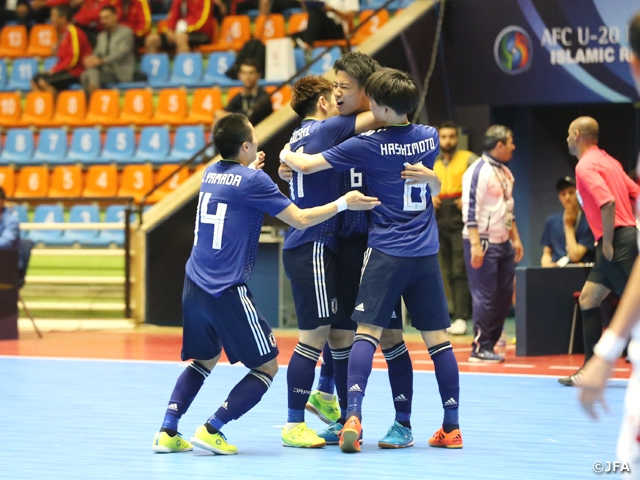 On Friday 14 June, the AFC U-20 Futsal Championship Iran 2019 opened its action at Tabriz, Iran. The U-20 Japan Futsal National Team faced the U-20 Tajikistan Futsal National Team in their first match of the group stage, where they earned a 3-1 victory.
Seeking for their first ever U-20 Asian title, Japan started TABUCHI Hiroshi in goal, with HATAKEYAMA Yuki, TAKAHASHI Yudai, YAMADA Kaito, and MOTOISHI Takehiro on the field.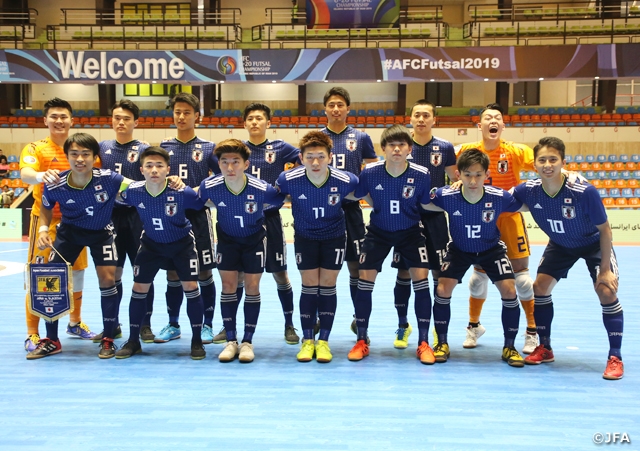 In the early minutes of the match, Japan took the initiative with their 3-1 formation. In the 14th minute, Motoishi struck a shot from a freekick that was once blocked by the opponents, but OSAWA Masashi was there to convert the freekick, giving Japan a 1-0 lead.
After scoring the opener, the team found their rhythm and captured back-to-back goals in the 16th minute, first from Takahashi's powerful right footed shot, followed by a shot taken by OTSUKA Hiroto.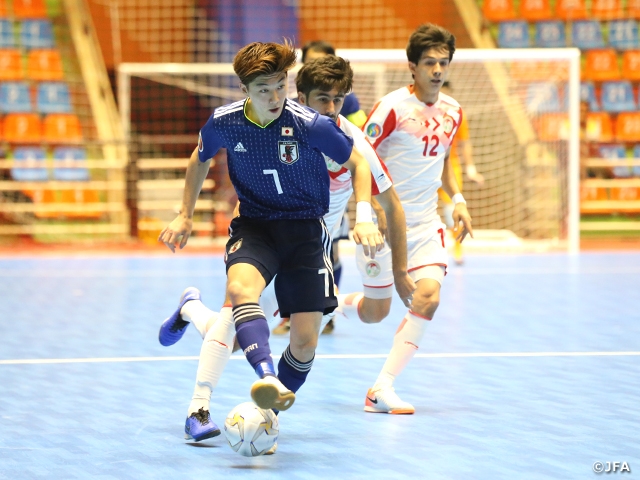 Despite finishing off the first half in great shape, Japan got into foul trouble early in the second half. With the sixth team foul giving the opponents a penalty kick from the second penalty spot, Japan had to monitor their fouls for the remainder of the match. Although the team got themselves in a difficult situation, Japan managed to show great persistency in defence to keep their lead. The team conceded a goal to Tajikistan in the 38th minute, but still managed to start off the tournament with a 3-1 victory.
Coach and Players' Comments
SUZUKI Ryuji, Coach
This match was not only against Tajikistan, but we had to fight against our foul counts as well. In our match against Iran at the Chinese Taipei international friendly tournament, we gave up two penalty kicks from our accumulated fouls which allowed our opponents to come from behind in that match. We learned a lesson from that match and managed to pull off a win today. All the support from Japan is giving our young players great strengths, and we thank you for all your support. We will analyse today's match and prepare ourselves ahead of the next match against Vietnam.
GK #1 TABUCHI Hiroshi (Nagoya Oceans Satellite)
I am very glad that we were able to win the match. Our opponents were capable of using the long balls effectively and their pivot was a big player with great speed, so I had to be careful of the both the long pass and the long shots. We conceded a goal from a turnover, and it allowed us to realise that if we lose our focus for a second, it can cost us a goal. We will strive to win our next match to advance to the final round with consecutive victories.
FP #5 HATAKEYAMA Yuki (Fugador Sumida Buffaloes)
I am relieved that we were able to win the match. The start of the match can affect how we play the entire match, so we focused on our defence in the early minutes. The fact that we conceded a goal towards the end of the match gives us room for improvements. If we conceded a goal with more than five minutes left on the clock, or if the opponents initiated a powerplay, the match could've gone either way. That is why we must stay focused until the very end.
FP #6 OSAWA Masashi (Zott Waseda Futsal Club)
Today was my birthday and my parents told me before the match that the loose balls will come my way, and it turned out just as they said, so I am thankful for their advice. With this being our first match, we looked a bit nervous, but we still managed to do well in defence. A win in the first match will give us a bit of a breathing room, so we hope to prepare well ahead of our match against Vietnam.
Schedule
AFC U-20 Futsal Championship Iran 2019
Fri. 14 June
3-1
1st Match vs U-20 Tajikistan Futsal National Team
(Pour Sharifi Indoor Stadium)
Sat. 15 June
AM
Training
Sun. 16 June
14:30
2nd Match vs U-20 Vietnam Futsal National Team
(Pour Sharifi Indoor Stadium)
Mon. 17 June
AM
Training
Tue. 18 June
TBC
Quarterfinals (Pour Sharifi Indoor Stadium)
Wed. 19 June
AM
Training
Thu. 20 June
TBC
Semi-Finals (Pour Sharifi Indoor Stadium)
Fri. 21 June
AM
Training
Sat. 22 June
TBC
3rd Place Match (Pour Sharifi Indoor Stadium)
TBC
Final (Pour Sharifi Indoor Stadium)
*Local time
*The schedule is subject to change due to the team condition, the weather, etc.
AFC U-20 Futsal Championship Iran 2019
Tournament dates: Fri. 14 - Sat. 22 June 2019