NEWS
U-18 Japan Women's Futsal National Team secures spot into Semi-finals with win over Dominican Republic at the 3rd Youth Olympic Futsal Tournament Buenos Aires 2018
12 October 2018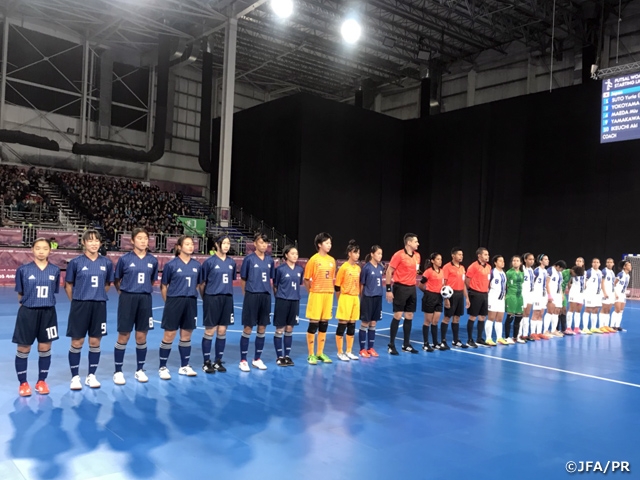 The 3rd Youth Olympic Futsal Tournament 3rd Group Stage Match
vs U-18 Dominican Republic Women's Futsal National Team
Thu. 11 October 2018 Kick-off 14:00 (Local time)
Main Futsal Hall (Buenos Aires, Argentina)
U-18 Japan Women's Futsal National Team 6-2 (4-2, 2-0) U-18 Dominican Republic Women's Futsal National Team
Scores
4' goal against (U-18 Dominican Republic Women's Futsal National Team)
5' goal against (U-18 Dominican Republic Women's Futsal National Team)
8' YOKOYAMA Rinka (U-18 Japan Women's Futsal National Team)
10' OINO Sara (U-18 Japan Women's Futsal National Team)
19' IKEUCHI Aki (U-18 Japan Women's Futsal National Team)
20' ABE Mirano (U-18 Japan Women's Futsal National Team)
23' ARAI Ichika (U-18 Japan Women's Futsal National Team)
28' MAEDA Miu (U-18 Japan Women's Futsal National Team)
Starting Line-up
GK: SUTO Yuria
FP: YOKOYAMA Rinka, IKEUCHI Aki, MAEDA Miu, YAMAKAWA Rikako
Reserves
GK: KOBAYASHI Mitsuki
FP: MIYAMOTO Mai, OINO Sara, ARAI Ichika, ABE Mirano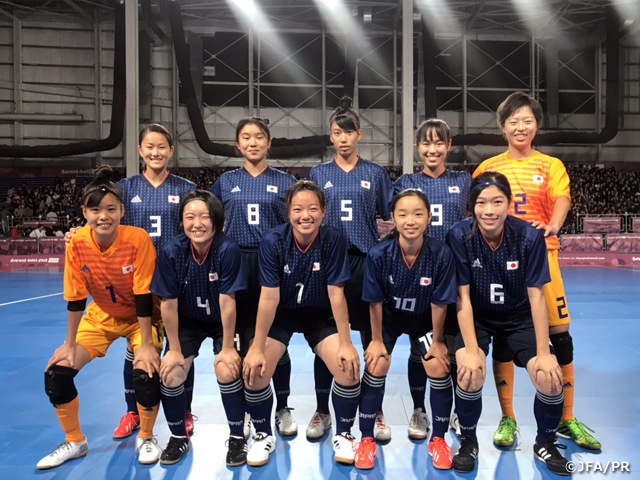 Match Report
On Wednesday 11 October, the U-18 Japan Women's Futsal National Team won their third group stage match against the U-18 Dominican Republic Women's Futsal National Team 6-2 at the 3rd Youth Olympic Futsal Tournament Buenos Aires 2018.
Japan entered the match knowing a tie or better would earn them a spot into the semi-finals but conceded back-to-back goals in the early minutes of the match. Despite starting off the match with a bad start, Japan soon regrouped themselves and found their composure. In the eighth minute, YOKOYAMA Rinka captured the goal off a corner kick. OINO Sara followed in the 10th minute, when she dribbled into the goal zone before scoring the equaliser. With momentum on their side, Japan rallied with two more goals in the first half as IKEUCHI Aki and ABE Mirano marked their first goal of the tournament in the 19th and 20th minute respectively, sending the match into half time with a score of 4-2.
The Japanese side carried the momentum into the second half, as ARAI Ichika found the net in the 23rd minute, followed by MAEDA Miu's 28th minute goal, finishing the match strong with a final score of 6-2.
As a result, Japan has locked their spot into the semi-finals ahead of their fourth group stage match against the U-18 Portugal Women's Futsal National Team, which is scheduled to take place on Saturday 13 October with a kick-off time of 14:00 local time.
Players' Comments
GK #2 KOBAYASHI Mitsuki (Fukui Maruoka RUCK)
It was my first time playing in this tournament. My playing time on the pitch was limited, but I managed to play without getting nervous and I was able to enjoy myself out there. Even though we conceded the goal first, we managed to keep our composure and score back one goal at a time. We will continue to play our style of futsal in the coming match against Portugal.
FP #8 ABE Mirano (Jumonji High School)
With our advancement into the semi-finals at stake, this was a very important match. Although we conceded back-to-back goals from our opponents' long balls, we managed to pick up our pace and rally back. There were many occasions where we created one-on-one situations, but we couldn't capitalise on those chances, so we must work on that aspect in our training session tomorrow, so that we can improve ourselves ahead of the next match. The next match against Portugal should present us with a difficult challenge compared to the previous matches, so we must emphasise on our defence and capitalise on the limited opportunities.
Schedule
The 3rd Youth Olympic Futsal Tournament
Mon. 8 October
6-2
1st Group Stage Match vs Cameroon @Main Futsal Hall
Tue. 9 October
AM/PM
Training
Wed. 10 October
4-1
2nd. Group Stage Match vs Chile @CeNARD Hall
Thu. 11 October
6-2
3rd Group Stage Match vs Dominican Republic
@Main Futsal Hall
Fri. 12 October
AM/PM
Training
Sat. 13 October
14:00
4th Group Stage Match vs Portugal @CeNARD Hall
Sun. 14 October
AM/PM
Training
Mon. 15 October
14:00/16:00
Semi-Finals @Main Futsal Hall
Tue. 16 October
AM/PM
Training
Wed. 17 October
15:30
3rd Place Match @Main Futsal Hall
18:00
Final @Main Futsal Hall
*Local Time
*The schedule is subject to change due to the team condition, the weather, etc.