NEWS
SAMURAI BLUE win opening match with late goal from Ideguchi ~ EAFF E-1 Football Championship 2017 Final Japan
10 December 2017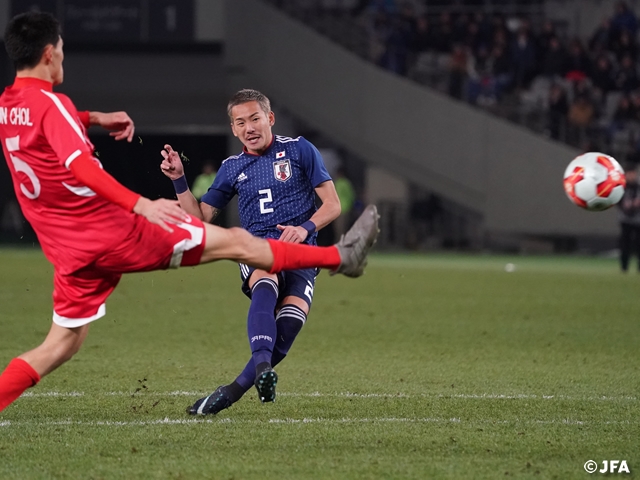 SAMURAI BLUE (Japan National Team) faced DPR Korea in the first match of the EAFF E-1 Football Championship 2017 Final at Ajinomoto Stadium, and the late goal by midfielder IDEGUCHI Yosuke (Gamba Osaka) brought Japan a 1-0 win and gave them an ideal start by grabbing a victory in their championship opener for the first time in two competitions.

The other opening fixture between defending champions Korea Republic and China finished with a 2-2 draw. As a result, Japan topped the group after the first matchday of the tournament.
Without the presence of the players abroad, Ideguchi was the only member in the Starting XI to have played during the Europe tour in November. While goalkeeper NAKAMURA Kosuke (Kashiwa Reysol) and defender MUROYA Sei (F.C. Tokyo) made their first career appearance in the national team, many players, including defender TANIGUCHI Shogo (Kawasaki Frontale), midfielder TAKAHAGI Yojiro (F.C. Tokyo) positioned at second striker and forward KANAZAKI Mu, came back and played for the Samurai squad after a long period of absence.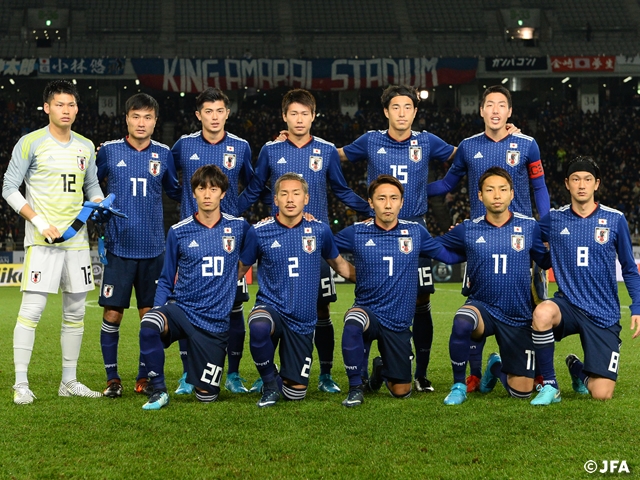 This match gave the J.League players a golden opportunity to showcase themselves for the 2018 FIFA World Cup Russia, but there were many flaws in attacks due to unfamiliarity which resulted in poor combination plays.

Even such is the case, midfielder KURATA Shu (Gamba Osaka) netted a pass from KANAZAKI on the left in the 15th minute, but much to the disappointment of the Japanese side, it was judged offside a moment later.

DPR Korea attacked and defended with good organisation and their strong pressing had given them several chances to hit Japan on a quick counter. Forward JONG Il Gwan, who plays in Switzerland, met a cross ball from the right in the 25th minute and reacted to the deflection from forward KIM Yu Song's effort to fire from range two minutes later, but Japanese goalkeeper Nakamura protected the goal with fine saves.

On the other hand, Japan created chances from the left side where a pair of crosses was met by Kanazaki at the half hour mark and Takahagi on 39 minutes, but both attempts failed to hit the target. The first half ended in a scoreless tie.
Right after the halftime break, DPR Korea threatened the Japanese goal from 22 yards out off a counter-attack in the 51st minute and subsequently aimed to score from a tight angle on the left side two minutes later, but, once again, Nakamura, who was the member of Rio de Janeiro Olympic squad, reacted well and parried them away from danger.

In the 56th minute, Japan replaced Takahagi with 24-year-old midfielder ITO Junya (Kashiwa Reysol). Making his debut for the national team, Ito created better attacking rhythm by aggressively seeking to break through the DPR Korea defence on the right side. Immediately after he was brought on the pitch, he fashioned an excellent chance to send a cross to the far side, where forward KOBAYASHI Yu (Kawasaki Frontale) attempted a shot at goal. Even though Kobayashi's effort was blocked by the opposing defender, it was still a promising chance for the Japanese team.

Japan further brought on additional attacking arsenal from the bench as they sent KAWAMATA Kengo (Jubilo Iwata) in the 71st miunte and ABE Hiroyuki (Kawasaki Frontale) on 81 minutes on to the pitch.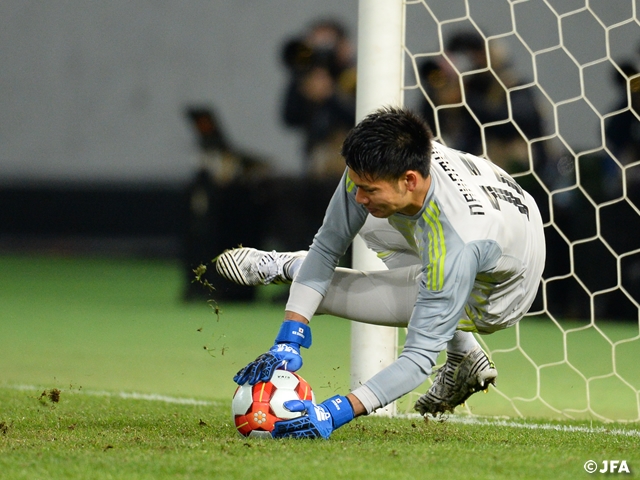 DPR Korea, however, continued to employ well-coordinated counter-attacks and forward Jong and midfielder Pak orchestrated several scoring opportunities for their side. Fortunately for Japan, Nakamura defended well and kept them scoring a decisive goal.

In the 3rd minute of the additional time, while many started to expect a scoreless draw, Japan's relentless pursuit to score finally came to fruition.

Kawamata collected the ball on the left after Abe surged up the pitch and sent in a cross to the far side. Midfielder KONNO Yasuyuki (Gamba Osaka) redirected the ball to the middle, where onrushing Ideguchi struck it with pace and found the back of the net. The audience of 20,806 spectators all stood up and broke into loud cheers.

Ideguchi expressed his emotions as he later commented on his second goal as Japanese international after the first against Australia in August to clinch the World Cup spot for Japan, 'I was going to shoot it if the chance came to me. I am glad that I could score in the end.'

The match ended immediately after the goal and, despite all the struggles, Japan earned three points by securing a win in their first game of the championship.

The second match against China is scheduled on Tuesday 12 December.
Coaches and Players' Comments
Vahid HALILHODZIC, Coach of SAMURAI BLUE (Japan National Team)
It was a win where we had some luck on our side. We did not play a sophisticated game, but it was still important that we secured a win at the end. Our opponents stayed back and played a low block, making it hard for us to create chances by exploiting the space behind the backline. We were caught up in their defensive game plan with low block and were unable to speed up our tempo. We were often forced to move the ball sideways and saw the forwards players retrieve and collect the ball in midfield. In order to find the open space behind the defenders, we need to coordinate our plays. However, this is not easyto do.
We also had many positive takeaways considering that the opponents fought with their best squad and their quality of passes after they reclaim possession was excellent. In particular, young goalkeeper Nakamura exhibited fine saves and gave us ideas to solve some of our current problems we have in defence. Ito made his debut in the national team and displayed his ability to break through the opposing defence with excellent individual skills. We lack so many players due to their respective clubs' schedule and instead have many newcomers to the team. We are still in the process of building a team. I am not fully satisfied with our performance, but I am simply glad now that we won the first match of the championship.
Furthermore, we are not here to talk about politics. We want to send out the message that we are here to promote friendship, trust and joy through football. The players of the both sides greeted each other and shook hands. I shook hands with DPR Korea's coach as well. I am proud to be a part of this football family. Unfortunately, the world might be heading towards the wrong direction, but we are in the bright side of our society, namely the world of sports. It is a wonderful place to be in. We are here to share the joy and foster friendship as well. Regardless of where we reside, there will be always rivalries including Europe, Africa, Japan or everywhere in the world. We consider our opponents as rivals, but only in the sport that we play. Politics has no place in sports and it is not our concern when we play in. In the today's match, we saw many intense one-on-one battles as well as aggressive plays, but every one of us followed the rules of the game. I praise both teams for playing with good sportsmanship as well. We showed the solution to the problems we face in politics on the pitch today. That is to say that we need to spend time together and fight together to find a solution to our problems.
GK #12 NAKAMURA Kosuke(Kashiwa Reysol)
I think I was able to play as I normally do. We have only completed our first match, but still did well to keep a clean sheet. I was warned before the match that our opponents were physically strong and played while I kept in mind their strength in physicality. We earned this win as a team and I believe that the entire team is uplifted with this result today.
MF #2 IDEGUCHI Yosuke (Gamba Osaka)
Konno cushioned an excellent ball to me and I was thinking of not letting it blaze over the crossbar. Two defensive midfielders of our team were heading towards the opponents' goal, and I thought about staying back to defend. But instead, I decided to go up thinking that it was almost the end of the match and wouldn't hurt the team if I did so. I am glad that this worked out well for the team. I knew that a win in the first match would mean a lot to us. It was a positive in that respect as well.
JORN ANDERSEN, Coach (DPR Korea National Team)
We were playing such a great match and it was very unfortunate that we lost the game. We analysed the Japanese squad thoroughly and made an excellent preparation for the game as well. While we defended well and kept Japan to only about two good scoring chances, we had maybe 5 or 6 occasions where we threatened the Japanese goal. We played well for a long duration of time, but lacked the finishing touch to score and, at the end of the match, we conceded a winner. It was a difficult loss to accept.
Schedule
EAFF E-1 Football Championship 2017 Final Japan
Sat. 9 December
1-0
1st Match vs DPR Korea
Tokyo / Ajinomoto Stadium
Sun. 10 December
AM
Training
Mon. 11 December
PM
Training
Tue. 12 December
19:15
2nd Match vs China PR
Tokyo / Ajinomoto Stadium
Wed. 13 December
AM
Training
Thu. 14 December
PM
Training
Fri. 15 December
PM
Training
Sat. 16 December
19:15
3rd Match vs Korea Rep.
Tokyo / Ajinomoto Stadium
*The schedule is subject to change due to the team condition, the weather, etc.
Instagram Photo Report
EAFF E-1 Football Championship 2017 Final Japan
Tournament Period: 8 December 2017 - 16 December 2017
Men's Fixtures: Ajinomoto Stadium (Tokyo)
More Information