NEWS
Japan Women's Futsal National Team get through group stage with back-to-back wins ~ The 5th Asian Indoor and Martial Arts Games Ashgabat 2017
18 September 2017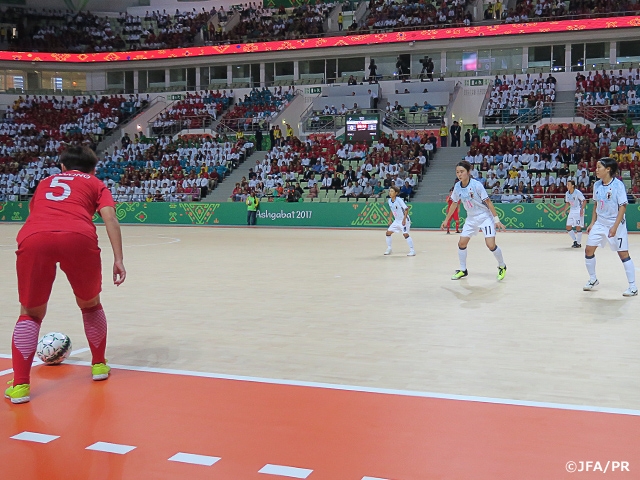 The 5th Asian Indoor and Martial Arts Games
Group Stage 2nd Match vs Hong Kong Women's Futsal National Team
17 September 2017 (Sun.) Kick-off 10:00(Local Time) Playing Time 40min.(20min.×2)
Multifunctional Sport Venue Hall-1 (Ashgabat, Turkmenistan)
Hong Kong Women's Futsal National Team 2-3 (0-2, 2-1) Japan Women's Futsal National Team
Scores
8' SEKINADA Minako(Japan Women's Futsal National Team)
16' NAKAJIMA Shiori(Japan Women's Futsal National Team)
23' TAKEMURA Junko(Japan Women's Futsal National Team)
30' goal against (Hong Kong Women's Futsal National Team)
38' goal against(Hong Kong Women's Futsal National Team)
Reserves
GK:YAMAMOTO Ayaka
FP:FUJITA Mio, TAKEMURA Junko, SAKURADA Miku, KITAGAWA Kana
Substitutions
GK:MAEHARA Ringo
FP:KATO Masami, HOTTA Eriko, EGAWA Ryo, TANAKA Chihiro, SEKINADA Minako, NAKAJIMA Shiori, TAKAO Akari, SAKATA Mutsumi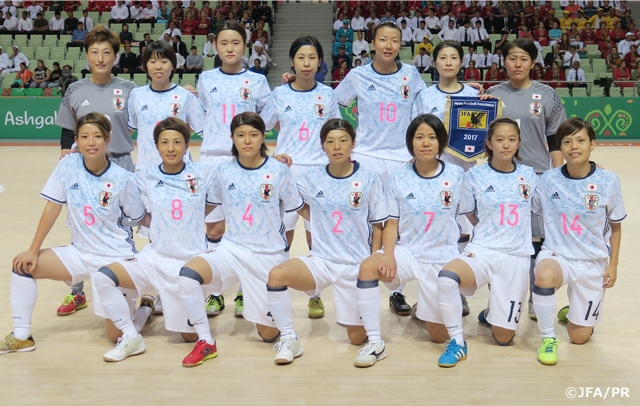 Match Report
Japan Women's Futsal National Team had their second match of the tournament on the next day of their opener. Their opponents were Hong Kong who routed hosts Turkmenistan 6-1 in their first game.
Japanese coach ITO Masanori commented prior to the match, 'We are facing Hong Kong who grabbed a win in their first match just like us. Let's clinch a spot in the playoffs with a win today. In order to attain this goal, we must enter the game with the right competitive mind-set.' Just as advised, Japan found their early chance in the very first minute of the match as KITAGAWA Kana came close to opening the scoring, but her shot hit the side netting. Subsequently, the Japanese squad fired in the 4th, 5th and 6th minutes, but all of their efforts failed to get past the solid Hong Kong defence who fortified in blocks in front of their goal.
It was then in the 8th minute when the Japanese women capitalised on the scoring chance from a free kick. Placed in the centre and right in front of the goal, NAKAJIMA Shiori sent in a neat pass to SEKINADA Minako, who slotted home an important opener for her team.
Japan further took advantage of a right corner on 16 minutes, when Nakajima reacted to the delivery from the far side to double the lead before halftime.
The Japanese squad got off to an ideal start in the second half, as TAKEMURA Junko's shot was deflected off an opposing defender and into the net to stretch the lead to three goals. On the other hand, Hong Kong did not stay quiet either, as they struck back in the 30th and 38th minutes and made it a one-point game with two minutes remaining. However, their strong challenge was fend off by the resilient Japanese defence and Japan secured a back-to-back wins in the group stage.
In the later match held that day, China grabbed a win over hosts Turkmenistan. With this result, Japan clinched the top spot of Group C.
This was the birthday for goalkeeper MAEHARA Ringo. She celebrated her birthday along with her teammates, JOC members and volunteer staff. Furthermore, the players of the Iran women's squad, who stayed in the same facility as Japan, came and sang 'happy birthday' for her as well.
The final group-stage match against hosts Turkmenistan will take place on Wednesday 20.
Coach's and Players' Comments
ITO Masanori, Coach
Judging by the score 3-2, I think it can be understood how difficult today's match was. Yet I believe that we have been able to show the play of a winner in the match. We positively take the fact that we have gone through to the next stage as a top team with a win today.
Our scores are all from set-plays. This was our advantage since we scored from set-plays in futsal. I personally think that Japan's futsal cannot effectively use set-plays in our matches. For example, we simply fire or cross the placed ball. On other set-pieces, we do not take into account the defensive formation of our opponents. Our strengths as Japanese players are hard-working attitude and high skills. Therefore, I think set-plays can be our strengths as a Japanese team. In this sense, it was very important that we could score the goals from set-plays in today's match.
In the match, Hong Kong kept strong defence and threatened us with quick offense utilising their strengths in their forward line. Particularly, the No. 6 defender and No. 7 attacker were posing constant threats to us. I still see that our players responded well to them but there were some plays which we could not break through. When we conceded goals, we could not deny the talented moves of the players as well as making few errors of our own. In international matches, there are talented players who can break through well with their own individual plays. It is a contest of individual battles. The team is required to respond to these individual talents. This is our next issue to sort out and it will definitely be important for us to improve it for the semi-final and final matches.
After our match, there was the Turkmenistan match. The stadium was filled with supporters of the hosting country and it was very powerful. I am excited to play the next match in such a wonderful atmosphere.
FP #9 SEKINADA Minako (arco-iris KOBE)
First of all, I am happy that we have won the second match which was against Hong Kong. When I scored, it was the indirect free-kick from a back-pass and it was not so far from the goal. So I just smashed the dropped ball to the net. I was happy since it was the opening goal that we could score finally after continuous attacks. We have two days before the next match, so we will check what to correct and improve.
FP #10 NAKAJIMA Shiori (FSF Mostoles/Spain)
While we were stilled tired from playing yesterday's match, we could win today and it was very good. When we scored, the corner-kick was good and our player just applied the final touch to the goal freely. Since we had set-piece training, it was very good that we could score from it. In the 2nd half we conceded two consecutive goals and it was the difficult time for us, but the fact that we could overcome the challenge in the end will give us strengths for the future. It was good that we could win the three points and advance to the semi-finals. For the last match of the group stage, we will play against the hosting country Turkmenistan. I know that there will be facing a huge crowd of Turkmenistan supporters but we definitely want to win this one and gain some momentum going into the semi-final.
FP #11 KITAGAWA Kana (Maruoka Ruck)
We have won two of the first group stage matches. I could not score any goals in these two matches, but it was good that I could make two assists in the previous match against China. Even though we could get the two-consecutive wins, we still have issues, so we will correct them during the next two days before the final match of the group stage against Turkmenistan. We want to finish the group stage with the victory. It is very clear that we will have to play in a completely away-atmosphere so we will make sure that we can communicate amongst ourselves very well despite having difficulties in hearing each other, and play well observing closely their game plan. What we want is to win the title. To finish the competition with the fourth-consecutive victory, we want to win the rest of three matches.
Schedule
The 5th Asian Indoor and Martial Arts Games
Sat. 16 September
5-2
Group Stage 1st Match vs China PR
Sun. 17 September
2-1
Group Stage 2nd Match vs Hong Kong
Mon. 18 September
tbc
Training
Tue. 19 September
tbc
Training
Wed. 20 September
13:15
Group Stage 3rd Match vs Turkmenistan
Thu. 21 September
tbc
Training
Fri. 22 September
tbc
Training
Sat. 23 September
tbc
Training
Sun. 24 September
tbc
Semi-finals
Mon. 25 September
tbc
Final, 3rd-Place Match
Tue. 26 September
tbc
Training
*The schedule is subject to change due to the team condition, the weather, etc.
**Indonesia and Vietnam have withdrawn their participation in the 5th Asian Indoor and Martial Arts Games Ashgabat 2017. Draw was retaken on Thursday 14 September, and the tournament fixtures and schedule were changed accordingly.