NEWS
SAMURAI BLUE go through tactics with doors closed ahead of Thailand match
05 September 2016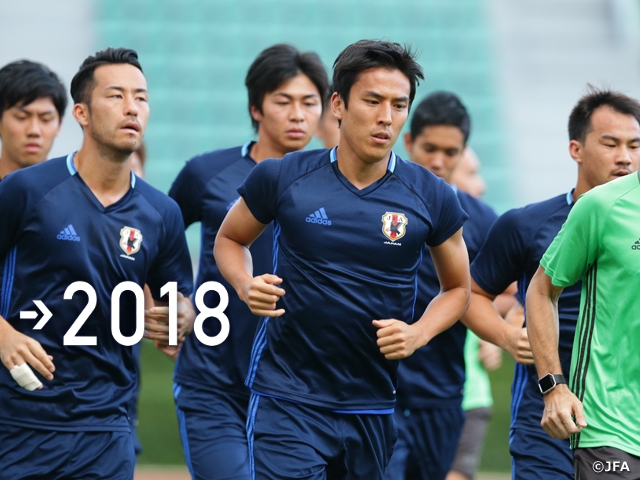 SAMURAI BLUE (Japan National Team) trained in Bangkok on Sunday 4 September just two days ahead of the 2018 World Cup Asian Qualifiers Final Round (Road to Russia).
In hot and humid weather after rain, they mostly worked on tactical training with doors closed except the first 15 minutes. Midfielder KASHIWAGI Yosuke (Urawa Red Diamonds) also joined the team practice after the separate workout that continued until yesterday.
Although the training session lasted just a little over an hour, "it's not about the length of time but quality because the match is two days ahead," pointed out National Team Director SHIMODA Masahiro.
While Japan allowed the United Arab Emirates (UAE) a comeback win in their first match on 1 September, Thailand also lost their away match 1-0 to Saudi Arabia on the same day. The next match is expected to be a tough contest as both Japan and Thailand need a victory to seek the sixth straight World Cup spot and the maiden appearance respectively.
Midfielder KIYOTAKE Hiroshi (Sevilla FC/ Spain) said, "I left the 'sentiment of defeat' in Japan. I renewed my mind here."
The all-time record of Japan against Thailand shows Japan's 14 wins, 2 losses and 4 draws, and they won 5, lost 1 and drew 1 after Japan's football league became professional. Japan play against Thailand for the first time after they beat the host 3-0 in Bangkok under coach OKADA Takeshi in the 2010 World Cup South Africa Qualifiers Third Round in June 2008. Speaking of the World Cup qualifiers match-ups, it is 4-0 in Japan's favour.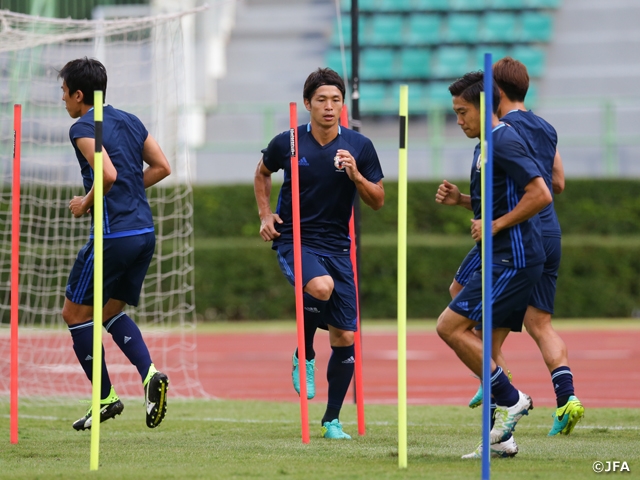 Thailand stand in the 120th place in the FIFA World Rankings, while Japan are in the 49th. But they have gradually moved up in the rankings since 2013 and got through the second qualifying round of the 2018 Russia World Cup unbeaten with four wins and two draws on top of Group F. In the Saudi Arabia match, they were tenacious throughout the match as well, threatening the opponents until the last-minute penalty they gave up.
The Southeast Asian side have eight players from the Thailand Premier League leaders Muangthong United, including their pivotal players: attacking midfielder Chanathip Songkrasin, forward Teerasil Dangda and defender Theerathon Bunmathan, captain of the team. Thailand also practised at the same field as Japan on that day.
From his experience where he met Thai clubs in the AFC Champions League (ACL), USAMI Takashi (FC Augsburg/ Germany) shows his wariness that they are the team to be reckoned with. "I experienced how capable they are when we faced them in the ACL. I don't see them being at a lower level," says Usami.
Forward ASANO Takuma (VfB Stuttgart/ Germany), who faced Thailand in the AFC U-23 Championship this year combined with the Olympics' final qualifying round, also says, "each one of the players has got great skills as well as high pace and agility. And then, they prioritise defence. If we give them momentum, they will play in a way they want. We need to break down as much as we can before that and hopefully pick up the pace."
The match is scheduled to begin at 19:15 on Tuesday 6 September at Rajamangala Stadium.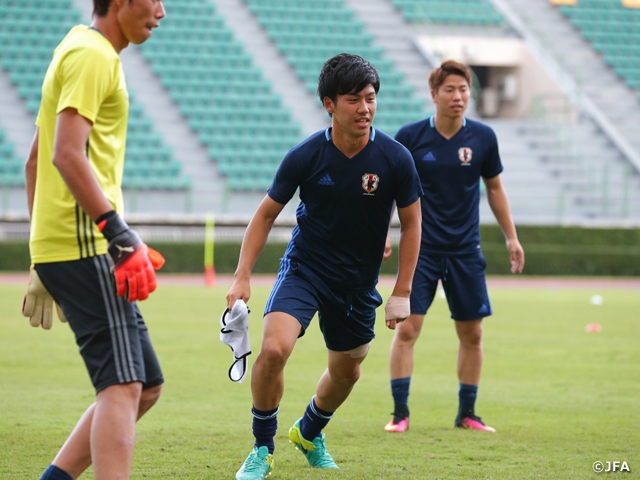 Players' Comments
FW #18 ASANO Takuma (Arsenal FC)
You won't win if you don't score when needed. In the UAE match, that remained as what I need to resolve. I've always feel even more determined to score in the following match, when I sense the disappointment that I couldn't score in the previous one. In the next match, I will try to come out with a determination that I will score at any cost. If we can play our game, it's possible to find space behind the defensive line while moving the ball swiftly and not allowing the opponents to play at their pace, while finding ours.
FW #11 USAMI Takashi (FC Augsburg)
Thailand have got swift counterattacks. And the No.10 up front can hold the ball while other players come out from the second attacking line. They are not tall and not superior in terms of physicality, so I think they will rely on other strengths. It's going to be key when to use the sides and the middle and how well we can break through the sides. I don't know who will play, but if I have a chance to play, I want to be aware of that. And it's important not to make the same mistakes as the UAE match. To come through this situation as a team and move forward with good momentum, we need to go back to Japan with a victory.
MF #15 ENDO Wataru (Urawa Red Diamonds)
We are all trying to refresh our mind and have called out to each other. And we've feel focused and ready to play the next match. The final qualifying round is intense, and a small mistake can lead to an opponents' goal. That's similar to U-23s matches, but I feel it's tougher here at the senior team. We must get three points next. I'm always prepared to play, but simply being ready to play is insufficient. I need to prepare myself to win three points.
MF #6 MORISHIGE Masato (F.C. Tokyo)
The weather is not the problem. I even feel it's cool. We all renewed our determination after the UAE match for the next match. And we've got more opportunities to talk with each other. I want to take it positively and get through with my teammates. Even if the opponents sit back in defence, all we need to do is just break it down by ourselves. And we need to change the current situation on our own. We will take care of their attacks from the left flank with No. 10 and counterattacks.
Schedule
Sun. 28 August
PM
Training *Open to the public (TBC)
Mon. 29 August
PM
Training *Closed-door
Tue. 30 August
PM
Training *Closed-door
Wed. 31 August
TBC
Training *Closed-door
Thu. 1 September
1-2
ASIAN QUALIFIERS - ROAD TO RUSSIA
vs UAE (Saitama Stadium 2002)
Fri. 2 September
AM
Training *Open to the public (TBC)
Sat. 3 September
PM
Training *Open to the public (TBC)
Sun. 4 September
PM
Training *Closed-door
Mon. 5 September
PM
Training *Closed-door
Tue. 6 September
19:15
ASIAN QUALIFIERS - ROAD TO RUSSIA
vs Thailand (Rajamangala Stadium)
*The schedule is subject to change due to the team condition, the weather, etc.
*Local Time
ASIAN QUALIFIERS - ROAD TO RUSSIA
2016-9-6 (Tue.) - 19:15 (estimate time) (Japan Time 21:15)
Rajamangala Stadium (Bangkok/Thailand)
Thailand National Team vs SAMURAI BLUE (Japan National Team)
More information