NEWS
Nadeshiko Japan notch 3-0 win, advance to championship match
30 September 2014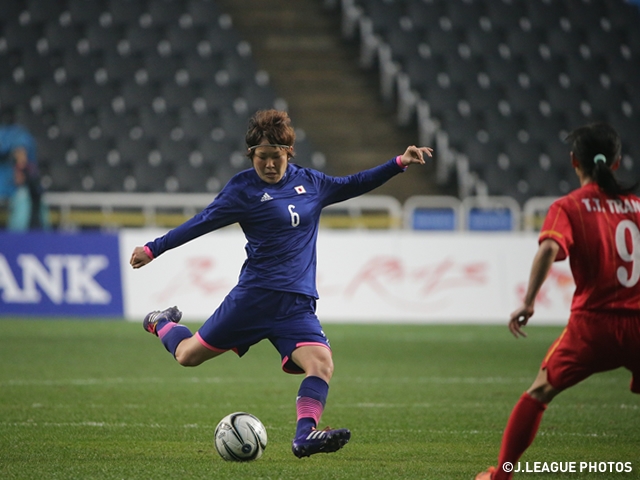 The 17th Asian Games (2014/Incheon) Knockout Stage
Mon. 29 September 2014 Kickoff at 17:00 90minutes
Incheon Football Stadium(Incheon/Korea Republic)
Nadeshiko Japan (Japan Women's National Team) 3-0 (1st 1-0, 2nd 2-0) Vietnam Women's National Team
Scores
24min SAKAGUCHI Mizuho (Nadeshiko Japan)
53min OSAFUNE Kana (Nadeshiko Japan)
74min SUGASAWA Yuika (Nadeshiko Japan)
Starters
GK YAMANE Erina
DF ARIYOSHI Saori, KITAHARA Kana, OSAFUNE Kana, HAZA Hisui
MF SAKAGUCHI Mizuho, NAKAJIMA Emi, MIYAMA Aya, KAWASUMI Nahomi
FW TAKASE Megumi, MASUYA Rika
Substitutes
GK KAIHORI Ayumi
DF IWASHIMIZU Azusa, USUI Rie,
MF KIRYU Nanase, NAOMOTO Hikaru
FW KIRA Chinatsu, SUGASAWA Yuika
HT  NAKAJIMA Emi → KIRA Chinatsu
64min TAKASE Megumi → SUGASAWA Yuika
74min SAKAGUCHI Mizuho → NAOMOTO Hikaru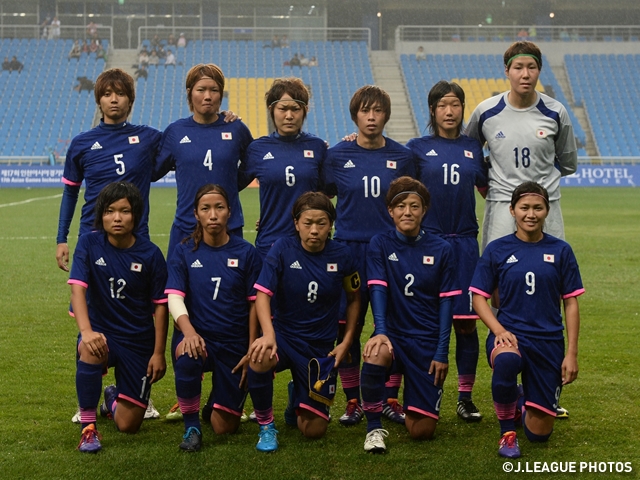 Match Report
With the ticket for the championship game at stake, Japan took on Vietnam in a drizzling rain.
Earlier portion of the game, partially because Vietnam approached so quickly, Japan held the ball yet had hard time settling it down. Yet they showed attacking attitudes as Takase received a pass and flipped to fire a shot on 17th minute and then on 23rd, Takase dropped a cross from Haza and Masuya took a shot with it.
On 24th, after the ball was loose following a corner kick, Miyama launched a cross inside, which was initially saved by the opposing goalkeeper, yet Sakaguchi composedly made it into the net to put Japan on the scoreboard. On 35th, Ariyoshi reacted to a penetrating pass and became a one-on-one with the goalkeeper, but her shot was save by the goalkeeper. Vietnam robbed the ball from Japan and brought it forward, yet weren't good enough to break down Japan's defensive line.
In the second half, Kira substituted for Nakajima in the left side half. On 53rd minute, Osafuna made a dynamic header into the net from a corner kick and Japan extended their lead to 2-0. On 74th, Sugasawa, who replaced Takase, scored capitalizing on a corner kick opportunity to make the score 3-0. The game ended as it was and Japan clinched their third straight Asian Games final.
In the other semifinal match, North Korea scored a dramatic goal in stoppage time against South Korea.
The championship game between Japan and North Korea will kick of fat 8 p.m. on Wednesday.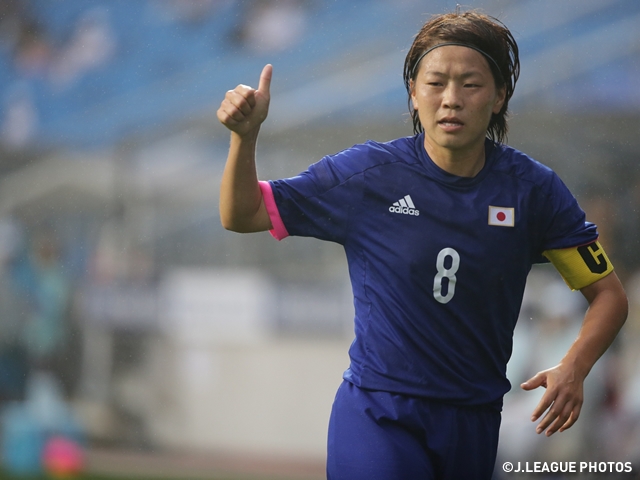 Comments
SASAKI Norio, Head Coach
We have reflect that we struggled taking the ball from Vietnam more than we'd imagined, but overall our players performed to how we wanted them to, and played it to get some momentum for our next match. Offensively, we had some good plays such as attacking from the sides and lateral passes But defensively, we have to elaborate our control and passing speed while we have to better our connections with each player coming in the final. We are not going to change our preparation we've done, and in order to win the gold medal we are going to come in the game with strong mind-set.
SAKAGUCHI Mizuho(Nippon Television Beleza)
I wanted to score a goal, but it was just a coincidence because the pass came in the right spot. While we wanted to directly kick good passes from Miyama into the net, we struggled doing it, so it was rewarding that I put it in even if it was a loose ball.
We only have one day before the final game, so how much we can recover from the fatigue will be important. The more games we played, the better our combinations have become, and no matter who will play in it we'll do our best.
But in the final, our opponents have totally different speed and we may be perplexed early on. So we are going to brace ourselves.
SUGASAWA Yuika(JEF United Ichihara-Chiba Ladies)
It was great for me to score, but at the same time I missed so many opportunities, so I want to improve on it. While we have some new players, we have yet to play our own game as Nadeshiko Japan have established in the past. We have one day's rest until the final. We want to hold our opponents' strengths and finish it giving up no goals, and being a forward player, I want to score. Winning is our sole goal, and we are going to do our best being united.
Match Schedule
Mon, 15 September

0 - 0

vs. China

Namdong Asiad Rugby Field

Thu, 18 September

12 - 0

vs. Jordan

Namdong Asiad Rugby Field

Mon, 22 September

3 - 0

vs. Chinese Taipei

Munhak Stadium

Fri, 26 September

9 - 0

vs. Hong Kong

Hwaseong Sports Complex Main Stadium


Mon, 29 September

3 - 0
Semi Final
vs. Vietnam

Incheon Football Stadium

Wed, 1 October

20:00

Final

Munhak Stadium