NEWS
Three players arrive for Day 4 of SAMURAI BLUE training camp
25 May 2014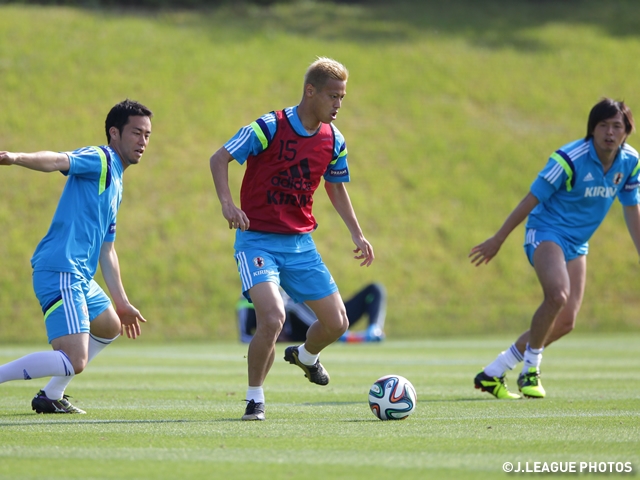 Japan's World Cup squad landed three other remaining members, who came in the site late, and held a practice with all the 23 registered players on the 24th May at their training camp.
Forward Honda Keisuke and defender Nagatomo Yuto, both of whom returned from Italy, and goalkeeper Kawashima Eiji, who flew back from Belgium, arrived at the team hotel in Ibusuki, Kagoshima Prefecture, on the night of the 23rd. They appeared on the ground along with their teammates in cheerful manners on the summer-like sunny morning of the 24th.
At the beginning of the morning session and Nagatomo worked on physical training, Kawashima had a goalkeeper's menu, while Honda joined the team's offensive practice. As the team played the players of the National Institute of Fitness and Sports in Kanoya assuming they are their opponents, they checked on their offensive structure, linkage and details, putting phased changed against the pressure of the collegiate players.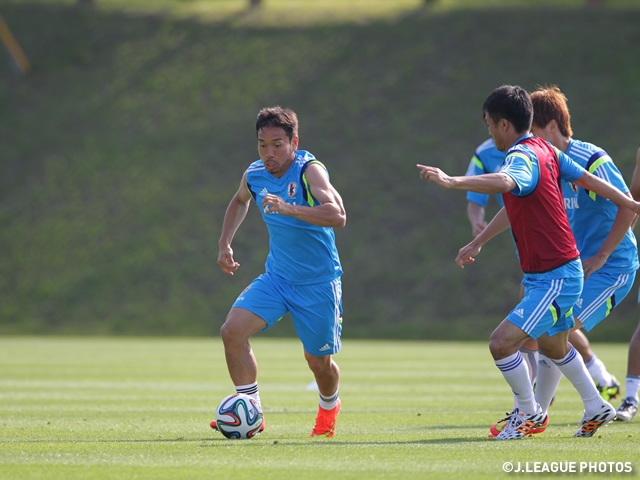 As the three now arrived on the team, forward Osako Yuya said, ''there was even more of a tense atmosphere and it was a good mood.''
On the night, a total of 75 fireworks were launched to boost the team at the hotel, and the players watched them at the terrace of the hotel. It was some colorful night to celebrate the final night of the Ibusuki training camp.
Meanwhile, defender Sakai Gotoku hurt his right knee and left the team practice. He headed to a hospital in Kagoshima Prefecture to examine on the injury part.
''He hurt it while he fell, competing. I hope it's not too bad but can't say anything for the time being,'' JFA technical director Hara Hiromi said of Sakai's injury.
The team ended their training camp in Ibusuki on the 25th, and were headed back to Tokyo to attend a send-off party for the World Cup on the night.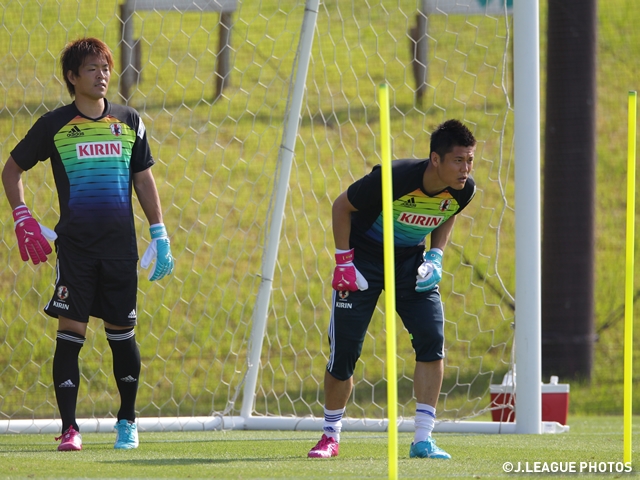 Comments
GK KAWASHIMA Eiji(Standard Liège (Belgium) )
I feels like we are finally there, and I've been always aware of this (World Cup) since our defeat by Paraguay four years ago. I think that it will be important how much we can raise our level, even by one percent or two percent, both as individuals and the team. In order to keep winning to advance, it's important for us to go through hard physical training and it will pay off when we face difficult times in the tournament. I've been asked to do the best job when it mattered most (at my own club), and I want to do the same at the World Cup. I want to spend the rest of the time until the tournament to be able to make it happen.
FW OSAKO Yuya(TSV1860 München(Germany))
I was able to have good preparation physically. There are things that can only be done by me on the national team, so it will be important to keep being who I am. I am given my own role here, but I think it will be even better to be able to showcase what I can do. While there are things that we won't get to know until we actually play a game, but I still feel like I will have to show some extra things that I can do.
DF SAKAI Hiroki(Hannover 96(Germany))
We have a good mood on this team, but when we have to do, we are doing. Now I think that it will be better for us to tighten up our mentality toward the tournament. Once we get to play in the tournament, I want to give a positive effect to the team, and since the preparation period is short, I would like to make every single day meaningful. It will be important to show what I can do for the victory. And then I hope I will have showcased my traits in the end.
Maurizio Guido Goalkeeper Coach
The training camp has been fine. We are given the circumstances that we can focus on our job, and our players' motivation are really high. Especially, that they have the attitudes that they work on their daily practices with desire to improve themselves surprises me a lot. Japanese goalkeepers are very technical with their foot and are good at kicking, so they can feed accurate passes, which is their strength. But in the competitions in the global level, you need mental strengths and personalities, not just technicality and physicality. Goalkeepers have to control the whole team from the goal, and I've observed their attitudes for their games at J. League games. Not just you stop shots and feed forward, you also have to get involved in the game for the entire 90 minutes. We could not call up all the players we've watched, but everybody has done good job on the national team. I would like to appreciated it. Whoever among the three men will get to play, I will be satisfied. We have been working in the last four years, aiming at the World Cup. Our guys have tuned up perfectly, so I feel that I want to see us play a game as soon as possible now.
Schedule
Wed, 21 May ~ Sun, 25 May
-
Training Camp
Sun, 25 May
18:00
"Dream for Our power 2014" send off party
(Tokyo/Yoyogi National Stadium Yoyogi Gymnasiums 1)
Tue, 27 May
19:30
Kirin Challeng Cup2014 vs Cyprus National Team(SAITAMA Stadium2〇〇2)
Thu, 29 May ~ Fri, 6 June
-
Training Camp(Unaited States)
Mon, 2 June
21:00
International Friendly Match vs Costa Rica NationalTeam(United States/Tampa)
Fri, 6 June
19:30
International Friendly Match vs Zambia NationalTeam(United States/Tampa)
Sat, 14 June
22:00
2014 FIFA World Cup Brazil vs CÔTE D'IVOIRE National Team(Arena Pernambuco)
Thu, 19 June
19:00
2014 FIFA World Cup Brazil vs Greece National Team(Estadio das Dunas)
Tue, 24 June
16:00
2014 FIFA World Cup Brazil vs Colombia National Team(Arena Pantanal)
※Local Time