NEWS
Futsal Japan National Team Won an AFC Futsal Championship Comments from All Team Members
12 May 2014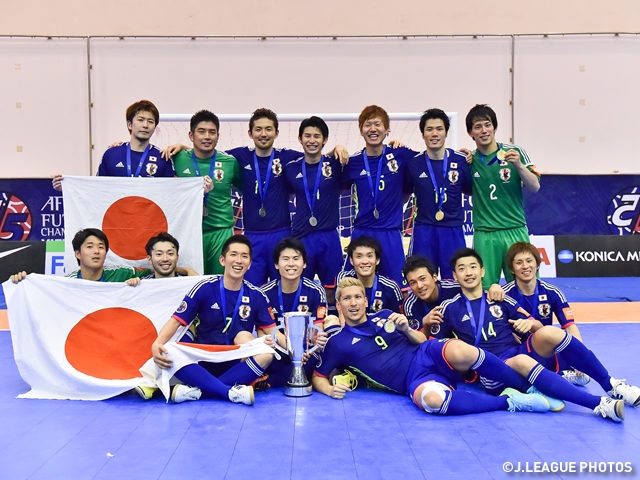 GK:1 KAWAHARA Hisamitsu (Agleymina Hamamatsu)
I'm happy that we were able to win our second consecutive title. This has been the eighth year since F-League was formed, and Japan National Team has shown gradual improvement. I'm personally not completely satisfied, but I was encouraged by passionate supporters both in Vietnam and in Japan. Thank you very much for your support. Now it's time for us all to get excited for F-League.
GK:2 SEKIGUCHI Yushi (Espolada Hokkaido)
This is the first time I won a big title like this in my life, so I'm very happy about that. I was able to participate in the final stage thanks to everybody including Mr. Kawahara and Mr. Fujiwara, so I would like to thank them first. Also, I want to make more efforts to win the third consecutive title and participate in World Cup. My personal goal is to keep playing as a member of the national team.
FP:3 NAKAMURA Yusuke (Agleymina Hamamatsu)
We were able to win the AFC Championship, which was our goal. I think everyone including players, staffs, and supporters contributed to the championship. Even in Vietnam, there were many supporters who came to cheer for us, so we were very encouraged when we had tough time. I played matches as a representative of Japanese team for the first time, so I had a feeling of responsibility and felt pressure from the idea that I had to achieve results. Despite of the fact, I was able to enjoy playing very much. I want to do my best to bring more enthusiasm to futsal in Japan as F-League will start soon.
FP:4 MINAMOTO Akira (Fuchu Athletic F.C.)
I'm very glad that I was able to make a contribution to get the consecutive title for the first time. I think we were able to prove that Japan National Team reached the next level by beating our rival Iran National Team. However, if I look back with a clear sense of perspective, there is no doubt that Iran National Team was dominating the match for a longer time than our team. Even so, we were able to win. I think it is thanks to everybody who came all the way to Vietnam to cheer for us and those who cheered for us in front of TVs. This tournament gave us confidence that our team could improve. In order to actually improve, there is no alternative but to increase the performance of F-League. Cup will start next week, and F-League will start from June. With encouragement from all of you, players can grow more and more. Please come to the venues and cheer for us. Let's improve Japan National Team together.
FP:5 UCHIMURA Shunta (Shonan Bellmare Sports Club)
I'm really happy that we ended up getting the second consecutive title. Although we had hard time, we were able to play as a team in each match. I think this is the reason why we got the results. I had never got a title before, so I'm proud I was able to get a title as a team member. I want to make efforts in order to bring this futsal team which older generation built up, to next level. I want to say thank you very much to those who gave a cheer for us from Japan, supporters who came to Vietnam to cheer for us, staffs, everyone concerned, and teammates.
FP:6 OSODO Nobuya (Vasagey Oita)
We were able to achieve our goal to get the consecutive title. I think we were able to win the title thanks to those who cheered for us in Vietnam, those who cheered for us through live TV broadcast, and many others who have built up and support Futsal Japan National Team. I was able to feel even more keenly the support from many people. I want to try my best in F-League so that futsal can be enjoyed and loved by more people. I'm just really happy that I was able to have support from the best teammates and staff and to win a championship.
FP:7 SATO Toru (Umacon Zaragoza Futbol Sala)
We were able to end the tournament in a best way by winning the AFC Futsal Championship and having successive victory, which had never been done before. I think not only players in our opposing teams, staffs, supporters but also the history that Japan's Futsal has created played a big role in our winning a championship. I strongly felt our growth as a new team as we overcame the hardship during the expedition to Spain and this tournament. I'm proud I was able to be there and achieve good results with best members. However, this doesn't mean that we have accomplished our goal. We aim to be placed in the top 8 in World Cup which will be held two years later. Let's make Japan's futsal move forward as a whole to achieve the goal. I personally want to go back to the club and improve my skills so that I can be on the stage again.
FP:8 TAKITA Manabu (ASV Pescadola Machida)
It was the third AFC Futsal Championship for me. In each championship our team became very competitive, having its own strengths, but this year I felt the team was especially unique and united. Our aim, as ever, was to win the championship, and achieving this goal makes me very proud, as well as confident. However, wining the championship is just a springboard to further achievements. Our next goal is to get results in FIFA Futsal World Cup in 2016. To do so, we need to qualify by winning the next competition. This year's victory is the first step towards that. Our team needs to improve, as I am certain that Iran will come back stronger. Personally I was frustrated with my performance during the competition, but I will improve and win my place on the national team again.
FP:9 MORIOKA Kaoru(Nagoya Oceans)
I feel very proud that our team won the championship. I couldn't get myself into great shape due to an injury that I picked up during the training camp in Spain. However great teammates lead us to victory. Thanks to our staff and the medical treatment I received, I was able to play in Vietnam. I really appreciate their efforts. As our next aim is to win a third championship in a row, I will definitely get myself in the best condition. We couldn't have won without our many fans, who came all the way from Japan, as well as the supporters back home. I will try harder, using the experiences I gained here in future competitions, in order to be selected for the national team again.
FP:10 NIBUYA Kazuhiro (Vasagey Oita)
I've had a very positive experience during the visit to Spain, the camp in Nagoya and AFC Futsal Championship. In Spain I played against world-leading teams, which is a very rare opportunity in Japan, and learned a lot. I got myself into good physical condition at the Nagoya camp and went to Vietnam. I found it difficult to play like I did in Spain, as Asian teams' playing style was different from the Spanish one. In this competition many teams focused on defence and getting the timing right for a counter attack. Due to these differences and also the loss in the group stage, we had a hard time. However we pulled ourselves together, kept trying and moved into the final. Though Iran was really strong, we won the match, thanks to all the players, staff and supporters. I really enjoyed myself. I want to thank everyone who supported us. I will try harder, practicing even more to achieve the next level.
FP:11 HOSHI Shota (Bardral Urayasu Futbol Sala)
First of all, I am very proud that we became back-to-back champions. Also I feel pride in captaining this team. I knew the potential of our players, but it didn't mean anything without good results. We have become stronger and stronger with each match since the visit to Spain, believing in ourselves, supporting each other, and finally won the championship. Still, we can be a much better team. We will achieve the next level with confidence, but without becoming arrogant. We will never forget that we couldn't have had this victory, if it hadn't been for our supporters at the pitch, as well as in Japan, the media and our sponsors. I really do appreciate all your help.
GK:12 FUJIWARA Jun (Bardral Urayasu Futbol Sala)
I am very happy that we won the AFC Futsal Championship again. Personally, it was my third championship and I think I contributed, as I played in three matches. The next one will be in two years. I will keep training to be a better player so that I will be selected for the national team again.
FP:13 WATANABE Tomoaki (Nagoya Oceans)
It was very good to end the AFC Futsal Championship 2014 with winning the title. Through the Spain Trip, the camp in Nagoya, and this AFC Futsal Championship we have worked together for a long time as a team. Over time team members became firmly united and that lead us to win the title.
This team had a very good teamwork which is always most important in any team sports. I am proud of winning the AFC Futsal Championship as a member of this squad. Winning the title by beating Iran and being the first team to successfully retain AFC Futsal Championship are very remarkable for Japanese Futsal history and I believe that these achievements are a testament to the growth of Japanese Futsal.
However, we should not stop working. We want to devote ourselves more in the Japan Futsal League to become one of the world-class teams and to have pride as the No.1 Asian team. We never forget all of the support from the people who cheered us on to victory - both in Vietnam and Japan. Everyone involved with Japan Futsal accomplished this victory. Thank you very much for all the support.
FP:14 INABA Kotaro (Bardral Urayasu Futbol Sala)
We were able to achieve a consecutive AFC Futsal Championship win, and I think that is as a result of good teamwork. I'm feeling very happy. I want to soak in the afterglow of the victory for a few days in Japan, our home country. It was a young team which more than half of the players were new, along with the member who were in the previous Championship, but the team was able to beat Iran in the final. This leads us to be more confident and I felt a growth of the team game by game throughout this Championship.
I am a veteran of the previous championship and this increase in responsibility has meant the feeling of joy of winning this time is different. Japan Futsal league is starting soon, and I think we have to develop ourselves throughout experiences in each teams, to ensure we will be one of the best 8 in the world before the next AFC Futsal Championship and the World Cup. We will do our best to boost Japan's futsal. Finally, thank you for all of the support.
FP:15 YOSHIKAWA Tomoki(Nagoya Oceans)
We have won the AFC Futsal Championship. I am really happy. I am sure that the all people who supported us - the supporters who came to the stadium and the people cheering in front of their TV's back in Japan gave us much strength to achieve the victory. We want to improve as individuals and as a team for the next World Cup in 2016. I appreciate your continued support.
FP:16 NISHITANI Ryosuke (Deucao Kobe)
I am very pleased that we have achieved our aim by this consecutive victory at AFC Futsal Championship, which is the first experience for Japan. This achievement is due not only to our play on the pitch, but also to all the support of our staff who always offered us kind help, to supporters who came to the stadium all the way from Japan, and to all the others who cheered for us in Japan. This support definitely pushed us to make this remarkable achievement.
Also, we are proud to be an important part of Japanese futsal history following the precious achievement in the previous AFC Futsal Championship. However, from now on other countries will work hard towards overthrowing Japan. We should not be satisfied with how we are and just keep our current level. We want to push ourselves to improve our level for further achievements and making a new success story of Japanese futsal history. AFC Futsal Championship will be held again after 2 years. I want to work hard as a member of the squad to defend our status as Asian champion and to be qualified for the World Cup.
Schedule
AFC Futsal Championship Vietnam 2014
Thu. 1 May
12 - 0
Group Stage 1st leg
vs. Korea National Futsal Team
(Ton Duc Thang University Stadium)
LIVE
NHK BS1 Thu. 1 May 17:40 - 17:49
NHK BS1(Sub ch102) Thu. 1 May 17:49 - 20:00

Video Recording
TV Asahi Channel 2 Fri. 2 May 21:00 - 23:00
TV Asahi Channel 2 Tue. 13 May 17:00 - 19:00
Sat. 3 May
1 - 2
Group Stage
vs. Uzbekistan National Futsal Team
(Phu Tho Stadium)
Video Recording
NHK BS1 Sun. 4 May 08:00 - 09:50
TV Asahi Channel 2 Sun. 4 May 20:30 - 22:30
TV Asahi Channel 2 Wed. 14 May 17:00 - 19:00
Mon. 5 May
4 - 0
Group Stage
vs. Kirghiz National Futsal Team
(Phu Tho Stadium
LIVE
NHK BS1 Mon 5 May 20:15 - 21:49
NHK BS1(Sub ch102) 5/5(月) 21:49 - 22:30

Video Recording
TV Asahi Channel 2 Tue. 6 May 21:00 - 23:00
TV Asahi Channel 2 Thu. 15 May 17:00 - 19:0
Wed. 7 May
3 - 2
Quarter Final
vs Thailand National Futsal Team
(Ton Duc Thang University Stadium)
LIVE
NHK BS1 5/7(水) 17:15 - 17:49
NHK BS1(サブch102) Wed. 7 May 17:49 - 19:30
TV Asahi Channel 1 Wed.7 May 17:25 - 20:00

Video Recording
TV Asahi Channel 2 Thu. 8 May 21:00 - 23:00
TV Asahi Channel 2 Fri.16 May 17:00 - 19:00 
Thu. 8 May
6 - 1
Semifinal
vs Kuwait National Futsal Team
(Phu Tho Stadium)
LIVE
NHK BS1 5/8(木) 17:15 - 17:49
NHK BS1(Sub ch102)Thu. 8 May 5/8 17:49 - 19:30
TV Asahi Channel 1 Thu. 8 May 17:25 - 20:00

Video Recording
TV Asahi Channel 2 Fri. 9 May 21:00 - 23:00
TV Asahi Channel 2 Sat. 24 May 19:00 - 21:00
TV Asahi Channel 2 Thu 29 May 00:00 - 02:00 
Sat. 10 May
2-2
(PK3-0)
Final
vs Iran National Futsal Team
(Phu Tho Stadium)
LIVE
TV Asahi Channel 1 Sat. 10 May 20:55 - 23:30

Time Lag Broadcast
NHK BS1 Sat 10 May 21:10 - 21:55
NHK BS1(Sub ch102)Sat 10 May 21:55 - 00:00

Video Recording
TV Asahi Channel Sun 11 May 20:00 - 22:30
TV Asahi Channel 2 Mon 12 May 21:00 - 23:00
TV Asahi Channel 2 Mon 26 May 00:00 - 02:00  
※All match time is local time.
※The time for TV broadcasting is Japan time。