NEWS
SAMURAI BLUE's upcoming May 30 match, national teams' 2018 schedule announced
19 December 2017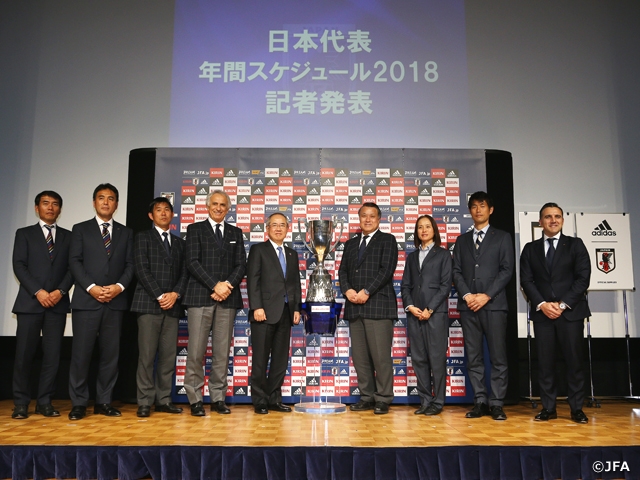 The Japan Football Association announced the 2018 schedule for each national team on Monday 18 December 2017. SAMURAI BLUE (Japan National Team), set to compete in the FIFA World Cup Russia in June, will play the KIRIN CHALLENGE CUP 2018 on 30 May at NISSAN STADIUM in Kanagawa, making it the last opportunity for the home crowd to watch the team play before the Cup.
Nadeshiko Japan will have the similar opportunity when they play a match in Nagasaki on 1 April before taking part in the AFC Women's Asia Cup Jordan 2018 held from 6 to 20 April in Jordan, which also has its function as the 2019 FIFA Women's World Cup France qualifiers.
The 2018 team activities for SAMURAI BLUE will kick off with their Europe trip and two matches on the road during the FIFA matchdays from 19-27 March.
As Japan are already scheduled to face Colombia, Senegal and Poland in the group stage of the FIFA World Cup starting on 14 June, coach Vahid HALILHODZIC hopes to simulate those fixtures in Group H by taking on teams with similar playing style in the matches in March and May.
Japan's coach says "I want to collect all the necessary pieces for this national team. The first match is the most important. We want to be totally ready for the first match as a team." National technical director NISHINO Akira adds "We have to make this year to be a year where our top team flourish at the world stage."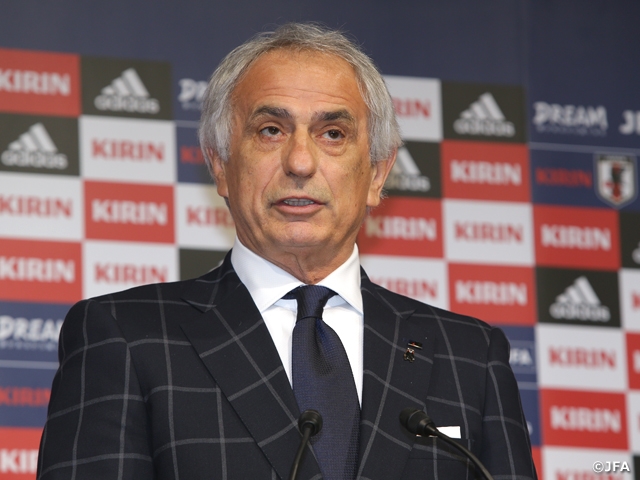 After the FIFA World Cup, the national team will restart its official match schedule at the KIRIN CHALLENGE CUP 2018 in September. They will play two matches, one at Sapporo Dome in Hokkaido on Friday 7, and the other at Suita City Football Stadium in Osaka on Tuesday 11. It will be followed up by a few more matches in October and November. The opponents will be determined later.
Japan U-21 National Team aiming for the Tokyo Olympics have just finished the M-150 Cup in Thailand last week, finishing as a runners-up under new coach MORIYASU Hajime. In the upcoming new year, they will play in the AFC U-23 Championship China 2018 starting on 9 January. They are scheduled for international trips for March and May, to Paraguay and to France respectively, and the Asian Games from 18 August in Indonesia will give the squad more opportunities for development.
Japan U-19 National Team will compete at the AFC U-19 Championship in Indonesia starting from 18 October for their spot in the FIFA U-20 World Cup 2019.
Meanwhile Nadeshiko Japan will start their activities with a training camp in Japan from 15 January. Then they will participate in the Algarve Cup at Portugal, kicking off on 28 February, followed by the Asian Cup in April competing for their ticket to the World Cup. Also on 18 August, the Asian Games will begin in Indonesia while in November an international friendly awaits for the female national team.
Two younger women's national teams, U-20s and U-17s are scheduled to play in the FIFA U-20 Women's World Cup in France in August, and the FIFA U-17 Women's World Cup in Uruguay in November respectively. Training camps and international trips will be scheduled to prepare the young squads for these big tournaments.
Starting from 2018, there will no longer be an U-23 women's national team, and there will be training camps held by the coaching staffs of Nadeshiko Japan in February and November, aiming to strengthen the team from younger age groups.
On the futsal side, coach Bruno GARCIA will lead Japan Futsal National Team at two international friendlies against world champions Argentina on 25 January at Ota City General Gymnasium, and on 28 at Toyama City General Gymnasium before going to Chinese Taipei for the AFC Futsal Championship 2018 starting on 1 February.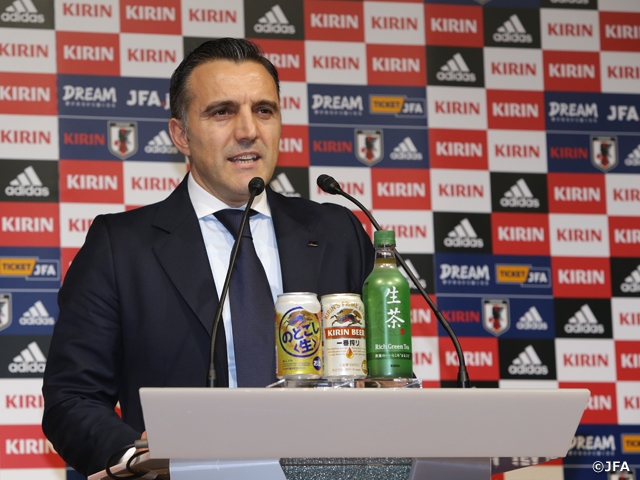 Japan Women's Futsal National Team will compete in the AFC Women's Futsal Championship in May in Thailand and start their hunt for their spot in the 2019 version of the same tournament at the qualifiers in October.
Last but not least, a new Japan Beach Soccer National Team will soon be put together under a new coach and will head into their training camp in February. Followed up by international trips in April and August, an international friendly in July, and finally the Intercontinental Cup in Dubai in November.
Comments
Vahid HALILHODZIC, Coach of SAMURAI BLUE (Japan National Team)
In 2018, we have the global event, which is the most beautiful, the biggest and the most dangerous event. We must make sure that we are fully prepared for it. The FIFA World Cup requires a lot from you, but I want to collect all the necessary pieces for this national team. I want to build a team that plays hard and aggressively for the team. I would like to make every Japanese citizens proud of how the team fought at the World Cup, and I am certain that the team will do their very best in Russia. The E-1 Football Championship presented us with a great opportunity to test the players playing in the domestic leagues. We will now take further look into the players playing abroad. We will create a large list consisting 30 to 35 players heading into March. The list will then trimmed down to 30 after the matches in March, and we will finalise the 23-man list thereon. We will also analyse our opponents and and have the strategies and tactics ready, which will allow me to to script out how we plan to play by March.
MORIYASU Hajime, Coach of Japan U-21 National Team
I have two tasks given. One is to win a medal in the Tokyo Olympics, and the other is developing players. From January, we start playing in tournaments, first at the AFC U-23 Championship. As we develop our team, I will be demanding good results from our team in all tournaments we participate. Also, we want to help as many players as possible move on from this underage category to the top national team.
KAGEYAMA Masanaga, Coach of Japan U-19 National Team
This year, this team played in the FIFA U-20 World Cup under coach UCHIYAMA Atsushi, and we must not stop what we have going right now. We want to develop as many players 18 and 19 years of age who has the ability to start in matches for the SAMURAI BLUE, the Olympic Squad, and their own clubs. We hope our activities will influence the players' everyday activity with their club in a positive way.
MORIYAMA Yoshiro, Coach of Japan U-16 National Team
Our players did their best in this year's FIFA U-17 World Cup. But clearly there were major gaps between our players and our opponents at the individual level. The goal for our new U-16 generation is to be able to win out of the Asian qualifiers for the U-17 World Cup. At the same time, gaining experience necessary to aim for higher levels, so the players can compete at the world class stages. I believe our mission is to develop them as a player and as a human being in order for them to be ready to lead Japan in the future.
TAKAKURA Asako, Coach of Nadeshiko Japan (Japan Women's National Team)
This year, in the 15 matches we played both domestically and internationally, we have tried so many things with our belief in this team's potential. Some of which includes the fusion of veteran Nadeshiko Japan players and younger players. Although the EAFF E-1 Championship ended in a disappointing manner with the loss to DPR Korea in the end, the tournament reminded our players of the burden that they bear when playing an official match as Nadeshiko Japan players. We will feed off of this experience, and continue striving to win a spot in the World Cup at the AFC Women's Asian Cup. We are determined to become number one in Asia.
IKEDA Futoshi, Coach of Japan Women's U-20 National Team
I was surprised by the speed of improvement the players of this generation has shown match after match at the AFC U-19 Women's Championship that we ended up winning. The U-20 World Cup we have in August next year will be a very valuable opportunity to experience the level of the world. I expect them to learn many things and improve there. That will be a good benchmark to know where Japan stands against the world. We want to go through good preparation for it.
Bruno GARCIA, Coach of Japan Futsal National Team
My mission is to get our team back to the state and position in which they are supposed to be at. This comes down to two aspects, construction and reconstruction. Regaining the things that we had is reconstruction, while finding young talents and developing them is construction. This year at the Asia Indoor Games, the gaps between generations were somewhat filled and the bronze medal gave us courage and confidence, helping us to improve further. The AFC Championship will be the most important tournament next year, and we want to prepare for it with our unwavering competitiveness.
TASHIMA Kohzo, President of the Japan Football Association
Our efforts of setting up matches against the elite countries in the world with our motto of "World Standard" has come into fruition, and we have advanced out of Asian qualifiers at every age category. But that is not enough. There are certain things you don't realise until you play at that world stage. That experience needs to be utilised for further development. Next year at the FIFA World Cup Russia, we will provide full support for our coach Halilhodzic so that our national team can achieve greatness. Nadeshiko Japan also have the FIFA Women's World Cup 2019 qualifiers in Jordan next year. We will continue to work hard together, linking up with younger age groups such as the U-17s and U-20s in order to become world champions once again.