NEWS
【Match Report】Japan Beach Soccer National Team fail to qualify after losing to IR Iran in the 2nd ANOC World Beach Games Bali 2023 Asian Qualifier
27 May 2023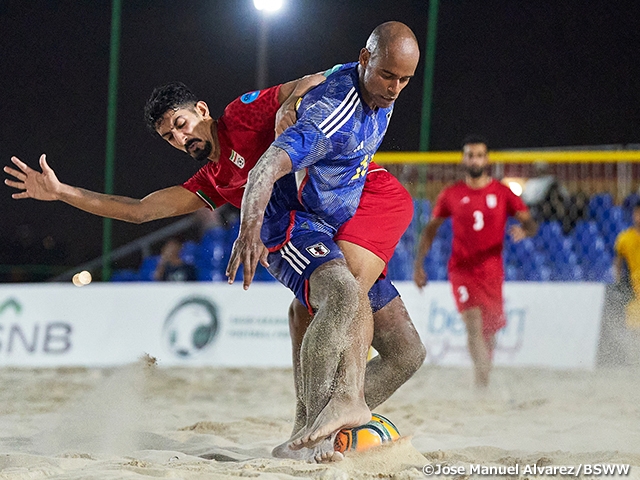 ■Date: Thu. 26 May 2023, 19:15 (Local time)
■Venue: Alhamra Beach Stadium (Jeddah, Saudi Arabia)
Japan Beach Soccer National Team 3-4 (2-1, 0-2, 1-1) IR Iran Beach Soccer National Team
【Scores】
<1p>
2' OBA Takaaki
3' Goal Against
9' AKAGUMA Takuya
<2p>
1' Goal Against
7' Goal Against
<3p>
3' AKAGUMA Takuya
9' Goal Against
Starting Line-up
GK KAWAI Yusuke
FP MOREIRA Ozu, OBA Takaaki, KIBUNE Yuki, AKAGUMA Takuya
Reserves
GK SHIBAMOTO Shinya
FP YAMAUCHI Shusei, MATSUDA Kosuke, MATSUO Naoya, MIYAMA Ryunosuke, YAMADA Takahito, ITO Ryunosuke
Match Report
Facing the IR Iran National Team, who they lost to in the final of the AFC Beach Soccer Asian Cup Thailand 2023 in March, Japan entered the match after thoroughly going over the scouting report.
The match started with Japan taking the initiative through their high pressure, which led to the opening goal scored by OBA Takaaki in the second minute, but IR Iran responded right back, capitalising on a long throw from the goalkeeper to equalise just a minute later.
Japan retook the lead in the ninth minute when AKAGUMA Takuya scored on a counterattack after they capitalised on their opponents' flaw in transition.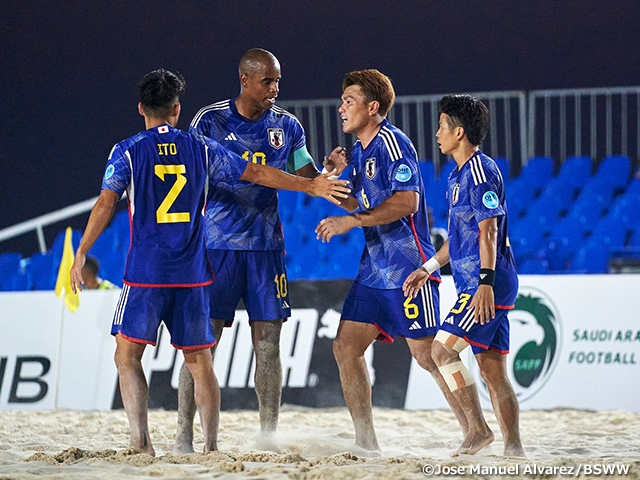 The second period saw Japan continue to apply aggressive pressure but conceded back-to-back goals in the 13th and 19th minute to allow IR Iran to take the lead heading into the third period.
Despite the equaliser scored by Akaguma in the 27th minute, Japan gave up the decisive goal in the 33rd minute to lose the match 3-4.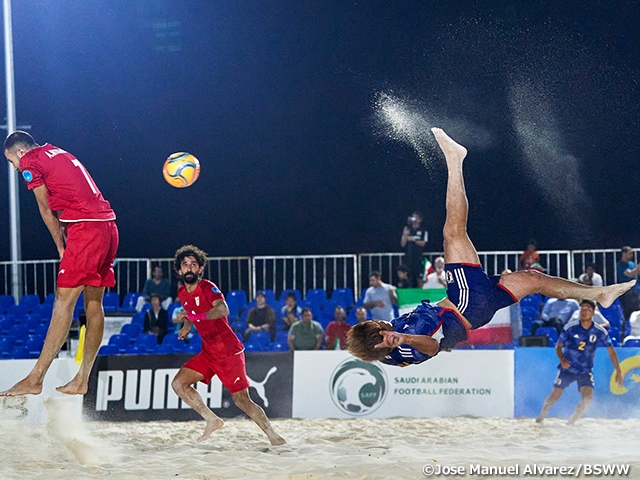 As a result, Japan fell short of qualifying for the ANOC World Beach Games Bali 2023, which is scheduled to take place in August.
The Japan Beach Soccer National Team will now face the host country Saudi Arabia in the third place match on Saturday 27 May.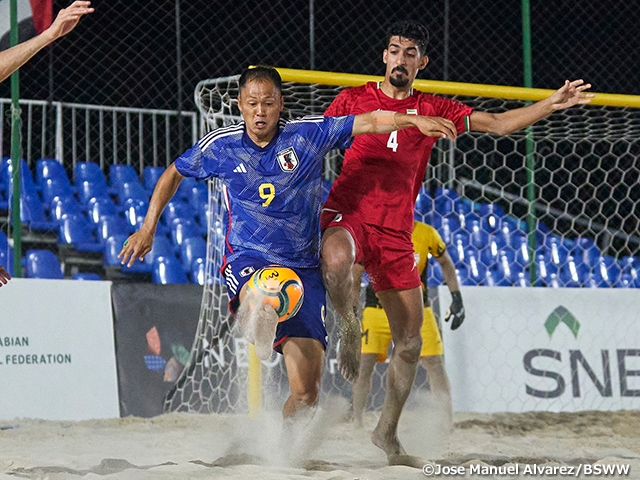 Players' Comments
FP #2 ITO Ryunosuke (Lazo Apego Kitakyusyu)
It is very disappointing, especially after losing to the same team in the AFC final just two months prior. Although we got off to a good start and were able to stop Iran from doing what they wanted to do, they took advantage of a momentary lapse in our defence to take the lead. I feel that we were not committed enough to the game, and I also believe that I did not play to the best of my ability. I have to play with more confidence and commitment towards the game. We were unable to qualify for the tournament, but we will try to make the most of this experience to improve ourselves ahead of the World Cup.
FP #4 MATSUDA Kosuke (Loewe Yokohama)
This is very frustrating because we wanted to redeem ourselves for the Asian Cup final in March. I feel that our defensive game plan was effective, since our opponents were struggling against it, and we managed to take the lead as we wanted. However, we were unable to capitalise on the opportunities that followed, which is an area we must improve on. We will rest our mind and try to finish the tournament on a high note by winning our next match.
The 2nd ANOC World Beach Games Bali 2023 Asian Qualifier
Tournament dates: Thu. 25 - Sat. 27 May 2023