NEWS
【Match Report】Japan Beach Soccer National Team lose to IR Iran 0-6 in the AFC Beach Soccer Asian Cup Thailand 2023 Final
27 March 2023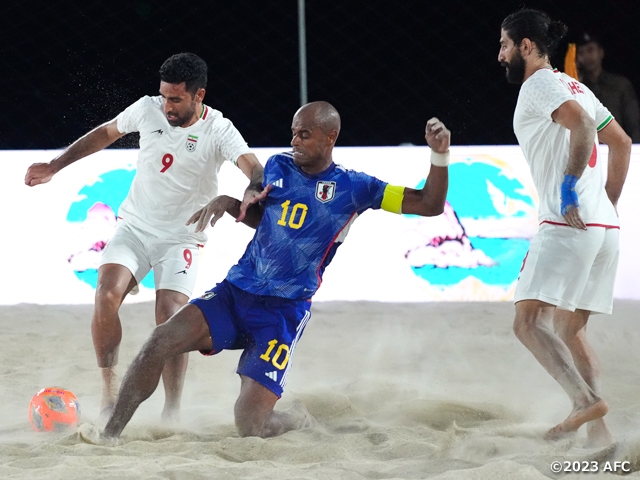 On Sunday 26 March, the Japan Beach Soccer National Team faced the IR Iran Beach Soccer National Team in the AFC Beach Soccer Asian Cup Thailand 2023 Final.
Iran began the game with back-to-back bicycle kick goals in the third and seventh minutes to take a 2-0 lead in the first period of a match where they remained in control the entire time.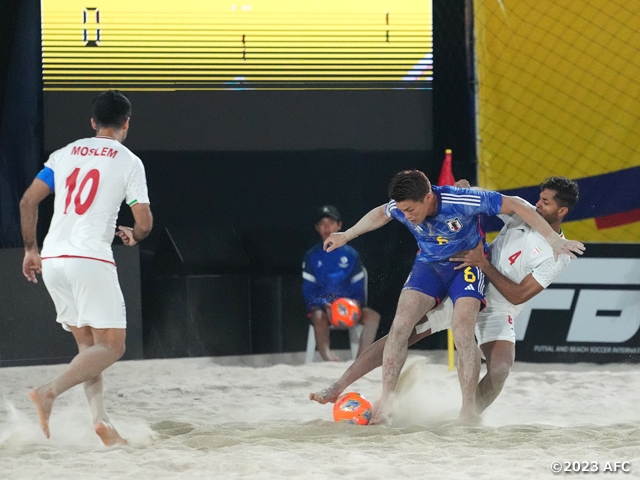 With momentum on their side, Iran continued to dictate the pace in the second period, as their captain Moslem MESIGAR scored the third goal in the 18th minute. In efforts to close down the gap, Japan continued to feed the ball to their pivot to create chances, as seen in the 19th minute, when MATSUDA Kosuke delivered a pass to AKAGUMA Takuya, who showcased a great individual effort to break loose and fire a shot that struck the crossbar.
Iran maintained their command of the game in the third period with high ball possession and their effective offence that saw them score 48 goals in the five games leading up to the final. Despite the late surge made by Japan, Iran added three more goals in the final period to close out the match 6-0, as they walked away with their fourth Asian Cup title, the most of any country.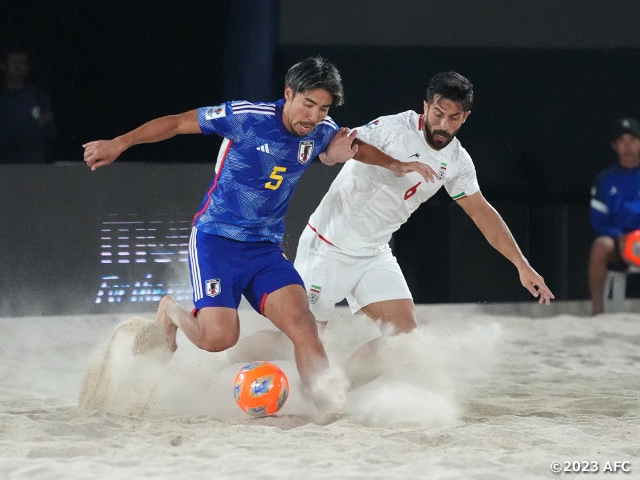 The awards ceremony was held after the match, where Akaguma, who scored 11 goals in the competition, received the top scorers' award.
Coaches and Players' Comments
MOREIRA Ozu, Player-Coach (Tokyo Verdy BS)
To be honest, Iran were much stronger than we thought. We have been planning our defence for Iran for a while, but we made numerous small mistakes that cost us goals. I'm not sure how I feel at the moment, but I'm hoping that the next time we play them, we won't have such embarrassing outcomes. Although Japan have beaten a number of opponents, we have not won any official matches against the top teams in the world, such as Brazil, Portugal, Russia, and Iran. We must not forget today's frustration and keep working hard.
TABATA Teruki, Assistant Coach (Veertien Mie BS)
It is a shame that we couldn't defend our title. We made three tactical adjustments to strengthen our defence because we wanted to quickly recover the ball and link it to our offence. We will try to make the most of this experience to improve ourselves ahead of the World Cup.
FP #3 KIBUNE Yuki (Averdade Kumamoto BS)
We conceded first and had a hard time scoring. It felt like we didn't have what it takes to overcome such adversity. What we learned from this tournament is that, in order to compete at the world stage, we need to be able to win against teams like Iran. We must play with the same level of confidence and ability as the Iranian players, who were able to display their full potential on the pitch.
FP #4 MATSUDA Kosuke (Loewe Yokohama)
Iran was very powerful. There was no hesitation in any of their plays as each player exuded unwavering confidence in their abilities. With every play, they were incredibly precise and determined. It felt like we didn't have what it takes to beat them. Our goal is to win the World Cup. While I am deeply disappointed by this defeat, I believe that we now need to regroup and begin pursuing our goal.
FP #6 AKAGUMA Takuya (Lazo Apego Kitakyusyu)
I think the score speak for themselves.
We were given detailed instructions on how to defend against Iran, and on how to make corrections. We wanted to prevent Iran's attacks and turn the game to our advantage, but Iran was simply better than us. In the end, I felt that it was a matter of how much we believed in our tactics and how much we could sustain them. It is great that I won the top scorers' award, but I am certainly not in the mood to celebrate at this moment.
FP #9 YAMAUCHI Shusei (Tokyo Verdy BS)
(After seeing Akaguma in tears as he stepped off the podium as the top scorer) I told Akaguma to be proud of the great award and urged him to keep leading everyone. After losing to Japan in the 2019 Asian Cup and failing to qualify for the World Cup for the previous four years, Iran made desperate attempts to improve their game, and this was apparent throughout the game. Japan was unable to compete with them, as evidenced by the humiliating score of 0-6. I personally would like to get better because I wasn't able to score as many goals as I could have.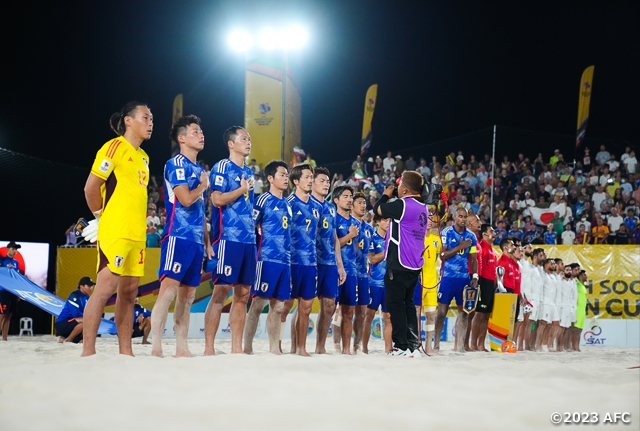 YouTube(AFC):#ACBeachSoccer Thailand 2023 | Final - Japan 0 - 6 Islamic Republic of Iran
AFC Beach Soccer Asian Cup Thailand 2023
Tournament Date: Thu. 16 - Sun. 26 March 2023