NEWS
【Match Report】Japan Beach Soccer National Team clinch spot in the FIFA Beach Soccer World Cup UAE 2023™ with a dominant win over Kuwait in the AFC Beach Soccer Asian Cup Thailand 2023 Quarterfinals
24 March 2023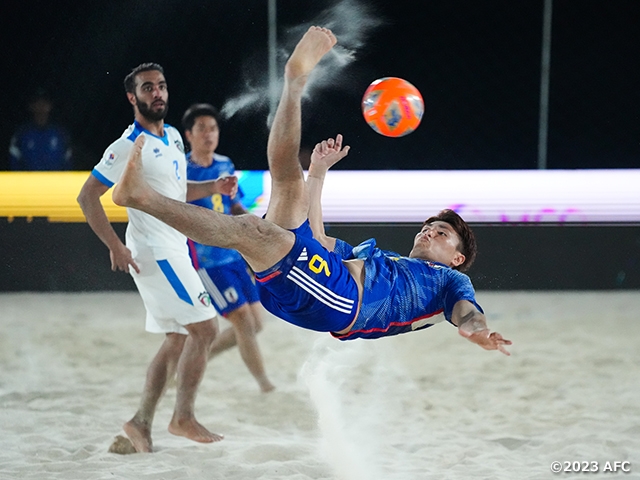 On Thursday 23 March, the Japan Beach Soccer National Team, who finished first in Group C of the AFC Beach Soccer Asian Cup Thailand 2023, earned an 8-0 win in the quarterfinals against Kuwait, who finished second in Group D. With this win, Japan have now clinched their 12th appearance in the FIFA Beach Soccer World Cup UAE 2023™.
Four minutes into the first period, AKAGUMA Takuya, who was tied for the lead in scoring with seven goals earlier in the game, took a pass from MATSUDA Kosuke and fired an overhead shot that struck the bottom right corner. Four minutes into the first period, AKAGUMA Takuya, who was tied for the lead in the scorers' ranking with seven goals entering the game, received a pass from MATSUDA Kosuke and fired a bicycle shot into the bottom right corner of the goal. A minute later, KIBUNE Yuki responded to a pass from MOREIRA Ozu and struck a right footed shot into the net. Akaguma scored with a header in the 11th minute to further extend the team's lead as well as his lead in the scorers' ranking.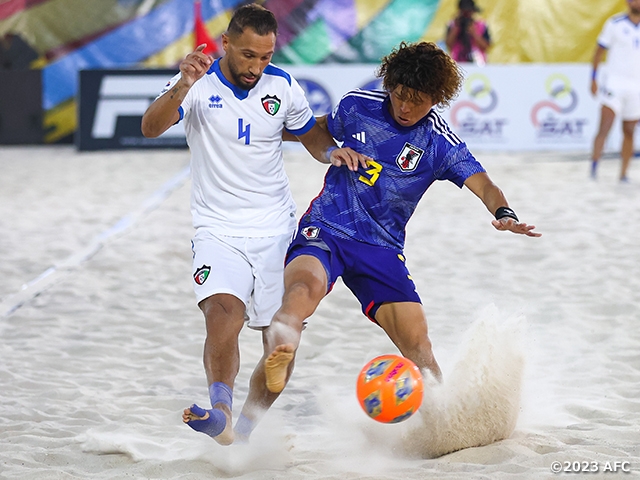 With a 3-0 lead, Japan continued to take control in the second period, starting with a free kick converted by Moreira, in which the player-coach fired a powerful shot that found the back of the net. In the 6th minute, Kibune scored the team's fifth goal with his abundant athleticism and speed, demoralising the Kuwaiti players.
To cap off their dominant performance, Japan added three more goals in the third period, as SHIBAMOTO Shinya, Moreira, and MATSUO Naoya, who had just made his 100th cap in the group stage against Indonesia, each scored a goal in the fourth, eighth, and 10th minutes respectively.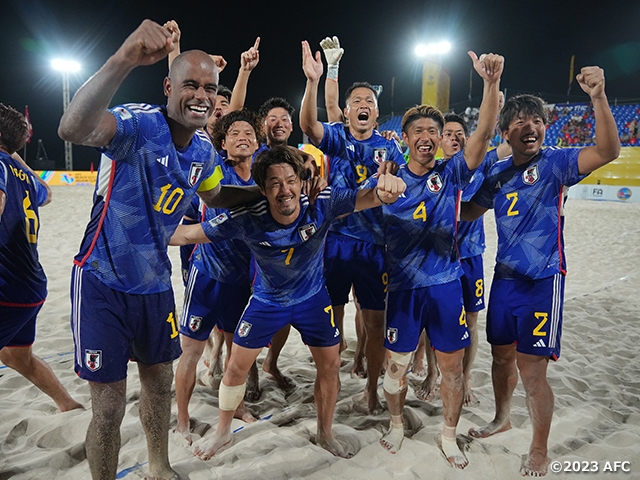 Japan will now face UAE in the semi-finals, scheduled to take place on Saturday 25 March.
Coaches and Players' Comments
MOREIRA Ozu, Player-Coach (Tokyo Verdy BS)
Kuwait didn't try to score and defended deep in their half the entire time, so we were able to control the game from start to finish. It was good that we won without conceding any goals. It was our first World Cup qualifier in four years (qualifiers were cancelled in the previous World Cup in Russia), and we were under a lot of pressure because Japan was expected to qualify. This is my first qualification as a coach, and I am delighted that we have made it this far and that we have secured our ticket to the World Cup.
TABATA Teruki, Assistant Coach (Veertien Mie BS)
I am happy that we qualified for the World Cup. The players did what they were supposed to do, and I am satisfied with their performance and the result of the match. I think it was a match that will lead us into the right direction. However, the tournament is not over yet. I consider today's victory to be a steppingstone in our quest to become Asian champions. We finished as runners-up in the previous World Cup in Russia, which was frustrating. We want to prepare well as a team for the next World Cup.
FP #3 KIBUNE Yuki (Averdade Kumamoto BS)
The first goal came from a play I failed to convert many times last year, so I am glad I was able to score this time. The second goal came from a counterattack, in which we made conscious efforts to execute, so I am happy to score that goal as well. I missed an opportunity to score from a similar situation in our match against Lebanon, so I was I tensed up a bit when I took the shot. I will continue to give my best effort to help the team win in our upcoming matches.
FP #4 MATSUDA Kosuke (Loewe Yokohama)
The things we worked on during our Okinawa camp in February became more and more evident with each match. Today, each player moved in the right position at the right time, and we were able to share the path to goal as a team. It was great that we were able to score goals today. After finishing fourth in the FIFA Beach Soccer World Cup Paraguay 2019™, I got injured before the FIFA Beach Soccer World Cup Russia 2021™ and was unable to participate. I will do my best to earn my spot on the team to play in the upcoming World Cup.
FP #6 AKAGUMA Takuya (Lazo Apego Kitakyusyu)
The first goal came from a great assist of Matsuda. We will continue to try to score goals to help the team win the championship. Just before the tournament started, Okuyama left the team due to injury. He treated me well on and off the pitch and was like an older brother to me, so it was a shock to see him go. I want to fight on behalf of Okuyama. Having finished third in the scorer's ranking in Russia, I believe I have to become the top scorer in Asia.
FP #8 MATSUO Naoya (Averdade Kumamoto BS)
My physical condition and range of motion were not bad, but after earning my 100th cap in the tournament's opening game, I missed several good scoring opportunities. But I am happy to have scored a goal in a match that secured our place at the World Cup. Akaguma has always assisted me when I struggled to score goals, so I conveyed my gratitude to him again today. It is my job to make runs that will help my teammates score goals, so I will continue to dedicate my plays for the team.
FP #9 YAMAUCHI Shusei (Tokyo Verdy BS)
Although I haven't been scoring much, I am truly happy that the team has made it to the World Cup. I feel that my role in this tournament is not to go out and score goals, but to prioritise the team's victory. It's great that we are reorganising our minds from game to game and concentrating 100% on the game in front of us. I will do my best to score goals in the semi-finals and final.
YouTube(AFC):#ACBeachSoccer Thailand 2023 | Japan 8 - 0 Kuwait
AFC Beach Soccer Asian Cup Thailand 2023
Tournament Date: Thu. 16 - Sun. 26 March 2023