NEWS
【Match Report】Nadeshiko Japan come from behind to get a step closer to defend the title - EAFF E-1 Football Championship 2022 Final Japan
24 July 2022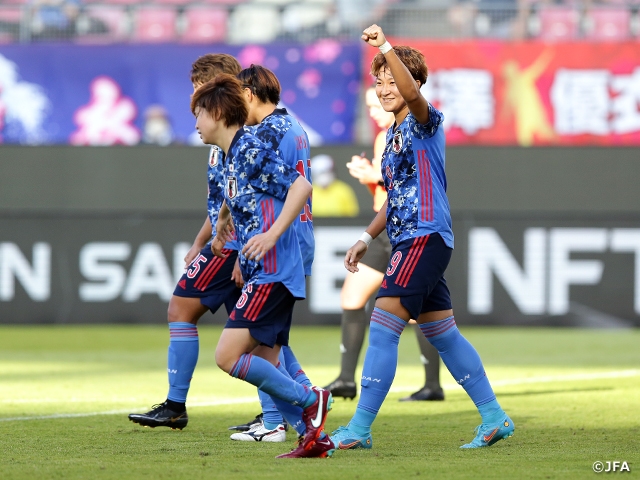 On Saturday 23 July, the Nadeshiko Japan (Japan Women's National Team) played their second match of the EAFF E-1 Football Championship 2022 Final Japan against the Chinese Taipei Women's National Team at Kashima Soccer Stadium.
Following their 2-1 victory over Korea Republic, Head Coach IKEDA Futoshi rotated nine players from their starting line-up. HAYASHI Kanae, NAKASHIMA Yoshino, and INOUE Ayaka made their national team debut, while TAKARADA Saori and NAOMOTO Hikaru started for the second match in a row.
While both sides showed great aggression from the start, it was Chinese Taipei who scored the first goal, as SU Sin-Yun converted a corner kick with a header in the eighth minute.
Despite conceding the opener, Japan maintained their aggression to press forward, as Nakashima and UENO Mami created opportunities to threaten the opposing goal. In the 14th minute, CHIBA Remina responded to a corner kick delivered by Naomoto, and struck a header at the near side to equalise the match.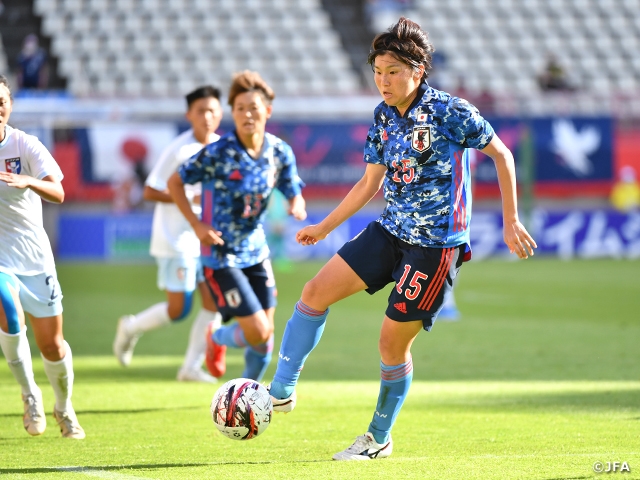 Japan took control from then on, but an unfortunate injury in the 39th minute saw Hayashi getting replaced by TAKAHIRA Miyu, who entered the pitch at short notice, making her debut for the Nadeshiko Japan.
Just before the break, Ueno connected with a cross sent by Naomoto to mark her first international goal, giving Japan the long-awaited lead.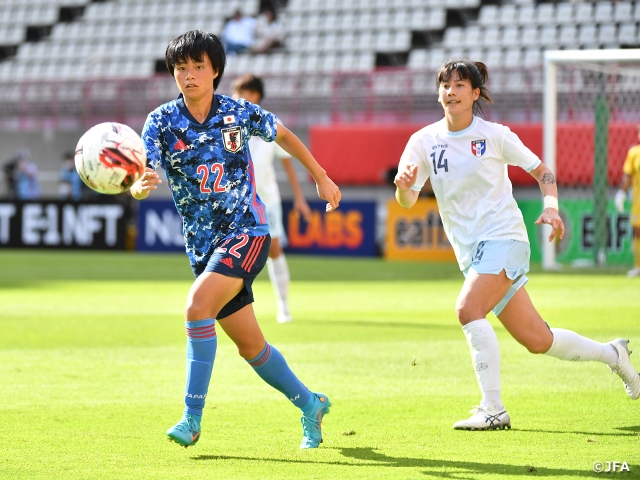 Coach Ikeda made several changes during halftime, as he brought on KITAGAWA Hikaru, while pressing up SEIKE Kiko into the midfield, which came to fruition in the 58th minute, when Seike scored the team's third goal to make it 3-1.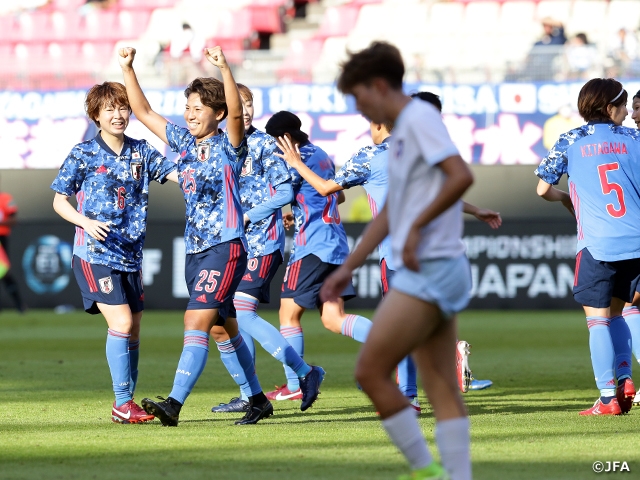 In the 72nd minute, SUGASAWA Yuika, who was introduced to the match in the 66th minute, responded to a deflection caused by the shot attempt made by MIYAGAWA Asato, and calmly slotted the ball into the net to further extend the Japanese lead.
Japan won their second consecutive match through effective changes to their line-up and also through the active involvement of their fullbacks in offence. Later in the day, China PR drew 1-1 with Korea Republic, putting Japan one step closer to winning back-to-back titles.
The Nadeshiko Japan will now face China PR at Kashima Soccer Stadium on Tuesday 26 July.
Coach and Players' Comment
IKEDA Futoshi, Head Coach of Nadeshiko Japan (Japan Women's National Team)
We entered the match with the aim of testing new players and various combinations of players, while also striving for victory ahead of the third match. We still need to improve the quality of each play, but the players showed that they were on the same page in terms of how to stay organised and to keep the ball moving. The fact that we conceded the opener from a set-piece is an issue, and we need to improve the accuracy of our final passes to capitalise on our chances.
DF #6 MIYAGAWA Asato (Nippon TV Tokyo Verdy Beleza)
There were scenes where we lacked composure after conceding a goal, but we can take this win as a positive. This match reminded us that we need to improve on how we challenge the ball. (Reflecting on the team's fourth goal) I wanted to score a goal myself, so I made a run towards the goal, and although I wasn't able to score, I am glad Yuika-san was there to convert the opportunity. China PR is the opponent we don't want to lose to the most, so we will be looking for our revenge from the Women's Asian Cup and will be ready to play as a challenger.
FW #15 CHIBA Remina (JEF United Ichihara Chiba Ladies)
I knew from yesterday's training session that Hikaru-san would deliver good crosses. Although I wasn't able to convert the crosses yesterday, I'm glad that I was able to make adjustments to score a goal today. I'm not the type of player who scores goals with a header, so I think I was able to show a new side of me by scoring a goal today. Our positioning became unclear at the end of the second half, so we would like to improve on that.
FW #22 UENO Mami (Sanfrecce Hiroshima Regina)
Although there were moments where we lost our composure after conceding an early goal from a set-piece, we still managed to score goals from a variety of combinations. It was great that we managed to equalise and take the lead within the first half. (Reflecting on her first international goal) It came from a set-piece, and the delivery was so perfect that I just had to make contact with the ball.
EAFF E-1 Football Championship 2022 Final Japan (Women's Tournament)
Tournament Dates: Tue. 19 - Tue. 26 July 2022
Venue: Kashima Soccer Stadium (Ibaraki)
Participating Countries: Japan, China PR, Korea Republic, Chinese Taipei