NEWS
Relay Interviews by Japan National Team Coaches Vol. 1: Nadeshiko Japan's Coach TAKAKURA Asako "Football has always been my passion"
29 April 2020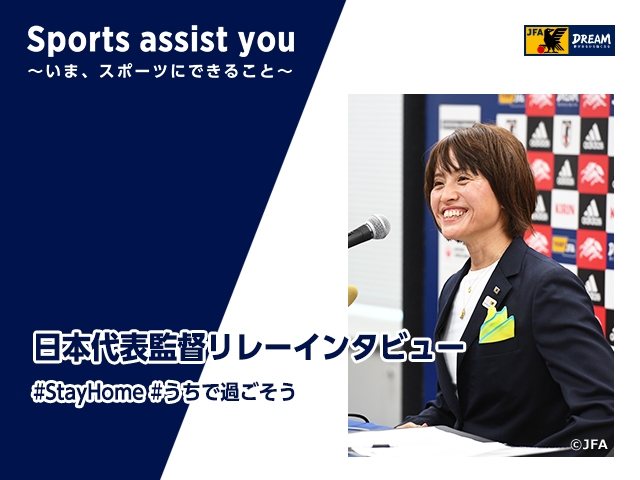 In efforts to contain the spread of the novel coronavirus, many sporting events have been cancelled over the recent period, and the activities of Japan National Team are no exception. With the players and coaches all staying at home during this quarantine period, we have conducted interviews with coaches from different categories of the Japan National Team, regarding their passion towards football, personal experiences, and the importance of chasing a dream.
To start with, we will share the interview conducted with coach TAKAKURA Asako of Nadeshiko Japan (Japan Women's National Team).
From a baseball girl to a football girl
I always enjoyed playing sports as a young girl, and I originally started playing baseball, but there were limited places to play baseball. That was when my baseball friends and I came across a football team that was available for us to join from fourth grade. I was not necessarily intrigued by the sport of football, but I wanted to be with my friends, so that was my initial motive to start playing football.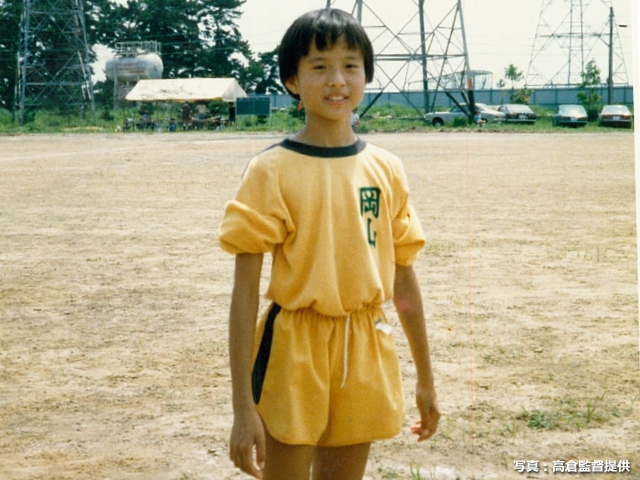 Devotion to football and decision to move to Tokyo
When I first started playing football, I was the only girl on the team. There just were not many girls playing football in Fukushima at the time, so whenever we had a game against other teams, people would point at me and say, "hey that's a girl playing." When I played football, there was this exhilarating feeling when I controlled the ball, or dribbled through an opponent, or scored a goal, and it was something I never felt while playing baseball. I was very close with my friends and we all devoted our time to football. I enjoyed winning matches with my team, and I was excited to see myself get better as a player. The fact that I was the only girl on the team did not bother me, but as I continued to play, there were times where I was looked at differently because I was girl. During sixth grade, I was bullied by some of the players who were not playing in matches, because I was earning my minutes on the pitch. However, that did not discourage my passion towards football. I still wanted to play football, so I continued to train even if I did not have anyone to train with.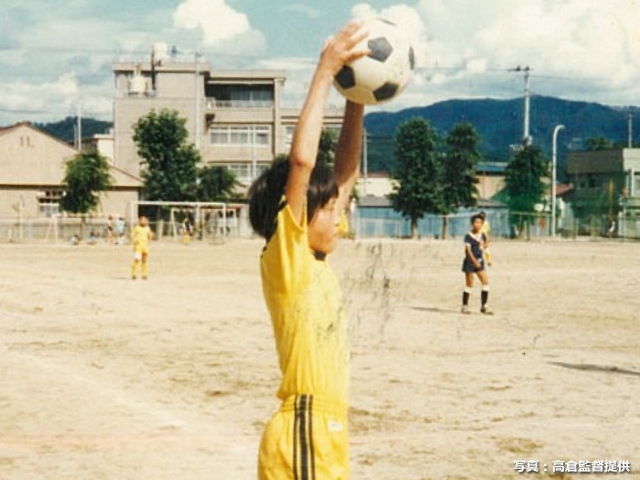 Despite all that, there were no girls football teams nor school teams at any of the junior high schools near me, so I had no choice but to stop playing football for a while. However, I still really wanted to play football, so I decided to join a team in Tokyo and commute once a week from Fukushima to train. My parents supported my decision, but many people thought I was too obsessed and often times asked, "how long are you going to do this?"
When life gives you lemons, make lemonade
I grew up in an environment where football was not always available for me, so I made a habit of always searching for opportunities to play football. Although there were no specific turning points in my football career, there were events that motivated me, such as the start of the women's league, the women's World Cup, and the Olympic games. I feel extremely fortunate that these new events came along my pathway as I proceeded my career. I faced a lot of adversities, but I always used it as my motivation, as I kept telling myself, "I am not giving in." Of course, there were many dark and difficult times which I struggled to overcome, but I continued to stay patient and work hard to persevere through those tough periods. I always believed that it is important to take action when facing adversities in life, and I feel that football has really taught me how to conduct myself during those difficult times. I think my personality had a lot to do with it, too. When I am struggling to do something, I always find myself thinking, "wow, this is difficult" and "this certainly did not turn out how I expected." But instead of getting negative, I always tried to make the most of the situation and think positively while working my way out of the situation. I am not sure if that is a trait nurtured by my parents or my natural quality, but I am pretty good at setting my mind positively in difficult situations.
Envy towards radiant football players
As I continued to play football, I was inspired by many people. By placing myself in new environments I was able to make new friends and gain more inspiration from all sorts of different types of players. However, I was inspired the most by the players I faced during my first call-up to the national team. For a junior high school student from a Japanese suburb, the players of Italy and USA looked so dynamic and radiantly beautiful with their blonde hair. I remember watching the matches from the bench, and it really made me want to reach their level as a player. I was 15 at the time and this was the defining moment when I became conscious about the world.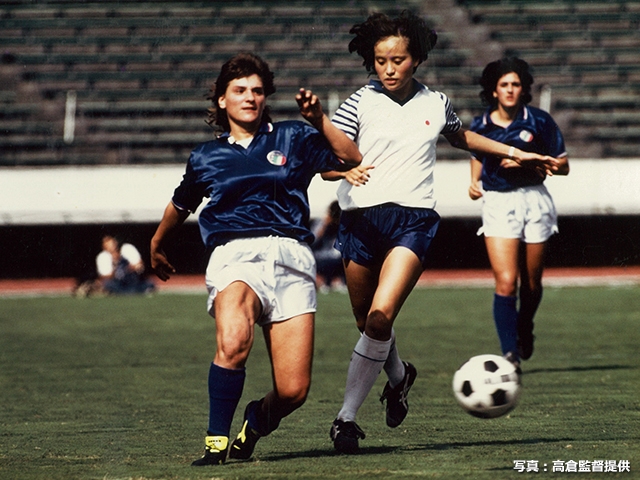 Football has always been my passion
I have been involved with football for a long time now, both as a player and as a coach, but the biggest motivation is my strong passion towards the sport. The more I learn, the more interesting it gets, and that aspect of football has kept me going until this day. Even if you think you have done a great job, there are always room for improvements. That held true for me both as a player and as a coach. Football has always been my passion and that passion has kept me motivated to strive for a higher level.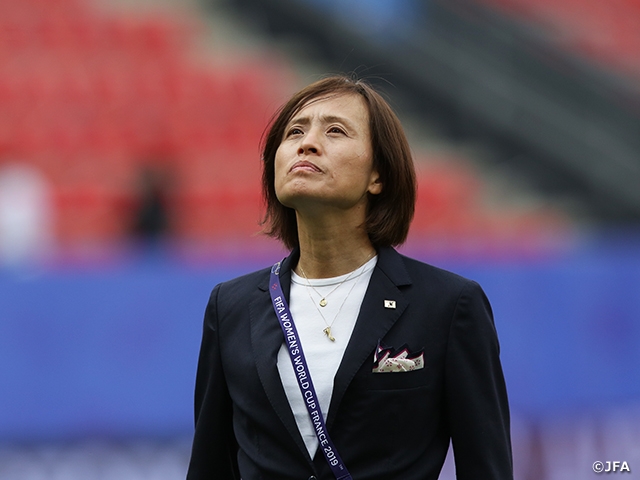 Night or rain, all things will come to an end. Let us replenish our energy for tomorrow
With the ongoing outbreak of the coronavirus, many kids are forced to stay at home and cannot see their friends at school. Many adults are also staying at home to take care of their family. But please be aware that you are not alone. We are all fighting this tough time together. It might be difficult for kids to understand, but we must think outside the box and change our mindset to enjoy this unordinary situation. We might not be able to play football, but this is a great time to start something new. If you do not usually read books, this is your time to do so. You can also get creative to build something or listen to music. Many fitness activities are also introduced through the internet, so you can workout with your parents or siblings. What is important is that you take action. Night or rain, all things will eventually come to an end, so we must believe that the end is near and replenish our energy for tomorrow.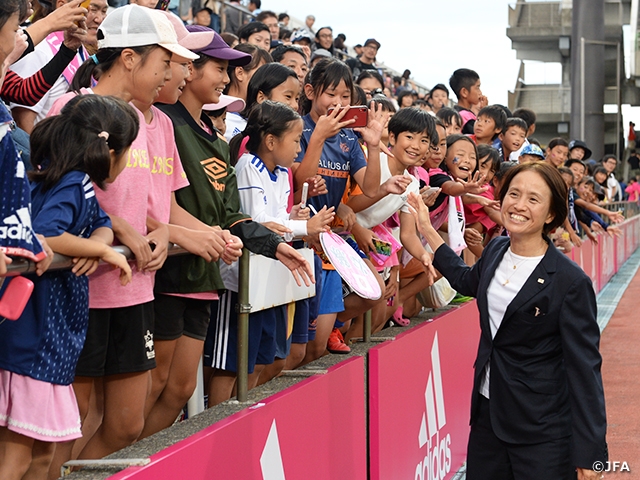 Tomorrow, we will share an interview of another Fukushima native, coach KAGEYAMA Masanaga of the U-19 Japan National Team, so stay tuned!