NEWS
Nadeshiko Japan keep clean sheet in 2-0 win over Switzerland – MS&AD Cup 2017
23 October 2017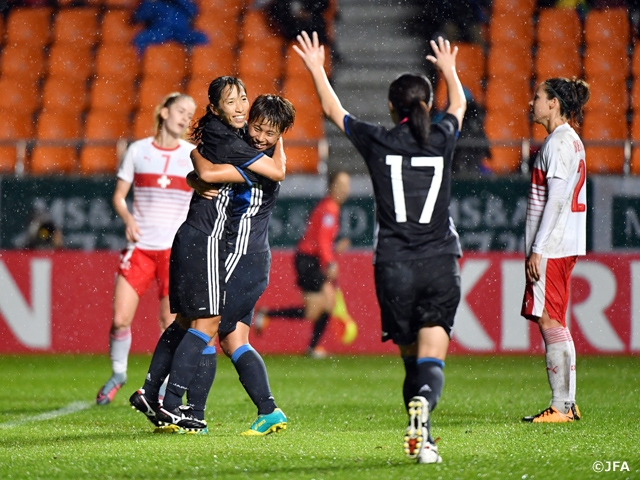 Nadeshiko Japan faced Switzerland Women's National Team in the MS&AD Cup 2017 on Saturday 22 October at Nagano U Stadium.
As the match began with Japan's kick-off at 4:30 pm., Nadeshiko Japan started with a 4-2-3-1 formation, placing IKEDA Sakiko as a goalkeeper, FIFA Women's World Cup champions trophy-winning members SAMESHIMA Aya, KUMAGAI Saki and UTSUGI Rumi lining up in defence from right in addition to left back MANYA Miho. Three consecutive Nadeshiko League MVP winner SAKAGUCHI Mizuho partnered with NAKASATO Yu as defensive midfielders, with HAJI Madoka and MOMIKI Yuka playing on sides. HASEGAWA Yui started as a playmaker just behind striker YOKOYAMA Kumi.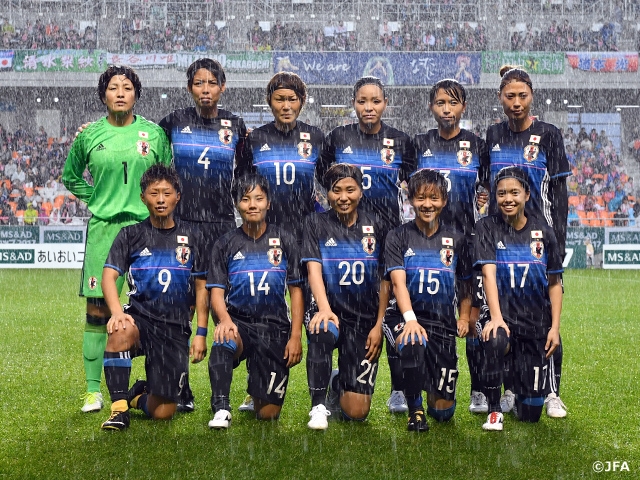 Both Japan and Switzerland started the match with an attempt to get into the opposing side. In the 6th minute, Julia STIERLI headed Noelle MARITZ's left corner, but the 182-cm defender's shot went inches wide of the right goalpost.
Japan got back the initiative as time went on. Haji threatened Switzerland goalkeeper Gaelle THALMANN with a shot off Hasegawa's set-up in the 18th minute. As Manya said before the match, "I will try to send the ball forward," she threaded a grounder to Momiki, who fired a left-footed shot in the 25th minute. Her shot, however, was denied by Thalmann. Japan continued to come close to Swiss goal with crisp passing moves to heat up the 6,261 fans showing up at Nagano U Stadium.
After 30 minutes, when Japan showed a sing of having worn themselves out in attacking, the European side rallied back. Captain Lia WALTI picked up a loose ball from Japan's corner and ran up to create a chance before taking a shot two minutes later. With Ana-Maria CRNOGORCEVIC's 36th-minute long dribbling run on a counterattack, Eseosa AIGBOGUN found herself unmarked and launched a shot, but failed to get it on goal.
Japan, who had added more attacking patterns in the past week, entered halftime with positive image when Sakaguchi finished with a shot from a scramble after Haji and Hasegawa combined to connect the ball in a tricky way through Yokoyama's short corner in the 44th minute.
Japan replaced Momiki with NAKAJIMA Emi at halftime, while Switzerland subbed in goalkeeper Seraina FRIEDLI. Yokoyama received a through ball from Haji and fired a shot from centre of the box, but her shot went over the bar. On the other hand, Rachel RINAST dived for a header of Rahel KIWIC through a set-piece, but it went wide. Rinast met Maritz's cross once again in the 56th minute but failed to find the target again.
A thrilling game finally saw Japan score first in the 69th minute. Haji sent a well-timed through ball from centre to Nakajima running on the right flank. Nakajima dribbled and unleashed a shot, which was once saved by the goalkeeper, but she found the deflection with her left foot to snatch a crucial goal. "A great ball came from Haji. I wanted to put it home in my first attempt but I'm relieved it ended up in a good result," spoke Nakajima later on the game-winning goal.
Both teams used substitutions then, yet Japan increased possession as IWABUCHI Mana fired an acute-turn-around shot. In added time, TANAKA Mina hit on the break after a Swiss defensive lapse. The sequence from dribbling to a powerful shot into the left side of the net was "impressive," according to Switzerland coach Martina Voss-Tecklenburg.
After battling it out in spite of the torrential rain, Nadeshiko Japan grabbed a 2-0 victory. They achieved their objective of "We win the game and make it team's experience," set by coach TAKAKURA Asako before the match.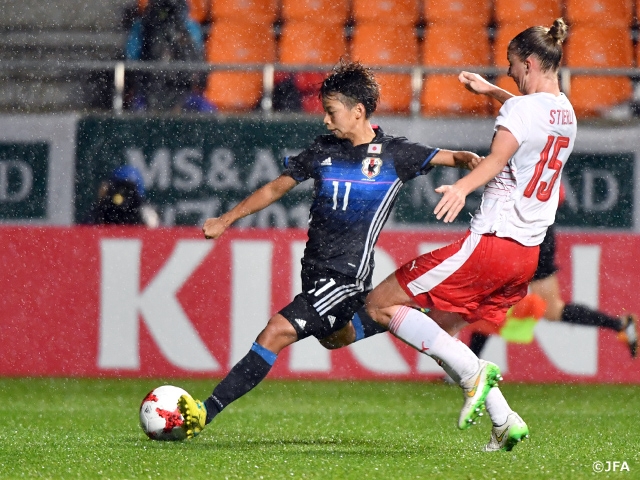 Coaches' and Players' Comments
TAKAKURA Asako, Coach (Nadeshiko Japan)
It was a match in the unfortunate rain, but we were able to fight through it courageously thanks to all the support from many people. We scored late in the match, but this 2-0 result will be an asset for our team. In the first half, because of the size and speed of Swiss players and also our fear against losing the ball, we weren't able to show Japan's style of collectivity and aggressiveness. In the second half, we kept trying with courage to get into the area around their goal. Since we started getting used to the pressure by the opponents, we started getting closer to their goal. It was good that we got two goals as a result, but other areas such as accuracy of plays and qualify of our movements need to be improved. Our players fought hard and showed their strong will to get better on the pitch. We are not good enough to swear that we will be win the best place in the world, but I want to get close to that level step by step.
DF #4 KUMAGAI Saki (Olympique Lyonnais)
(To close out winnable matches) I am a defender, so not allowing a goal is my first priority. Today also, as we defended patiently, our teammates finally scored for our team. In the first half, I was reminded that not allowing a goal is the most important thing. I am not sure how good shape Swiss players were in for this match, but it's good that we came out with a win. It's also productive to play against a team that utilise long balls a lot, which we can't play against at all in Japan.
FW #5 HAJI Madoka (IGA FOOTBALL CLUB KUNOICHI)
In the beginning, the opponents' pressure gave us only tight space around us, so I thought we would have to stay patient. In the second half, the opponents started slowing down and their defence started overlapping. There Nakajima ran up very effectively so I was able to give her the pass. (About positions) Playing at the top is the best for me, but I will not care as long as I get a chance to play. At every position we are expected to work hard, but when you play on sides, you have to work even harder. You have to play smart as well, so I am tired now today after all that (of playing three positions).
FW #11 TANAKA Mina (NIPPON TV BELEZA)
I could only shoot once after playing as a substitute. It was good that that one shot went in, but I wanted to try more. In that second goal situation, the ball came at me by accident and all I had on my mind that moment was shooting it. I looked at the middle to deceive the goalkeeper once, then I could put my shot right where I wanted. It was all because our defenders kept defending our goal, and this experience give me confidence. We could have won 1-0 even without that goal, but as a forward I really wanted some material result. So, it was great.
Martina Voss-Tecklenburg, Coach, (Switzerland National Women's Team)
We could start off the first 15 minutes. We kept the possession and our counterattack worked well. But even before the match, we knew that Japan would take the initiative of the match. (Compared to the matchup in 2015) This version of Japan team is younger, but they can make as many good passes and keep the good possession as well as before. I have an impression that Japan has more and more good young players come out one after another. And about today's stadium, fans came out to watch with great enthusiasm. I felt a great atmosphere. I hope Japan and Switzerland can play against each other in the FIFA Women's World Cup France in 2019.
JFA-TV (Japanese version only)
Schedule
MS&AD CUP 2017
Sun.22 October
2-0

MS&AD CUP 2017
vs Nadeshiko Japan (Nagano U Stadium)
Mon.23 October
PM
Training match vs Nadeshiko Japan *canceled
*The schedule is subject to change due to the team condition, the weather, etc.

Sunday, 22 October 2017 Kick Off at 16:30
vs Switzerland Women's National Team
Nagano / Nagano U Stadium