NEWS
【Match Report】Nadeshiko Japan defeat Vietnam to claim second successive victory at the AFC Women's Asian Cup India 2022
25 January 2022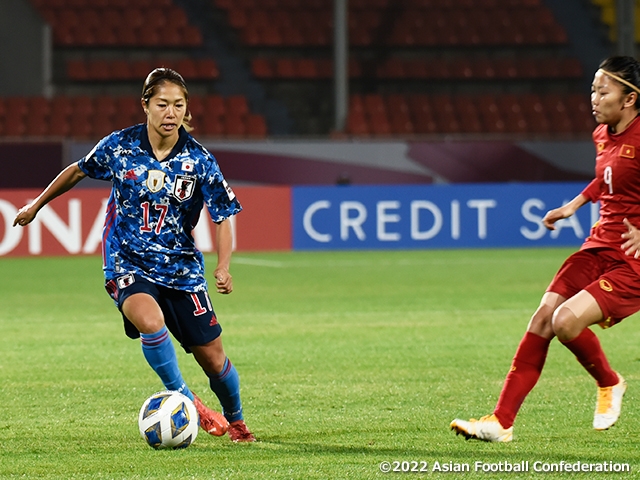 On Monday 24 January, the Nadeshiko Japan (Japan Women's National Team) played their second group stage match of the AFC Women's Asian Cup India 2022 against the Vietnam Women's National Team.
Following their 5-0 victory over Myanmar on Friday 21, Japan rotated eight players from their starting line-up, as TANAKA Momoko (Nippon TV Tokyo Verdy Beleza) was named as the starting goalkeeper with KUMAGAI Saki (FC Bayern Munich) and TAKAHASHI Hana (Mitsubishi Heavy Industries Urawa Reds Ladies) starting as the two centre halves. NORIMATSU Ruka (Omiya Ardija VENTUS) began the match as the left full-back, while NAOMOTO Hikaru (Mitsubishi Heavy Industries Urawa Reds Ladies) and SUMIDA Rin (Mynavi Sendai Ladies) were positioned as defensive midfielders. It was SUGASAWA Yuika (Mitsubishi Heavy Industries Urawa Reds Ladies) and TANAKA Mina (INAC Kobe Leonessa), who started this match as the two strikers upfront.
The match started with Japan taking the initiative, as they controlled the ball possession by mixing short and long passes to create opportunities but couldn't seem to find ways to break down the Vietnamese defence, who dropped deep in their territory to defend the goal.
Despite their early struggles, Japan managed to score the opener in the 38th minute, when Takahashi delivered a cross from the left side, which induced the goalkeeper to fumble the ball, allowing NARUMIYA Yui (INAC Kobe Leonessa) to convert the loose ball to mark a goal in back to back matches.
The second goal came early in the second half, from a free kick delivered by Naomoto in the 50th minute. Tanaka got to the end of this cross to strike a header, which ricocheted off the goalkeeper's hand and the goal post, before Kumagai slotted the ball into the net. For Kumagai, this was her second international goal since scoring against the South Africa Women's National Team on 10 November 2019.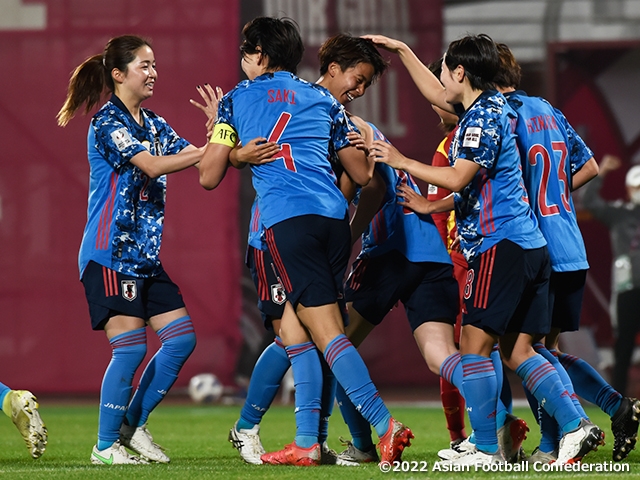 MIYAGAWA Asato (Nippon TV Tokyo Verdy Beleza) made her first appearance in the tournament as she replaced Kumagai in the 56th minute. Even after rotating their defence line, Japan continued to showcase a solid performance to keep the opponent at bay.
The third and final goal of this match came in the 58th minute, when Narumiya scored her second goal of the match. The goal came from a free kick earned by ENDO Jun (Angel City FC) at the left side, which was taken by Naomoto. After Tanaka flicked the ball at the near side, Narumiya capitalised on the opportunity by firing a shot with her right foot to make it 3-0.
In efforts to rally back, Vietnam tried to play the ball forward on the counter, but the Japanese players prevented them from doing so and were limited to just two shots in 90 minutes. Narumiya, who scored a brace, was named as the player of the match, as Japan's risk management ensured them their second consecutive shutout victory with a final score of 3-0.
Japan won the opening two matches to take the top spot in Group C, ahead of Korea Republic on goal difference with both teams having six points. In the third match of the group stage, which will be played in three days, the team will face the Korea Republic Women's National Team with the group lead at stake.
Coach and Players' Comments
IKEDA Futoshi, Coach of Nadeshiko Japan (Japan Women's National Team)
First of all, I'm happy that we got three points, and I'm also happy that we managed to score from set pieces that we've been working on. However, we still made a lot of mistakes, so we will be better prepared for our next match against Korea Republic. We had shared the information about Vietnam's defence with the players and trained to beat them, but it felt like we needed to prepare more combinations while also improving the quality of our plays. We are expecting our next match to be a much more challenging one than the last two, so we will try to prepare ourselves for that.
DF #4 KUMAGAI Saki (FC Bayern Munich/Germany)
We knew that Vietnam were going to park the bus and play man-to-man. It would have been better if we could have scored through combinations and from run of plays, so that is something we need to work on for the next match. However, it was great that we scored three goals from set pieces to win the match. We are happy that (IWABUCHI) Mana will be joining the team tomorrow, as the match against Korea Republic is always a battle we cannot afford to lose. We want to advance to the next round as the leader of our group, but we will be facing a different level of opposition compared to our previous two matches. At this point, all we can do is to stay focused, analyse our opponent, and try to prepare ourselves in the best way possible.
MF #17 NARUMIYA Yui (INAC Kobe Leonessa)
First of all, I'm happy that the team got three points, and I was able to score two goals to help the team win. It was not like we completely broke down the opponent to score the goal, but I felt that I was able showcase my ability to take advantage of those kind of opportunities in the final third. This is my first tournament as a member of the Nadeshiko Japan, so I came here with the intention of contributing to the team's victory by scoring goals at all costs. In that sense, I am happy that I was able to earn results in these two matches. But we've got our next match against Korea Republic, and as we win more matches, the opponents will get stronger, so it will be interesting to see how far I can go.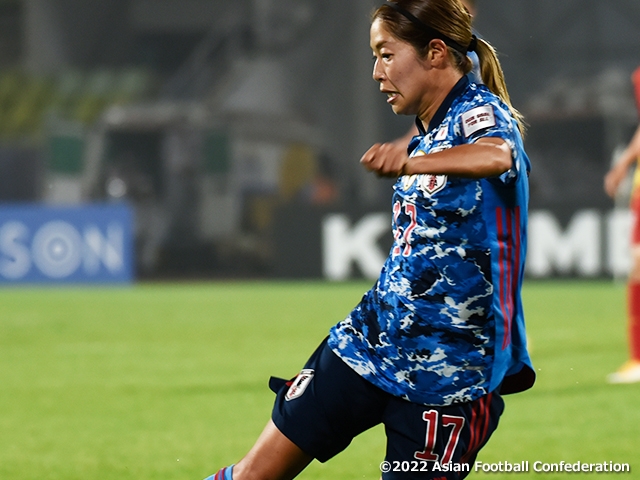 AFC Women's Asian Cup India 2022
Date: Thu. 20 January - Sun. 6 February 2022
Top five teams from the knockout stage will qualify for the FIFA Women's World Cup Australia & New Zealand 2023™.
(*If Australia is one of the top five teams, the sixth-place team will also qualify.)