NEWS
Nadeshiko Japan gets off to a great start towards the Olympics with 4-0 victory over Canada in an International Friendly Match
07 October 2019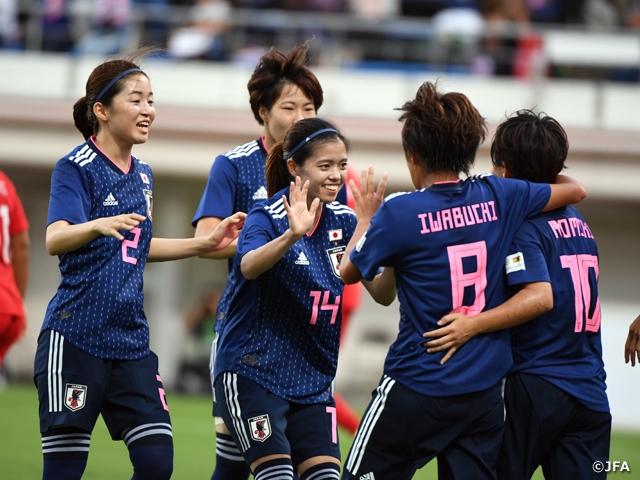 On Sunday 6 October, the Nadeshiko Japan (Japan Women's National Team) faced the Canada Women's National Team in an international friendly match held at IAI Stadium Nihondaira, Shizuoka.
In their first match since the FIFA Women's World Cup France 2019, the players of the Nadeshiko Japan entered the pitch wearing a pink shirt to promote the Japanese Bid to host the FIFA Women's World Cup 2023. The team also wore a special jersey for this match, where the names and numbers were all printed in pink, as they faced a strong Canadian side, who were ranked seventh in the most recent FIFA ranking.
With familiar faces from the World Cup, such as team captain KUMAGAI Saki, NAKAJIMA Emi, and SUGASAWA Yuika starting the match, Japan showcased great ball movements from the early minutes. Japan got off to a great start as Nakajima delivered a well-timed cross to setup IWABUCHI Mana's opening goal scored in the sixth minute.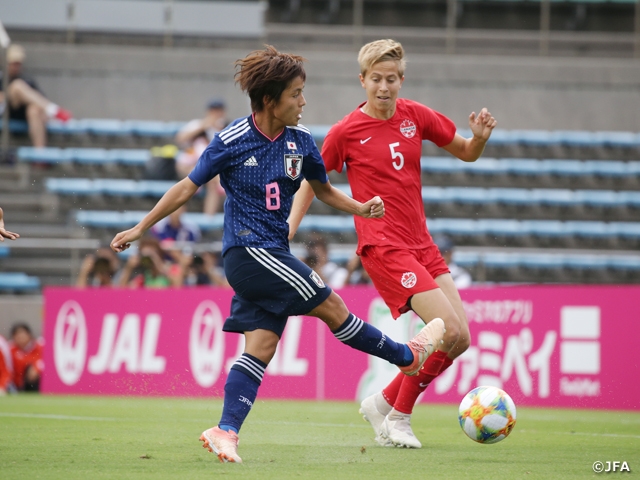 While the opening goal gave Japan more momentum to their offence, the home side took great caution against the Canadian ace, Christine SINCLAIR, in defence. Despite seeing MIURA Narumi leaving the game in the 42nd minute due to injury, the substitute, MOMIKI Yuka displayed a great performance to create rhythm to the Japanese offence.
In efforts to level the match, Sinclair struck a shot in the 56th minute, but her attempt was saved by the Japanese goalkeeper, YAMASHITA Ayaka. With ENDO Jun being introduced to the match in the 63rd minute, Japan regained their momentum in their attacks. In the 65th minute, the shot taken by HASEGAWA Yui was blocked by the Canadian goalkeeper, Stephanie LABBE, but Momiki converted the loose ball to double the Japanese lead. Seven minutes later, Iwabuchi broke into the penalty box and setup Hasegawa's goal to make it 3-0.
During additional time, the two late substitutes got involved to score Japan's fourth goal, as KOBAYASHI Rikako converted the loose ball created by TANAKA Mina to seal the match. Ahead of next year's Tokyo Olympics, the Nadeshiko Japan got off to a great start.
Following the match, the players and staffs of the Nadeshiko Japan held a banner to promote the Japanese Bid to host the FIFA Women's World Cup 2023 towards the crowd of 8,123 attending the stadium.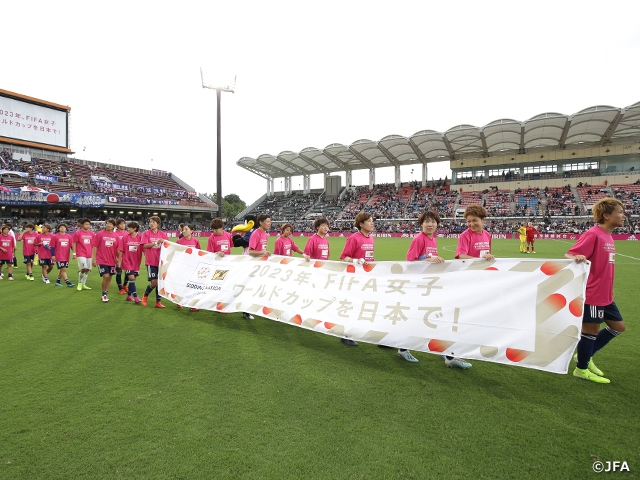 The Nadeshiko Japan will play a training match against the Canada Women's National Team behind closed doors on Monday 7, before concluding this series of activities.
Coach and Players' Comments
TAKAKURA Asako, Coach of Nadeshiko Japan (Japan Women's National Team)
Under the campaign of "Let's colour the stadium in pink," many of our supporters attended today's match wearing pink, and we appreciate all the support. A 4-0 victory looks like a strong result, but our overall performance was not as dominating. If we are striving to become the best in the world, we still have plenty of room to improve on. However, the players played with great heart today, so we will take this result positively and utilise this experience to become a better team.
DF #16 MIYAGAWA Asato (Nippon TV Beleza)
I was able to enter the match without getting nervous. Although I was able to get myself involved in offence through our build-up plays, I wasn't able to deliver much crosses. After returning from the World Cup without being used in any match, I have worked hard to improve myself as a player. I still have long ways to go, but I feel like that bitter experience has led me to where I am today.
MF #10 MOMIKI Yuka (Nippon TV Beleza)
I was anticipating for the loose ball, so I am glad I was able to score that goal. Although that goal has given me confidence, I still feel like I needed to create more opportunities upfront. I am not sure if I am a worthy player to wear this number 10 jersey, but I will continue to apply pressure on myself and focus on getting my job done. We may see more changes coming for this team, but I will continue to think of ways to help this team and give my best efforts to contribute for the team ahead of the Olympics.
FW #8 IWABUCHI Mana (INAC Kobe Leonessa)
I feel like we were able to showcase what we have been working on for the past week. However, as coach Takakura mentioned, we lost our rhythm from our own mistakes in the first half. Although we didn't concede any goals from those mistakes today, that is certainly an aspect we must fix in order to reach a higher level. With that being said, we were still able to get off to a great start towards the Olympics. We will continue to strive for higher levels and build our team through these matches.

Schedule
Mon. 30 September
15:30
Training
Tue. 1 October
15:30
Training
Wed. 2 October
9:45/15:30
Training
Thu. 3 October
15:30
Training
Fri. 4 October
15:00
Training
Sat. 5 October
AM
Official Training/Press-conference
Sun. 6 October
4-0
International Friendly Match
vs Canada Women's National Team
(IAI Stadium Nihondaira)
Mon. 7 October
PM
Training Match
*The schedule is subject to change due to the team condition, the weather, etc.
International Friendly Match
Nadeshiko Japan (Japan Women's National Team) vs Canada Women's National Team
Match Date: Sun. 6 October 2019 14:30
Match Venue: IAI Stadium Nihondaira, Shizuoka