NEWS
Switzerland Women's National Team arrive in Japan to start their training camp in Nagano ahead of MS&AD CUP 2017
18 October 2017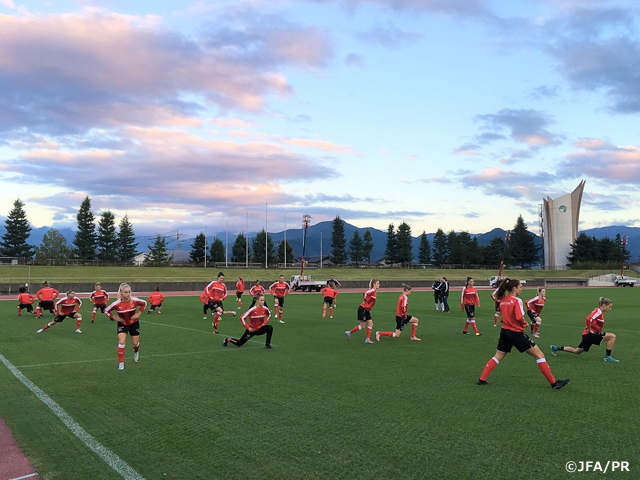 Switzerland Women's National Team, who will face Nadeshiko Japan in the MS&AD CUP 2017 at Nagano/Nagano U Stadium on Sunday 22 October, arrived in Japan and started their training camp in Nagano.
The team moved to Nagano after arriving at Narita Airport and held a practice session on the same day.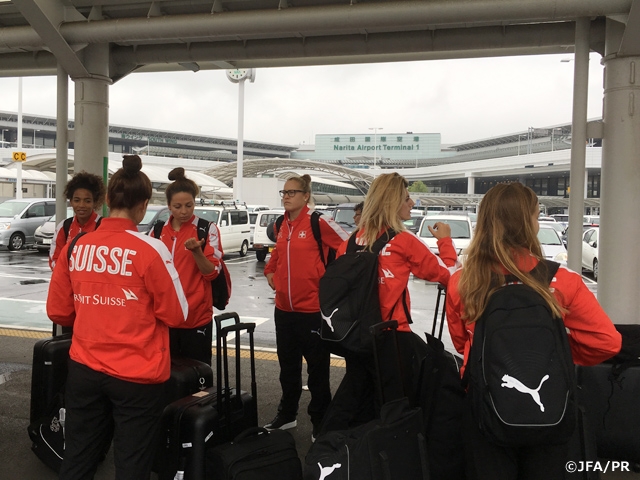 Coach's Comment
Martina VOSS-TECKLENBURG, Coach (Switzerland Women's National Team)
I'm truly grateful that we are given a great opportunity to compete in the MS&AD CUP. I believe everyone acknowledges Nadeshiko Japan as one of the top women's teams in the world. We sincerely appreciate this chance to play a friendly match against them. Many experienced players, who had been supporting our national team, have retired and currently we have many young and new players in the squad. To be more precise, six players have retired recently and have totalled 480 caps for the national team. Simply looking at this number, one can imagine how much experience we have lost in ourl squad.
Although it's my first time to visit Japan, I know few things about Japanese people. Coach TAKAKURA and I are of same age group and I've known her since she was still a player. Moreover, ANDO Kozue was playing for FCR 2001 Duisburg, when I was a coach there. She was a hard worker and played with dedication for the team as well. I'm sure Nadeshiko Japan have many excellent players like her.
I watched all three games they had played in the United States. The Japanese team have wonderful techniques, and passes the ball very well. Capitalising on their players with speed, and the team have the ability to break through the defence as well.
As such is the case, I'm very happy that our new Swiss team consisting of young players can play against Japan. We like us to display our best performance at the Nagano stadium on Sunday. All the players seemed to be tired after a long flight, but we are looking to make a good preparation from tomorrow for the coming game.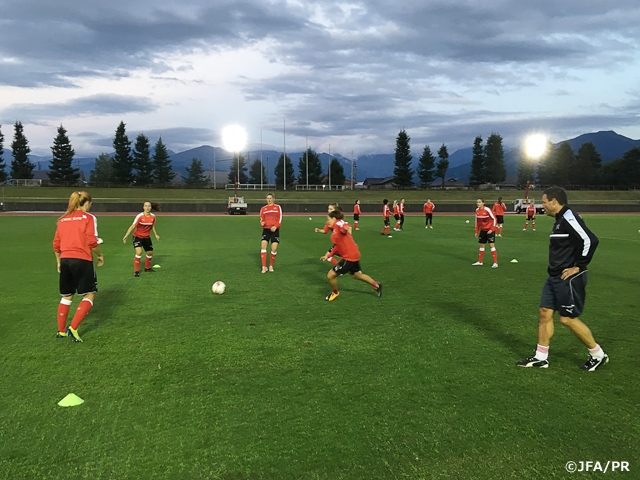 Schedule
Tue.17 October
PM
Training
Wed.18 October
AM
Training
Thu.19 October
AM/PM
Training
Fri.20 October
AM
Training
Sat.21 October
PM
Official Conference, Official Training
MS&AD CUP 2017
Sun.22 October
16:30
MS&AD CUP 2017
vs Nadeshiko Japan (Nagano U Stadium)
Mon.23 October
PM
Training match vs Nadeshiko Japan
*The schedule is subject to change due to the team condition, the weather, etc.

Sunday, 22 October 2017 Kick Off at 16:30(estimated time)
vs Switzerland Women's National Team
Nagano / Nagano U Stadium