NEWS
【Match Report】U-16 Japan National Team move one step closer to the title with a comfortable win over Uruguay - U-16 International Dream Cup 2022 JAPAN presented by JFA
11 June 2022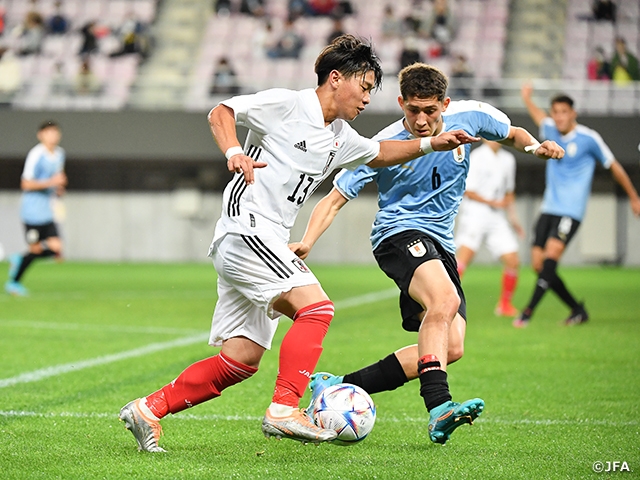 The second fixtures of the U-16 International Dream Cup 2022 JAPAN presented by JFA took place at Yurtec Stadium Sendai on Friday 10 June.
U-16 Japan National Team 4-0 (3-0, 1-0) U-16 Uruguay National Team
In their second match of the tournament, the U-16 Japan National Team faced the U-16 Uruguay National Team in their second match.
Following their 3-0 victory over the U-16 Korea Republic National Team on Wednesday, Japan once again took the lead in the early minutes. The goal came in the seventh minute, when NAWATA Gaku (Kamimura Gakuen High School) responded to a pass sent by SATO Ryunosuke (FC Tokyo U-18). Although the pass took a deflection off a Uruguayan player, Nawata showed great composure to control the ball before firing a pinpoint shot that pierced the near side corner of the goal.
After shielding off the rally displayed by Uruguay, Japan scored their second goal in the 34th minute, when MICHIWAKI Yutaka (Roasso Kumamoto Youth) connected with a cross sent by Nawata to strike a towering header over the reach of the goalkeeper. Nawata made it 3-0 in the 39th minute, when his shot taken from distance slipped away from the Uruguayan goalkeeper's hands, giving his side a comfortable lead at halftime.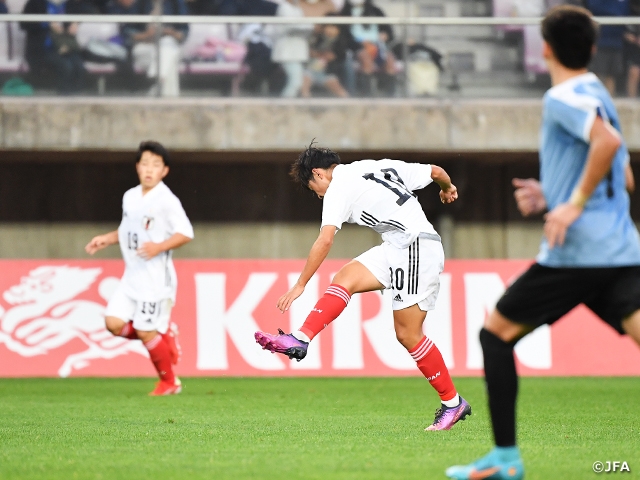 In efforts to cut down the deficit, Uruguay utilised their substitutes in the second half, but the fine saves made by the Japanese goalkeeper KAMBAYASHI Taisei (Montedio Yamagata Youth) and the tenacious efforts displayed by NAGANO Shuto (FC Tokyo U-18), HONDA Kotaro (Shonan Bellmare U-18), and YAMADA Kai (Maebashi Ikuei High School), kept the South American side at bay.
With NAKAJIMA Yotaro (Sanfrecce Hiroshima Youth) adding to the tally in the 90th minute, Japan walked away with a 4-0 victory to get one step closer to winning the title.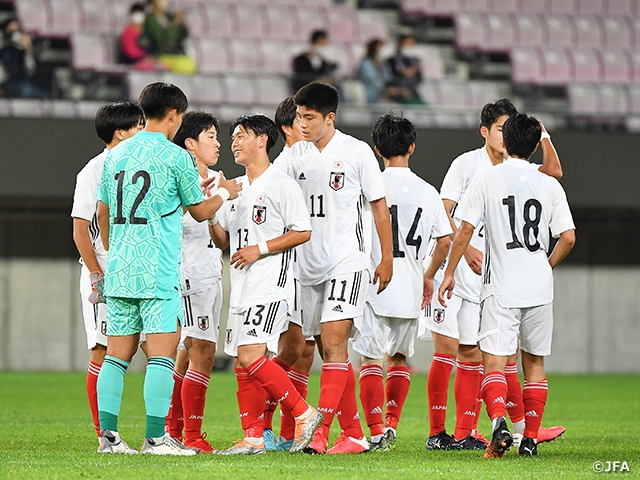 U-16 Korea Republic National Team 3-3 (0-2, 3-1, PK1-3) U-16 Mexico National Team
In the other match played on this day, Mexico took a 2-0 lead over Korea Republic in the first half, but the Korean side came from behind to level the score 3-3 to send the match into a penalty shootout. Although it was Mexico who missed their first spot kick, Korea Republic failed to convert their next three spot kicks, allowing Mexico to claim the win with a score of 3-1 in penalties.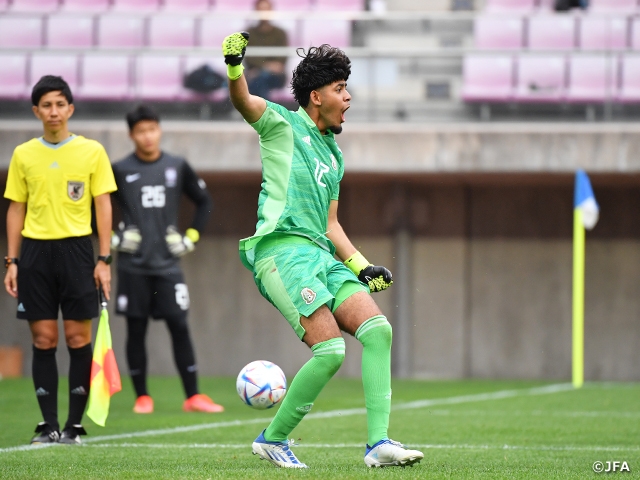 Coach and Players' Comments
MORIYAMA Yoshiro, Head Coach (U-16 Japan National Team)
We entered this match with the intention of possessing the ball longer than we did against Korea Republic. We displayed great intensity from our frontline, and although we got lucky in certain occasions, we managed to create good opportunities and capitalise on them. In the second half, we insisted on possessing the ball too much, which caused us to make some mistakes, but we also managed to test a three-back formation from the hour mark, which would give us more options in the future. We can put ourselves in a good position to win the match as long as we keep a clean sheet, and the players have been showing great tenacity to defend our goal.
GK #12 KAMBAYASHI Taisei (Montedio Yamagata Youth)
We gave up some close shots at the beginning of the first half, but I was able to keep my composure to make the saves. Once we settled down, we managed to possess the ball and score three goals in the first half, which helped us earn this win. The build-up plays and long-feeds are part of my forte, and I was able to make my decision based on how our opponents applied pressure on me. I am from Tohoku, so it was good to have so many people come and watch us play in Tohoku. I didn't have any trouble playing my own game, and it was fun to play in a home atmosphere.
DF #3 HONDA Kotaro (Shonan Bellmare U-18)
We managed to win our first match against Korea Republic in good shape, which allowed us to enter this match with a positive vibe. We were able to possess the ball with confidence once we took the lead and it was great to our side score multiple goals in the first half. Although we gave up some close opportunities, we managed to put our bodies on the line to keep the clean sheet. Head coach Moriyama and coach Hiroyama have been telling us to play tenaciously in front of the goal, so I am glad we were able to do just that in this match.
FW #9 MICHIWAKI Yutaka (Roasso Kumamoto Youth)
I entered the first match as a substitute and ended scoreless, so I was determined to score a goal in today's match. Before I scored that goal, I was able to win the ball from a corner kick to earn the throw-in that led to that goal. I knew the goalkeeper was coming after the ball, but I had confidence in my ability to win the ball in the air, so I didn't hesitate to go for that header.

U-16 International Dream Cup 2022 JAPAN presented by JFA
Tournament Dates: Wed. 8 - Sun. 12 June 2022 [Free admission to all matches]
Venue: Yurtec Stadium Sendai (Miyagi)