NEWS
【Match Report】U-16 Japan National Team earn shutout victory over AFC rivals Korea Republic at the U-16 International Dream Cup 2022 JAPAN presented by JFA
09 June 2022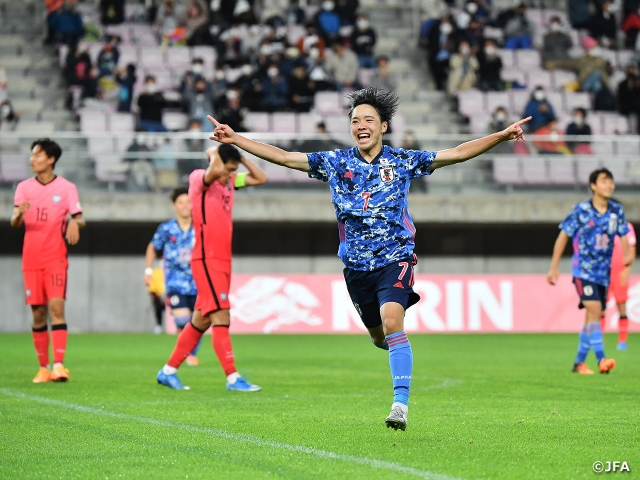 The U-16 International Dream Cup 2022 JAPAN presented by JFA kicked-off at Yurtec Stadium Sendai on Wednesday 8 June.
U-16 Japan National Team 3-0 (2-0, 1-0) U-16 Korea Republic National Team
On the first day of the tournament, the U-16 Japan National Team squared off against their AFC rivals U-16 Korea Republic National Team.
It was Japan who took the initiative in this highly contested battle. In the seventh minute, YAMADA Kai (Maebashi Ikuei High School) collected the loose ball following a corner kick and delivered a cross towards the centre. Although this cross took a deflection off an opposing defender, YADA Ryunosuke (Shimizu S-Pulse Youth) was able to respond to this ball at the far side and calmly struck the ball into the net.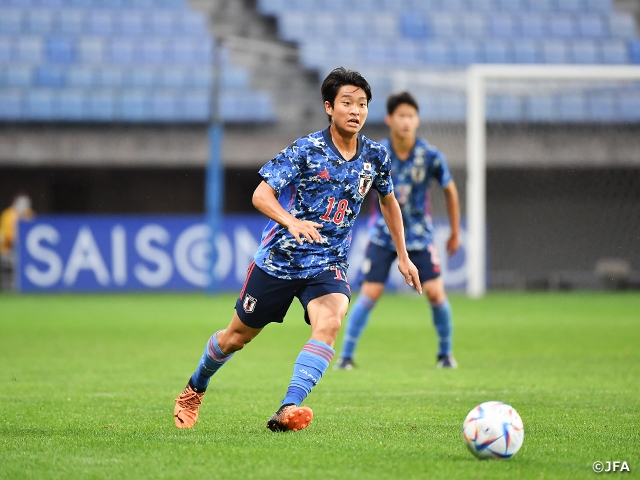 Japan doubled their lead in the 40th minute, when TOKUDA Homare (Kashima Antlers Youth) passed the ball to SUGIURA Shungo (Nagoya Grampus U-18), who delivered a lobbing cross from the right side, allowing ISOZAKI Mark (Omiya Ardija U18) to strike a towering header that captured the goal.
With momentum on their side, Japan continued to showcase their dominance in the second half. In the 51st minute, Sugiura carried the ball from the right flank and drilled a powerful shot that ricocheted off the post before finding the back of the net.
In defence, Yamada and NAGANO Shuto (FC Tokyo U-18) displayed great composure and intensity to lead the way, while goalkeeper GOTO Wataru (FC Tokyo U-18) made number of great saves to keep the clean sheet intact as Japan got off to a great start in the tournament, beating Korea Republic 3-0.
In the other fixture played on this day, Mexico scored goals in the 79th and 84th minutes to win over Uruguay 2-0.
Coach and Players' Comments
MORIYAMA Yoshiro, Head Coach (U-16 Japan National Team)
We entered today's match with the theme "Hunt" and tried to fight the ball with high intensity. There were a few scenes where we managed to evade the pressure to create opportunities, including the goal scene, and we hope to create more of those situations in our next match. Facing the intensity level displayed by the Korean players, I am sure our players realised that they too need to step up the intensity level from their daily trainings. It was a very intense match, so we will rest up tomorrow and prepare ourselves for the next match.
DF #20 YAMADA Kai (Maebashi Ikuei High School)
Having played against foreign teams during our Romanian tour in May, I was shocked by the intensity level and athleticism displayed by our opponents. We knew Korea Republic were going to give 120% against us and their enthusiasm and determination really made this an intense match. Defence was one of our focal points for this match, so we are glad that we were able to keep a clean sheet. It felt like we were a lot more energetic and enthused than our Romanian tour, which I think is why we were able to achieve this result.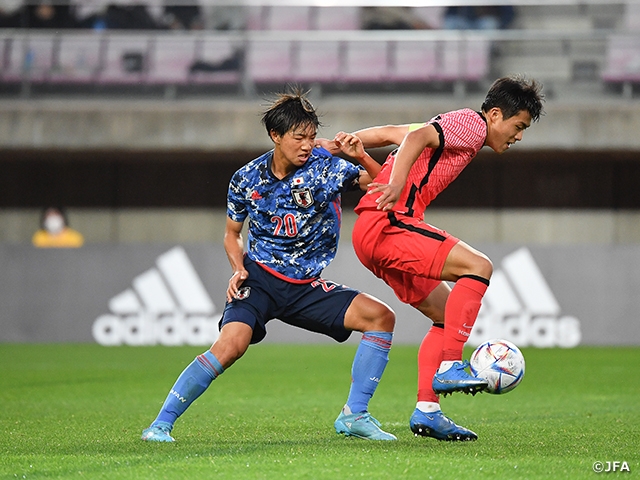 MF #18 YADA Ryunosuke (Shimizu S-Pulse Youth)
I was able to help the team create chances when I received the ball facing the opposing goal. In terms of defence, it felt like I wasn't making enough sprints. I am happy that I was able to score a goal. I had a feeling that the ball was coming towards me (following a corner kick) and that is exactly what happened. I was able to keep my composure to score that goal.
FW #10 NAWATA Gaku (Kamimura Gakuen High School)
Coming off the bench, I wasn't able to adjust to the pitch condition and made many mistakes today, so I am not satisfied with my performance. Rather than just having a good experience in this tournament, I wanted to test my abilities and challenge myself in terms of shooting, dribbling, and other aspects. However, I wasn't able to do anything today, so I would like to try again starting with the Uruguay match. I have been entrusted with this number 10 jersey, so I need to deliver results. I will work hard not only to score goals, but to help the team and become a better player.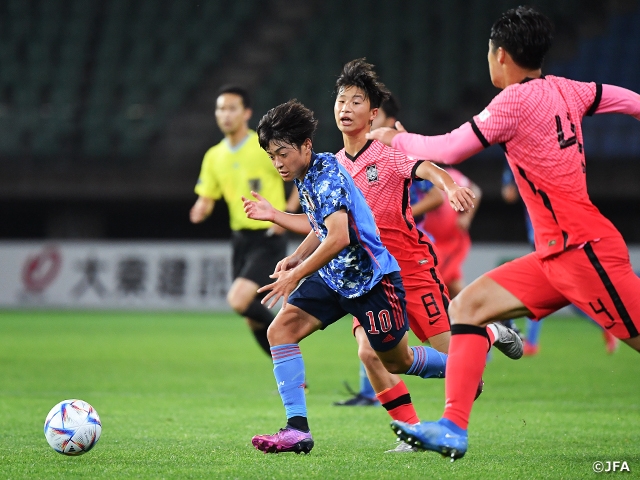 U-16 International Dream Cup 2022 JAPAN presented by JFA
Tournament Dates: Wed. 8 - Sun. 12 June 2022 [Free admission to all matches]
Venue: Yurtec Stadium Sendai (Miyagi)