NEWS
Kobe fall short of title despite win over Shizuoka Gakuen - Prince Takamado Trophy JFA U-18 Football Premier League 2022
05 December 2022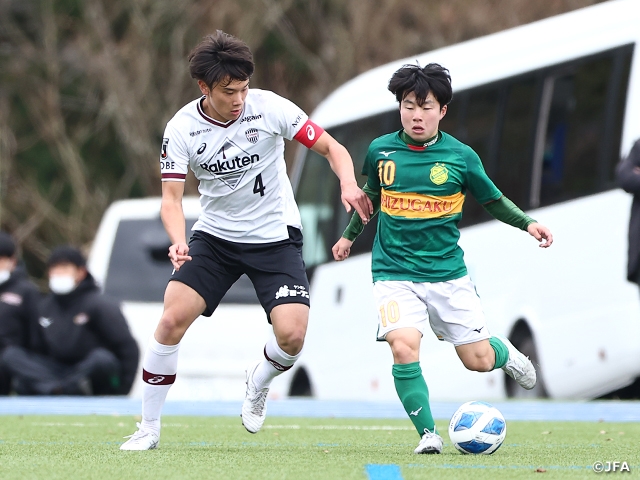 The 22nd sec. of the Prince Takamado Trophy JFA U-18 Football Premier League 2022 WEST took place on Sunday 4 December. At s_pl@tt FUJISPARK Athletic Field, Shizuoka Gakuen High School (Shizuoka) faced Vissel Kobe U-18 (Hyogo).
Featured Match
Shizuoka Gakuen High School 1-3 (0-1, 1-2) Vissel Kobe U-18
Ahead of their final match of the season, Kobe were in second place, level on points with leaders Sagan Tosu U-18 (Saga). In order to win the title, they needed at least a multi-goal victory, but it was Shizuoka Gakuen who took the initiative, as their right winger TAKAHASHI Ryuta (#10) showed great form to create opportunities.
Despite being pressed back, the Kobe defence showed great tenacity to keep the opposition from scoring a goal. The tall defenders also posed threats in the attacking third, as they made their presence felt in set-pieces and long-throws.
Just before halftime, SAKAMOTO Shoi (#17) capitalized on a pass from NAGASAWA Mikaze (#10) to score the game's first goal, giving Kobe the lead in the 43rd minute.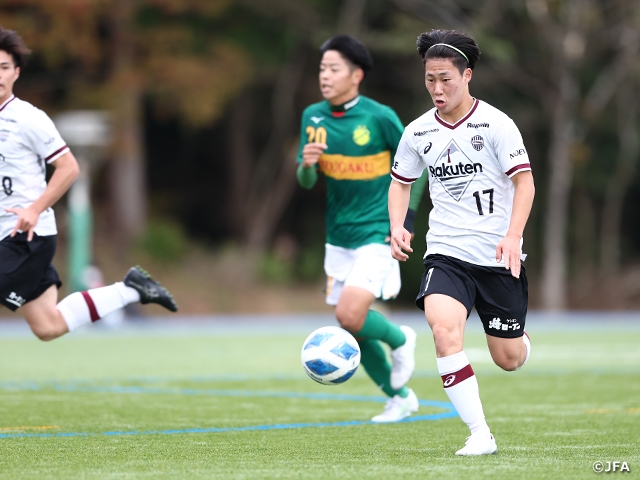 Although it was Kobe who scored first, Shizuoka Gakuen continued to control the game, as they created number of chances to take shots and pinning Kobe back in their own half.
The action picked up in the closing 10 minutes of the match. Nagasawa doubled Kobe's lead in the 83rd minute by converting a corner kick with a spectacular volley shot. ARISUE Shota (#14) scored a lobbing goal to increase the lead two minutes later after slipping past Shizuoka Gakuen's defensive line.
Shizuoka Gakuen also looked for a chance to score as Kobe continued their pursuit of goals in an effort to keep their title hopes alive. The Shizuoka side scored a consolation goal in the sixth minute of additional time when defender KUROSAWA Shota (#20) headed in a corner kick. Kobe missed out on winning the title despite having the same number of points as the leaders Sagan Tosu U-18 (Saga), as they trailed by three goals in goal difference.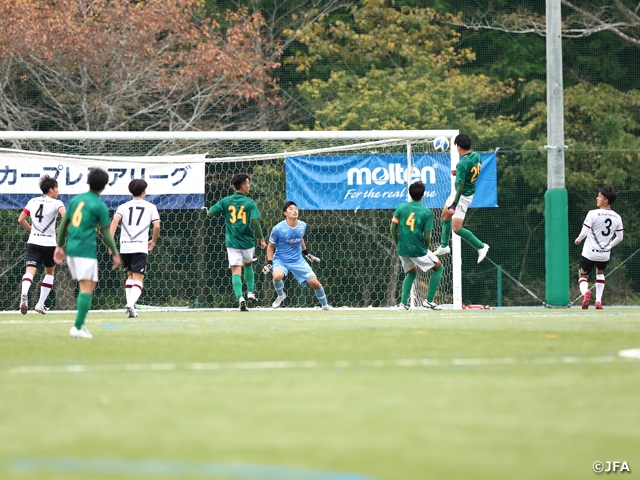 Coaches and Players' Comments
KAWAGUCHI Osamu, Coach (Shizuoka Gakuen High School)
We went all out to play aggressively, so we don't regret this result. I am glad that our players showed their mettle by scoring a goal at the end. I am pleased with our performance because the players gave it their all, especially in the second half. We must acknowledge this loss and make the most of the experience. We had a lot of difficulties this season, but we also learned a lot.
DF #4 GYOTOKU Ei (Shizuoka Gakuen High School)
I made an effort to show off everything I had developed over the previous three years because this was going to be our final game. Despite the outcome, I believe we managed to deliver a technically sound performance that best embodies Shizuoka Gakuen. I am glad that I was able to score from that last play. It was a great season where I was able to grow as a player with my teammates, even though we weren't able to qualify for both the Inter-High School Championships and All Japan High School Soccer Tournament this season.
ABE Yuta, Coach (Vissel Kobe U-18)
The fact that we missed out on the title based on goal differential is also attributable to the year's worth of work. We must acknowledge that we didn't have what it takes to take home the trophy. Last season, we battled to avoid relegation and celebrated our seventh-place finish, while this season, we are resentful of our second-place finish. It demonstrates how far we've come in a year, and we intend to keep going in that direction as a team. We were able to maintain our composure because we were seeing results, and I think the players were able to see that themselves what a difference it makes.
DF #4 TERASAKA Shogo (Vissel Kobe U-18)
We came into the game with the simple goal of winning. During halftime, we were informed of the results of the other games, but we reaffirmed to one another that our only goal should be to put on our best performance. We were able to play our game and battle as a team until the bitter end, so we have no regrets.
Results of other matches
Shimizu S-Pulse Youth 1-4 (1-1, 0-3) Cerezo Osaka U-18
Nagoya Grampus U-18 1-1 (1-1, 0-0) Gamba Osaka Youth
Sanfrecce Hiroshima FC Youth 4-0 (2-0, 2-0) Higashi Fukuoka High School
Sagan Tosu U-18 4-0 (2-0, 2-0) Jubilo Iwata U-18
Ozu High School 2-2 (0-2, 2-0) Riseisha High School
In the match between 10th-placed Shimizu S-Pulse Youth (Shizuoka) and 11th-placed Cerezo Osaka U-18 (Osaka), Cerezo Osaka won the match after scoring four goals, including two by KONOMI Kaito (#13). The match between Gamba Osaka Youth (Osaka) and Nagoya Grampus U-18 (Aichi) ended in a 1-1 draw with neither side giving an inch. Sanfrecce Hiroshima FC Youth (Hiroshima) had a comfortable win at home against Higashi Fukuoka High School (Fukuoka), scoring four goals, starting with SENO Hayato's (#13) opener. Sagan Tosu U-18 (Saga) scored two goals in each half to defeat Jubilo Iwata U-18 (Shizuoka). Two high school sides, Ozu High School (Kumamoto) and Riseisha High School (Osaka) split the points with a 2-2 draw. As a result, Cerezo Osaka finished 10th and will participate in the Premier League play-offs starting on Friday 9 December, while 11th-placed Shimizu and 12th-placed Gamba Osaka were relegated to the Prince League.
Prince Takamado Trophy Premier League Official Twitter
%F0%9F%8F%86#高円宮U18 プレミアリーグ 2022%F0%9F%8F%86
%F0%9F%9F%A2WEST 第22節(12/4)%F0%9F%9F%A2#清水 1-4 #C大阪#静岡学園 1-3 #V神戸#名古屋 1-1 #G大阪#広島 4-0 #東福岡#鳥栖 4-0 #磐田#大津 2-2 #履正社

結果詳細はこちら%F0%9F%94%97https://t.co/EwnoNt7BCD#高校サッカー pic.twitter.com/2u2JiFhHW8

— 高円宮杯 JFA U-18サッカープレミアリーグ (@jfa_u18) December 4, 2022
%F0%9F%8F%86#高円宮U18 プレミアリーグ 2022%F0%9F%8F%86
%F0%9F%9F%A2WEST%F0%9F%9F%A2

%E2%9A%BD順位表%E2%9A%BD
1%E2%83%A3 #鳥栖
2%E2%83%A3 #V神戸
3%E2%83%A3 #磐田
4%E2%83%A3 #静岡学園
5%E2%83%A3 #名古屋
6%E2%83%A3 #大津
7%E2%83%A3 #広島
8%E2%83%A3 #履正社
9%E2%83%A3 #東福岡
1%E2%83%A30%E2%83%A3 #C大阪
1%E2%83%A31%E2%83%A3 #清水
1%E2%83%A32%E2%83%A3 #G大阪

詳細はこちら%F0%9F%94%97https://t.co/AHqNVIJWJl#高校サッカー pic.twitter.com/r3eqOOY8XP

— 高円宮杯 JFA U-18サッカープレミアリーグ (@jfa_u18) December 4, 2022
Prince Takamado Trophy JFA U-18 Football Premier League 2022
League Duration: Sat. 2 April - Sun. 4 December 2022