NEWS
Higashi Fukuoka score late to win over Riseisha - Prince Takamado Trophy JFA U-18 Football Premier League 2022
16 May 2022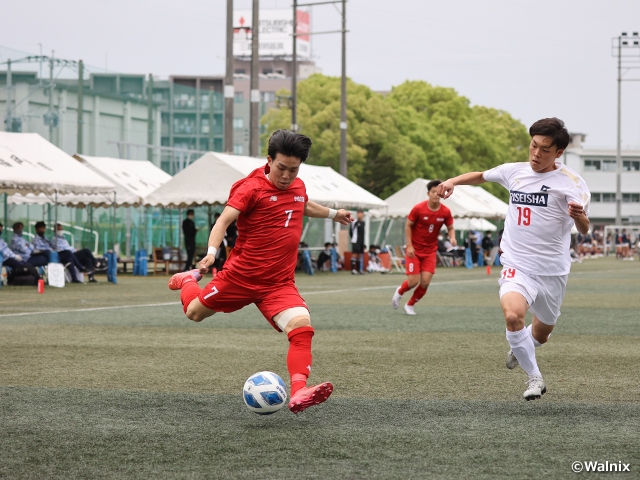 The seventh sec. of the Prince Takamado Trophy JFA U-18 Football Premier League 2022 WEST took place on Saturday 14 and Sunday 15 May, as Higashi Fukuoka High School (Fukuoka) welcomed Riseisha High School (Osaka) to their home field.
Featured Match
Higashi Fukuoka High School 2-1 (1-0, 1-1) Riseisha High School
The match between two high school powerhouses ended in dramatic fashion. "With this being our first matchup against another high school side, we were really enthused to earn our first win away from Osaka," said Riseisha's FURUTA Kazunosuke (#9), but the Osaka side entered the match showing passive build-ups in the first half, as they struggled to create opportunities upfront.
Higashi Fukuoka on the other hand, effectively utilised their wingers URA Juzo (#7) and TAKESHITA Yu (#17) to create chances from the flanks, as Ura later reflected, "I have entered each match knowing that I have an edge in speed."
Although they missed out on the opportunity created by Ura in the second minute, Higashi Fukuoka took the lead in the 10th minute, when Takeshita delivered a through-ball to set up the goal of TANAKA Kosei (#8).
In efforts to rally back, Riseisha introduced KONO Sakuya (#22) to start the second half, a substitution in which coach HIRANO Naoki later explained, "Although he is a defender, I wanted someone who can fight for the ball in our attacking third." Helped by Kono's powerful plays, Riseisha gradually picked up their aggression to create more chances. In the 49th minute, KAWABATA Haru (#14) connected with the cross sent by OKADA Seiya (#19), but his header failed to capture the target.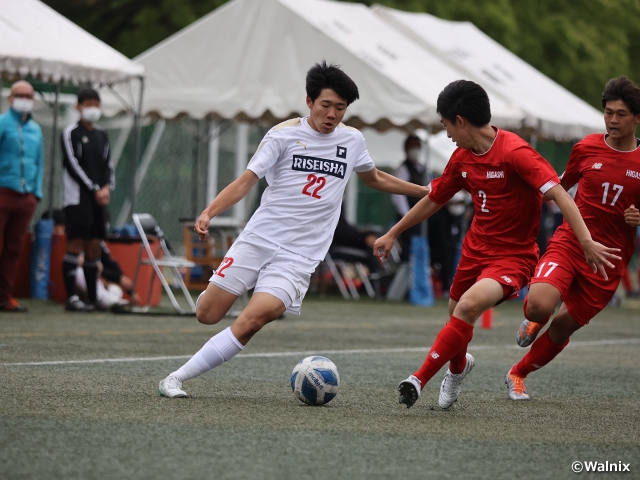 After Furuta came close to converting the pass sent by ODAMURA Yuki (#8) in the 53rd minute, the long-awaited moment arrived for Riseisha in the 74th minute. The play was initiated by Kawabata, who possessed the ball just outside the penalty area before sending a lobbing pass, which found MYOGAN Toya (#10) left unmarked in front of the goal, as the midfielder superbly controlled the ball and sent the ball into the goal.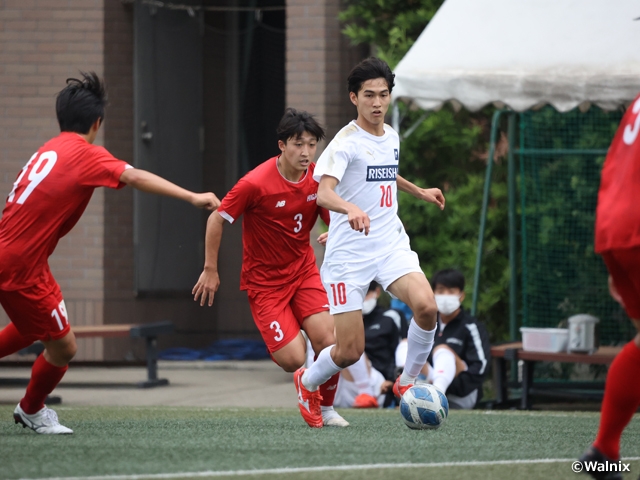 Gaining momentum from the equaliser, Riseisha continued to create chances to threaten the opposing goal, but the home side responded by showcasing great persistency to minimise the dagame, as Ura later reflected, "We defended very patiently as a team." With time running out, Higashi Fukuoka earned a throw-in deep in the opposing territory, which led to the cross sent by SAKAKIBARA Kanta (#18). It was OCHIAI Rio (#28), who connected with this delivery, firing a header into the Riseisha goal in the 90th minute to give Higashi Fukuoka their second win of the season.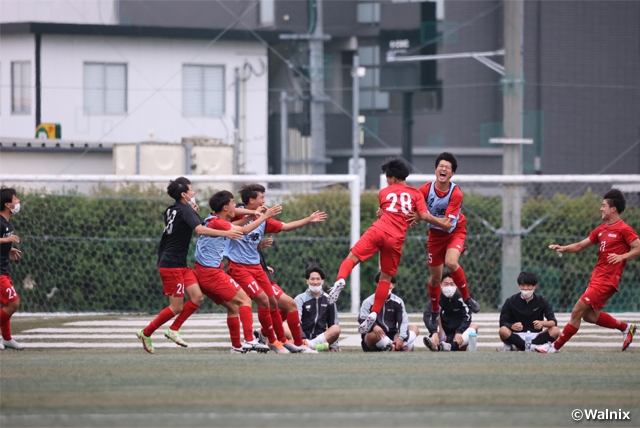 Coaches and Players' Comments
MORISHIGE Junya, Coach (Higashi Fukuoka High School)
We were beaten by Cerezo pretty badly, and it wasn't something we could fix right away. We really wanted to work on our defence, but because we weren't allowed to carry on our activities, we had barely enough time to get our conditions back to a level where we could play through a match today. Considering how the match went, we could have conceded another goal in the second half. We were lucky to only concede one goal because our opponents' attempts were off the mark. It's great that we managed to walk away with three points when it could have easily been a zero-point game.
DF #4 YOSHIDA Taiko (Higashi Fukuoka High School)
Coming off a 0-7 loss, we entered this match with a strong determination to get back on our winning ways. Even when our match was postponed, we consciously spent our time thinking of ways to win our next match, which allowed us to prepare ourselves in the best possible way. The fact that we were facing another high school team made this a match we couldn't afford to lose. Although we were dominated by our opponents, I am glad we were able to walk away with a win. Our strong determination to win has allowed us to keep our opponents to just one goal.
HIRANO Naoki, Coach (Riseisha High School)
The Premier League is full of tough matches. What was disappointing about today's match was how we played in the first half. Despite being given such a wonderful environment and attracting so much attention, we showcased a very poor performance. I had to remind my players during halftime, "This is a league we cannot compete in unless we give our utmost efforts." The players must play with a higher standard. Although we saw some improvements in the second half, we still lacked quality in the final third, which cost us the match.
FW #9 FURUTA Kazunosuke (Riseisha High School)
Higashi Fukuoka came out playing with a high defence line, so we should have made more attempts to exploit the space behind their defence. Although our goal is to score goals, there were many scenes where we were possessing the just for the sake of possessing the ball. Including this match, we have not been performing well this season, both as a team and as individuals. We need to be more detail oriented and raise the quality of our plays in order to compete in the Premier League. If we want to become a contender in this league, we must work harder to raise the overall level of the team, so I will try to keep my teammates motivated from our daily trainings.
Results of other matches
Shimizu S-Pulse Youth Postponed Sanfrecce Hiroshima FC Youth
Cerezo Osaka U-18 1-3 (0-0, 1-3) Shizuoka Gakuen High School
Gamba Osaka Youth Postponed Ozu High School
Nagoya Grampus U-18 Postponed Sagan Tosu U-18
Jubilo Iwata U-18 3-1 (1-0, 2-1) Vissel Kobe U-18
Despite conceding the lead in the 79th minute, Shizuoka Gakuen High School (Shizuoka) rallied to score three unanswered goals to win over Cerezo Osaka U-18 (Osaka). Jubilo Iwata U-18 (Shizuoka) defeated Vissel Kobe U-18 (Hyogo) at home thanks to the brace of ITO Takeshi (#9) and the late goal scored by GOTO Keisuke (#17). Three fixtures: Shimizu S-Pulse Youth (Shizuoka) vs Sanfrecce Hiroshima FC Youth (Hiroshima), Gamba Osaka Youth (Osaka) vs Ozu High School (Kumamoto), Nagoya Grampus U-18 (Aichi) vs Sagan Tosu U-18 (Saga), were postponed this week.
#高円宮U18 プレミアリーグ 2022
WEST 第7節(5/15)

試合結果#名古屋 (延期) #鳥栖#東福岡 2-1 #履正社#磐田 3-1 #V神戸

結果詳細はこちらhttps://t.co/GNr6IeMq2n#高校サッカー pic.twitter.com/9DgwFtDZL3

— 高円宮杯 JFA U-18サッカープレミアリーグ (@jfa_u18) May 15, 2022
#高円宮U18 プレミアリーグ 2022
WEST

暫定順位表
1⃣ #静岡学園
2⃣ #鳥栖
3⃣ #磐田
4⃣ #C大阪
5⃣ #名古屋
6⃣ #清水
7⃣ #履正社
8⃣ #V神戸
9⃣ #東福岡
1⃣0⃣ #大津
1⃣1⃣ #広島
1⃣2⃣ #G大阪

詳細はこちらhttps://t.co/UFlr6DHexG#高校サッカー pic.twitter.com/Pgpd5fZjPH

— 高円宮杯 JFA U-18サッカープレミアリーグ (@jfa_u18) May 15, 2022
Prince Takamado Trophy JFA U-18 Football Premier League 2022
League Duration: Sat. 2 April - Sun. 4 December 2022