NEWS
A top-of-the-table showdown between 2nd and 3rd placed teams in both EAST and WEST! Which teams will challenge the leaders? - Prince Takamado Trophy JFA U-18 Football Premier League 2022
13 May 2022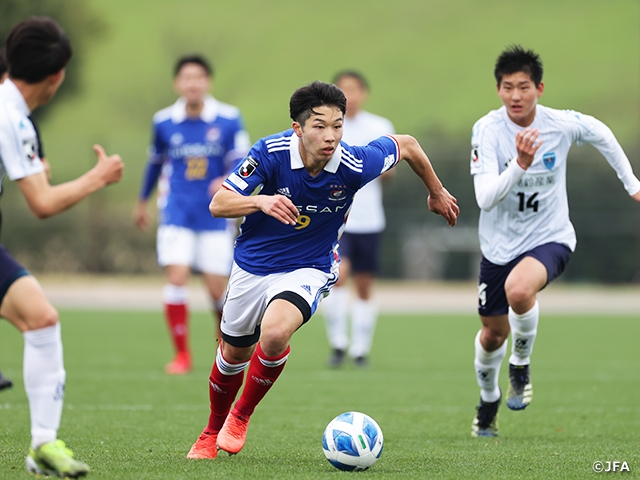 The seventh sec. of the Prince Takamado Trophy JFA U-18 Football Premier League 2022 is about to take place on Saturday 14 and Sunday 15 May.
EAST
Last week in the EAST, teams from Kanagawa Prefecture showcased impressive performances. Kawasaki Frontale U-18 (Kanagawa) defeated Kashiwa Reysol U-18 (Chiba) 5-1, Yokohama F.Marinos Youth (Kanagawa) triumphed over Funabashi Municipal High School (Chiba) 7-0, while Yokohama FC Youth (Kanagawa) won 5-0 against JFA Academy Fukushima U-18 (Shizuoka). Kawasaki, who are still undefeated in their first season in the Premiere League, will face fourth place Maebashi Ikuei High School (Gunma), who are currently in great form, having won three of their past three matches.
Third place Yokohama FM will square off against second place FC Tokyo U-18 (Tokyo). After starting the season with back-to-back victories, Yokohama FM lost two in a row, before winning another pair of matches. They will seek to extend their winning streak further this time, as they inch closer to the top spot of the league. Their opponent, FC Tokyo, on the other hand, will enter this match with a solid 5-1 record, with their only loss coming against Aomori Yamada High School (Aomori). We will see which team will make a step forward to contend for the top spot of the EAST. The battle between the two strikers, Yokohama FM's UCHINO Kotaro (#9) and FC Tokyo's KUMATA Naoki (#9), who are tied in the scorer ranking, is another factor that makes this match enticing for the viewers.
Sixth-placed Yokohama FC will face fifth-placed Aomori Yamada. Since the start of the season, Yokohama FC have conceded multiple goals in four of their six matches so far. They are aiming for their first back-to-back wins of the season, and the key to success will be their defence, which kept its first clean sheet last week. Aomori Yamada started the season with three consecutive wins but lost their next three matches. However, all three defeats were by a single goal, so they have not fallen far behind their top form, and it will not take long for them to turn things around.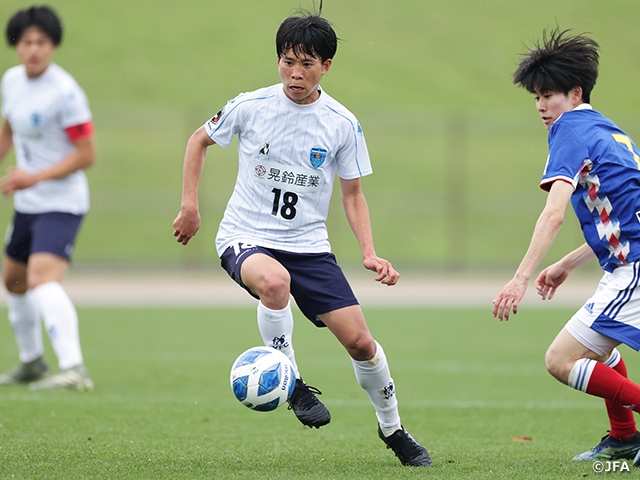 Elsewhere, Omiya Ardija U18 (Saitama) will face Ryutsu Keizai University Kashiwa High School (Chiba), while AC Fukushima will play against Kiryu Daiichi High School (Gunma). The match between Funabashi Municipal and Kashiwa has been postponed.
WEST
WEST leaders Sagan Tosu U-18 (Saga) will take on fifth place Nagoya Grampus U-18 (Aichi). Tosu extended their winning streak to four matches with a 2-0 victory over Shimizu S-Pulse Youth (Shizuoka) last week. In addition to their stable defence that has conceded a league-low three goals in six matches so far, they are the second-highest scoring team in the league with 15 goals, making them a seamless team both offensively and defensively. Nagoya, on the other hand, are in a good position to contend for the title, as they are only six points behind Tosu despite playing two matches less than them. Their match was postponed last week but coming off a 3-1 victory over Shizuoka Gakuen High School (Shizuoka) in the fifth sec., they will try to keep their momentum going in this crucial match against the league leaders.
Second place Shizuoka Gakuen will play an away match against third place Cerezo Osaka U-18 (Osaka). Shizuoka Gakuen started off the season with three consecutive wins, but drew against Shimizu in the fourth week, before suffering their first loss in the fifth week. They are looking to get back on track after beating Gamba Osaka Youth (Osaka) 3-0 last week. C.Osaka, meanwhile, have scored a league-leading 18 goals, despite only playing five matches after seeing one of their matches getting postponed. The top-of-the-table clash between the two teams, who have been winning points with their attacking football so far, will be one to keep an eye on.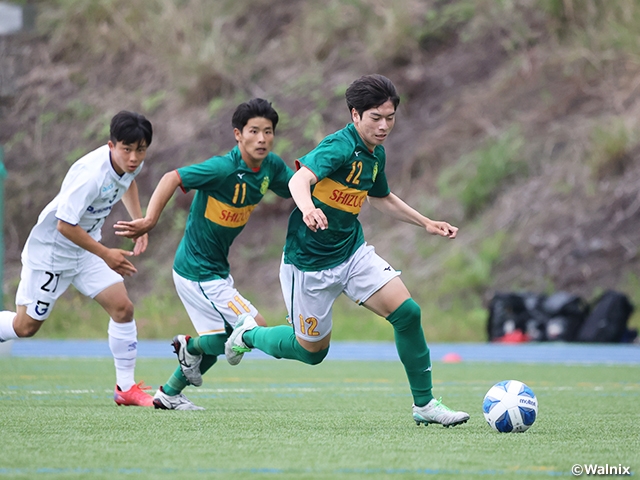 The only high school team match-up of the week between 10th place Higashi Fukuoka High School (Fukuoka) and seventh place Riseisha High School (Osaka) will also be an interesting fixture. Higashi Fukuoka have played three matches so far and have three points. Although they won their season opener, they lost their next two matches, both without a goal. They are coming off a 0-7 loss to C.Osaka in the fourth week, and they will first want to tighten up their defence through their work ethics. With this being their first league match in three weeks, the players will certainly be enthused about this match. Meanwhile, Riseisha, playing in the Premier League for the first time in seven seasons, will enter this match with a record of two wins, one draw, and two losses. They have conceded the opening goal in both of their losses, making the first goal a focal point for this match. A tough battle is expected, but it is certainly one that both sides will be looking to gain a foothold at the top of the table.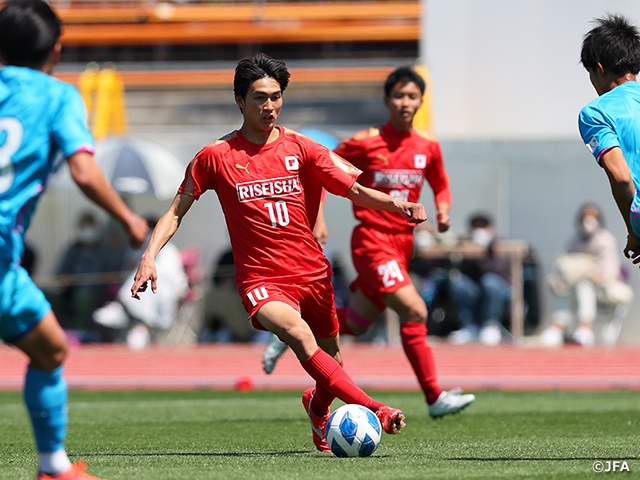 Elsewhere, fourth place Jubilo Iwata U-18 (Shizuoka) will face eighth place Vissel Kobe U-18 (Hyogo). The matches between Shimizu and Sanfrecce Hiroshima FC Youth (Hiroshima), G.Osaka and Ozu High School (Kumamoto) have been postponed.
%E2%9A%BD️ 今週末開催 %E2%9A%BD️#高円宮U18 プレミアリーグ 2022%F0%9F%8F%86

%F0%9F%93%BA放送・配信対象試合%F0%9F%93%B1

%E2%98%91 @sportsbull_jp#C大阪 vs #静岡学園

%E2%98%91 @jsports_soccer#磐田 vs #V神戸

詳細はこちらから%F0%9F%94%97https://t.co/oAPnT9juTR#高校サッカー pic.twitter.com/ysgBZBuvh5

— 高円宮杯 JFA U-18サッカープレミアリーグ (@jfa_u18) May 13, 2022
Prince Takamado Trophy JFA U-18 Football Premier League 2022
League Duration: Sat. 2 April - Sun. 4 December 2022