NEWS
Omiya defeat Funabashi Municipal to take a lead in the relegation race - Prince Takamado Trophy JFA U-18 Football Premier League 2021 EAST
18 October 2021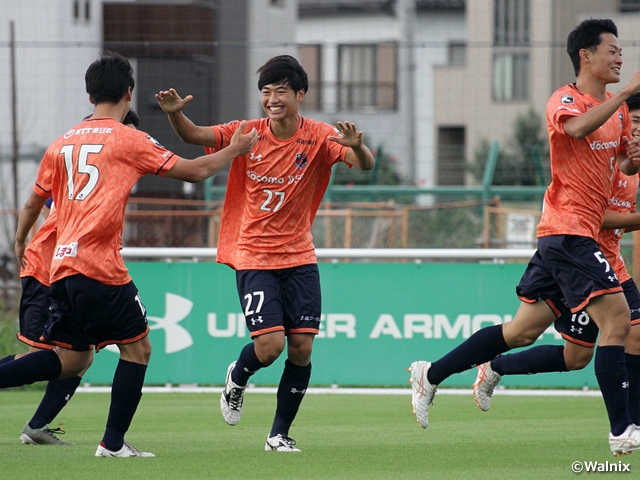 The 15th sec. of the Prince Takamado Trophy JFA U-18 Football Premier League 2021 EAST took place on Sunday 17 October.
Pick-up Match
Omiya Ardija U18 3-0 (1-0, 2-0) Funabashi Municipal High School
Eighth place Omiya Ardija U18 (Saitama) welcomed ninth place Funabashi Municipal High School (Chiba) to their home. With the two sides competing to survive the relegation race, Omiya's coach TANNO Yusuke described the match, "Everyone was aware that this was a significant match for both sides."
Omiya have struggled to score goals recently, as they have lost 0-1 in two of their three matches played in October. Despite facing a situation in which the team could have gone into a mental slump, coach Tanno shared his confidence, "Regardless of who we face, we have shown good performances." The coach also mentioned that he has "demanded too much from the players," and that he has changed his approach since their loss in the Saitama Derby, "a coach needs to step back a bit, watch over and encourage the players to work on their own initiative."
Omiya entered this match without one of their key players, TAKAHASHI Manato (#6), but ICHIHARA Rion (#27) played brilliantly to fill the senior midfielder's shoes, as the first year player mentioned, "I wasn't nervous, and I was committed to help the team win since our last match."
The opening goal came in the sixth minute, when Ichihara connected with a free kick delivered by ABE Raisei (#14), as the rookie midfielder struck a header that found the back of the net. After missing a big opportunity from a free kick in the previous match against Aomori Yamada High School, Ichihara mentioned, "I was determined to score a goal today."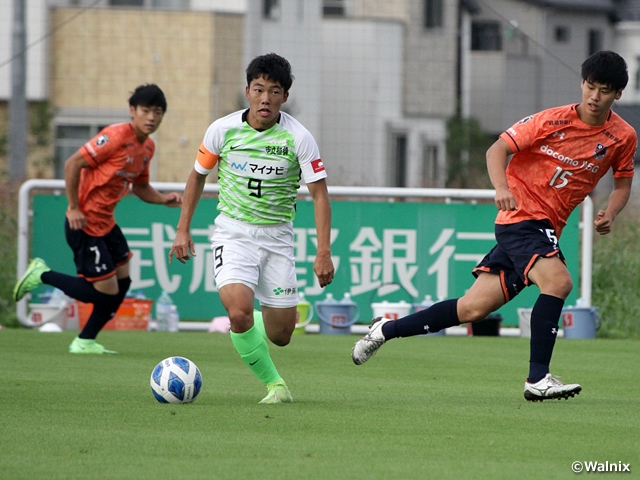 In a match where both teams were under pressure to avoid relegation, this goal had a tremendous impact to the opponent, as Funabashi Municipal's coach HATA Shugo later reflected, "We conceded before we were able to find our rhythm." Despite making the adjustments during halftime, Funabashi Municipal struggled to pick up their pace, as OTA Shungo (#34) mentioned, "Although we were only down by a goal, the entire team was rushing the plays."
With the Funabashi side applying more numbers upfront, Omiya took advantage of the situation and scored back to back goals from counterattacks in the 57th and 68th minute. The goals scored by TAKAHASHI Hikaru (#18) and YAMAZAKI Rin (#10) gave the home side a comfortable lead, and as coach Tanno mentioned, "Once we settled down in defence, there is no way the opponent can break us down," Omiya managed to close out the match to maintain a clean sheet and walk away with a 3-0 victory.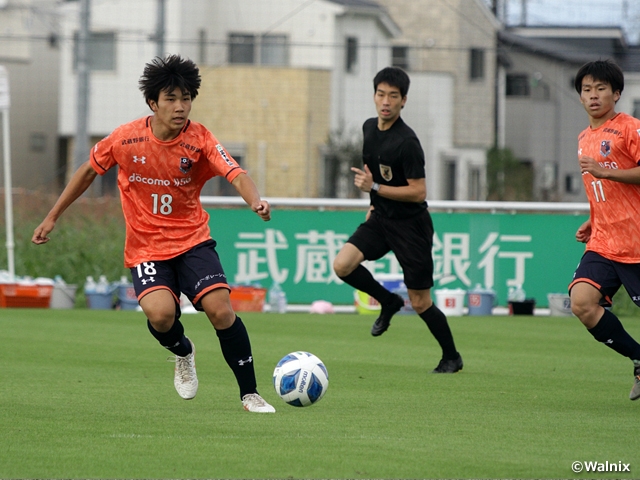 Coaches and Players' Comments
TANNO Yusuke, Coach (Omiya Ardija U18)
While we needed to understand the significance of this match for our survival, we couldn't let that affect our performance. That delicate mental balance was a major focal point when preparing for this match. As we play against high school teams in the Premier League, we sometimes feel that our players lack the ability to communicate, so we tried to encourage the players to take the initiative in the training sessions leading to this match.
DF #27 ICHIHARA Rion (Omiya Ardija U18)
Since Takahashi was suspended, I had been preparing for the possibility that my turn might come. I focused on playing good defence first, and I feel like I was able to do just that. My coach told me that the opponents would be wary of the other players who are strong in the air, so I was anticipating for my opportunity in our set pieces. It wasn't something we had planned to do, but I was able to time myself and make a run towards the far post to score that goal.
HATA Shugo, Coach (Funabashi Municipal High School)
I think this was our worst performance of the season. We started the match poorly and did not do what we needed to do throughout the match. We have played some good matches recently, but I think we still have a long way to go. However, we can't keep looking down. We must reset our minds toward the remaining league matches and the All Japan High School Soccer Tournament.
MF #34 OTA Shungo (Funabashi Municipal High School)
This was a disappointing match. The entire team is responsible for the goal conceded form a set piece, and we conceded two goals from counterattacks, despite taking control of the ball possession. I think we need to improve in the area of risk management. Personally, I made some mistakes and should have taken more shots, considering that the pitch was wet. I'm really disappointed with this result, especially knowing that a first year player like me is taking a spot away from the seniors.
Results of other matches
Aomori Yamada High School 4-0 (1-0, 3-0) Ryutsu Keizai University Kashiwa High School
FC Tokyo U-18 2-1 (0-1, 2-0) Shimizu S-Pulse Youth
Urawa Red Diamonds Youth 1-2 (1-1, 0-1) Kashiwa Reysol U-18
Yokohama FC Youth 1-3 (1-1, 0-2) Yokohama F.Marinos Youth
In a match between two high school powerhouses, Aomori Yamada High School (Aomori) scored four goals to beat Ryutsu Keizai University Kashiwa High School (Chiba) 4-0. Despite conceding the opening goal in the 12th minute, FC Tokyo U-18 (Tokyo) came from behind to defeat Shimizu S-Pulse Youth (Shizuoka) at home. Kashiwa Reysol U-18 (Chiba) bested Urawa Red Diamonds Youth (Saitama) to earn their third win of the season, thanks to the brace of MASUKAKE Yugo (#11). After the two sides exchanged a goal apiece in the first half, Yokohama F.Marinos Youth (Kanagawa) added two more goals in the second half to beat Yokohama FC Youth (Kanagawa) in the Yokohama Derby.

Prince Takamado Trophy JFA U-18 Football Premier League 2021
League Duration: Sat. 3 April - Sun. 5 December 2021