NEWS
Kashiwa reach first Semi-finals in six years with win over Nagoya - Emperor's Cup JFA 103rd Japan Football Championship
31 August 2023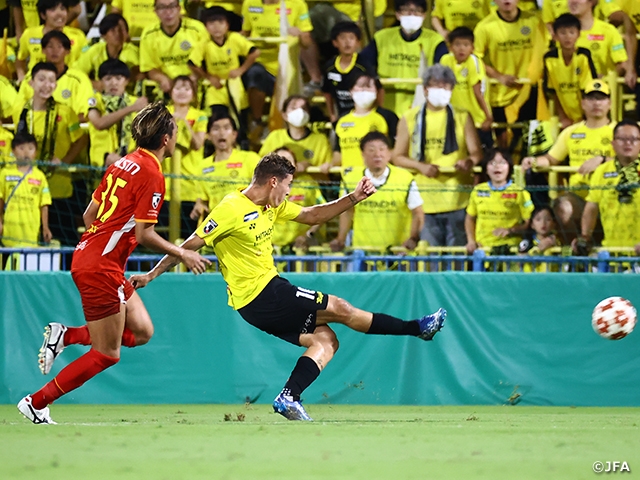 Featured Match
Kashiwa Reysol 2-0 (0-0, 2-0) Nagoya Grampus
Kashiwa Reysol walked away with a 2-0 victory at home, thanks to the second half goals scored by TOSHIMA Sachiro and Matheus SAVIO. The introduction of HOSOYA Mao and Savio at the hour mark gave new life to the Kashiwa offence, with Toshima's opening goal coming in the 69th minute. Savio added an insurance goal in addition time by taking advantage of an errant pass made by Nagoya in front of their own goal.
Head Coach Ihara Masami commented after the match, "We had been struggling to score goals, so this result gives us great confidence moving forward." Kashiwa was forced to change their head coach midway through the season after dropping their ranks down to the relegation zone, but since Ihara's arrival, the club has shown steady improvements, posting a record of three wins and three draws in the month of August.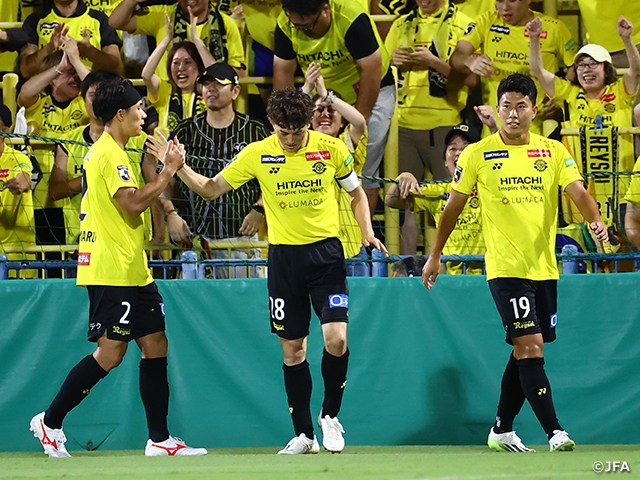 Nagoya, who were seeking to make their first semi-finals appearance since the 89th tournament, generated a number of opportunities, including the shot taken by MAEDA Naoki in the first half, but fell short of finding the back of the net. After the team was booed off the pitch by their fans who came to support the team away from home, Head Coach HASEGAWA Kenta commented, "This was a match we had to win. I understand their frustration. It is a disappointing way to finish a tournament."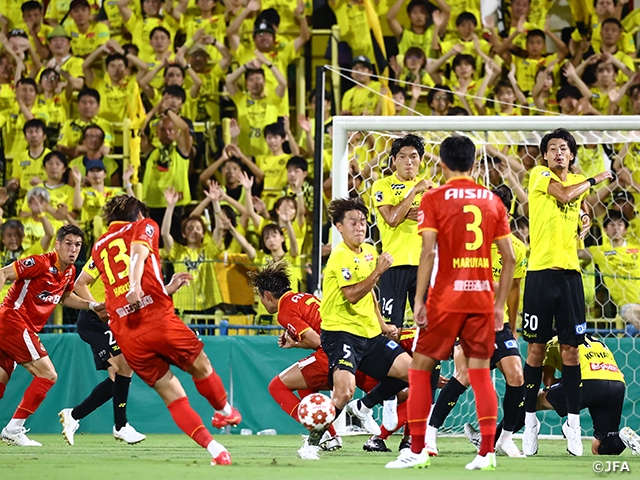 Coaches and Players' Comments
IHARA Masami, Head Coach (Kashiwa Reysol)
With our next league match scheduled in three days, we elected to prioritise the players who haven't been playing in our recent league matches, and I feel like they did very well to execute our game plan. This victory will certainly give us momentum when we return to our league action. We had been struggling to score goals after taking the lead, so this match also gives us great confidence moving forward.
TOSHIMA Sachiro (Kashiwa Reysol)
In our most recent J1 match against Hiroshima, I had been slowing down the pace whenever I had the ball against the opposition's five-back defence line. Although Nagoya plays differently, I knew they had the option of playing five in the back, so I had to think about my approach and focus on applying pressure. (Reflecting on the goal scene) I was able to control the ball in great position, so I just focused on making good contact. I also felt like I could get the ball through the legs of the opponent, so I am glad it went through.
HASEGAWA Kenta, Head Coach (Nagoya Grampus)
This is a very disappointing loss and I understand our fans' frustration. We really wanted to win this match for them, but we lost our patience and conceded the opening goal. We also couldn't use our substitutions to improve the situation. I feel like we deserved to lose this match. We must try to make the most of this experience and give our all in the remainder of the league and cup matches.
MAEDA Naoki (Nagoya Grampus)
We made too many mistakes and failed to create chances. As an attacking player who is given 90 minutes on the pitch, I need to become a player that can singlehandedly create chances. Unfortunately, I am not that player at the moment. A good player would have multiple options even when the opponents have thoroughly studied their moves, so in that sense, I simply didn't have what it takes.
Emperor's Cup JFA 103rd Japan Football Championship
【1st Round】Sat. 20, Sun. 21 May [Backup date: Mon. 22 May]
【2nd Round】Wed. 7, Wed. 14, Wed. 21 June
【3rd Round】Wed. 12 July [Backup date: Wed. 19, Wed. 26 July]
【Round of 16】Wed. 2 August [Backup date: Wed. 9 August]
【Quarterfinals】Wed. 30 August[Backup date: Wed. 13 September]
【Semi-Finals】Sun. 8 October
【Final】Sat. 9 December