NEWS
J2 Kumamoto defeat Kobe in penalties to reach Semi-finals - Emperor's Cup JFA 103rd Japan Football Championship
31 August 2023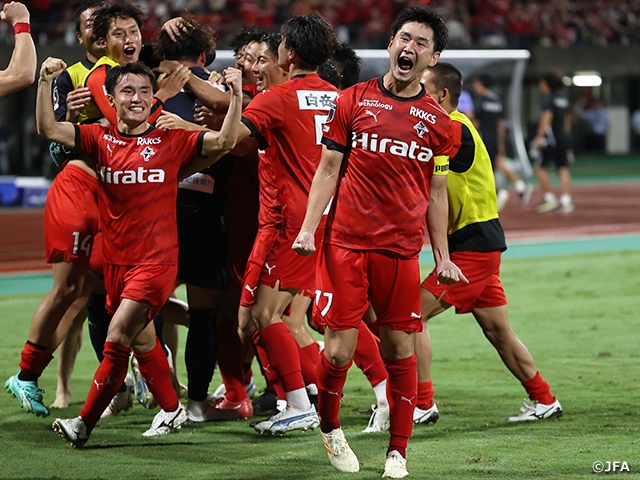 Featured Match
Roasso Kumamoto 1-1 (0-0, 1-1, Ex:0-0, 0-0, PK:4-3) Vissel Kobe
After a fiercely contested 120 minute battle, the score remained level at 1-1, and the match went to penalties. Goalkeeper TASHIRO Ryuga was the third player to step up to the spot for Roasso Kumamoto. Although it is rare for a goalkeeper to be taking the spot kick in such early order, the home crowd's enthusiasm undoubtedly rose when he successfully converted his kick with a powerful shot into the top corner. With Vissel Kobe's OSAKI Reo failing to convert the ensuing shot, the J2 side punched their ticket into the Emperor's Cup semi-finals.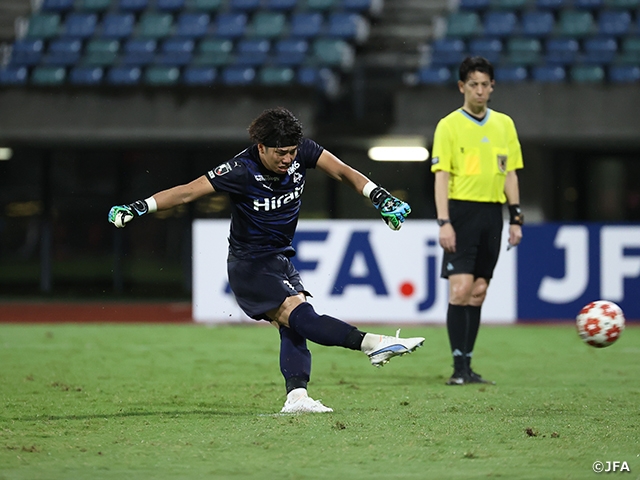 Kumamoto played with tremendous intensity to display their passing football against Kobe, one of the title contenders in J1. HIRAKAWA Rei scored the opening goal in the 60th minute, in which the midfielder later reflected, "I was able to keep my composure and execute the way I wanted." Kumamoto, who are currently fighting to avoid regulation in J2, put on an incredible performance that nearly saw them run away with the victory in regulation time, but Kobe scored the equaliser in the 87th minute to force the match into extra time.
Just before the first half of extra time ended, SAKAI Takumi, Kumamoto's final substitution, sustained an injury. Despite this, the Kyushu side was still able to fend off Kobe's offence with 10 players on the pitch and win in penalties. Kumamoto have now won three straight matches against J1 clubs in the Emperor's Cup after overcoming Sagan Tosu and FC Tokyo. They will try to carry the momentum against Kashiwa Reysol in the semi-finals.
Despite creating a number of opportunities, including two goals that were disallowed due to offside, Kobe struggled to break down the Kumamoto defence. OSAKO Yuta and MUTO Yoshinori were introduced in the second half to bolster their offence, but Jean PATRIC's equaliser was the only score the J1 side managed to score in this match, as Head Coach YOSHIDA Takayuki later commented, "We had to capitalise on the opportunities we were given and win the match in 120 minutes."
Coaches and Players' Comments
OKI Takeshi, Head Coach (Roasso Kumamoto)
We are extremely appreciative of the 10,000 supporters who came out to watch our match despite the weather. The match went all the way to penalties, but we are thrilled that we were able to prevail in the end and share this victory with everyone. However, I feel like we could have scored two or three more goals, and we also need to reflect on the fact we conceded a late equaliser at the end. We must reset our minds and prepare ourselves since we will be going straight back to our league matches.
HIRAKAWA Rei (Roasso Kumamoto)
Everyone was fired up for this match and displayed great tenacity to earn this result. It felt like I was able to free myself up when making diagonal runs, so I was committed to making that run when OMOTO had the ball. I'm glad we were able to maintain our composure and win in the end since that late equaliser could have been a heartbreaking goal if we lost. As a club, we are unquestionably becoming better, and we intend to bring this momentum into our league matches.
YOSHIDA Takayuki, Head Coach (Vissel Kobe)
The players fought hard for 120 minutes. We are disappointed with the outcome and feel sorry for our supporters. It was a match we had to win in 120 minutes, but we lacked quality in our last passes and crosses. We might have carried the ball too long after seeing our opponents drop back towards the end. We regret the way we failed to convert our chances, but now that it is a done deal, we just need to focus on the league matches ahead of us.
Jean PATRIC (Vissel Kobe)
We knew we were up against a tough opponent heading into this match and the fact that we conceded the first goal in an away match made it even more difficult for us. However, we didn't let the goal affect our confidence, and we kept trying to win the match in 90 minutes, but we didn't have what it takes to score another the goal at the end. I feel like we needed more composure to control the game better.
Emperor's Cup JFA 103rd Japan Football Championship
【1st Round】Sat. 20, Sun. 21 May [Backup date: Mon. 22 May]
【2nd Round】Wed. 7, Wed. 14, Wed. 21 June
【3rd Round】Wed. 12 July [Backup date: Wed. 19, Wed. 26 July]
【Round of 16】Wed. 2 August [Backup date: Wed. 9 August]
【Quarterfinals】Wed. 30 August[Backup date: Wed. 13 September]
【Semi-Finals】Sun. 8 October
【Final】Sat. 9 December