NEWS
Asahi Intecc Loveledge Nagoya Statice defeat defending champions to claim first title! - JFA 13th U-15 Japan Women's Futsal Championship
10 January 2023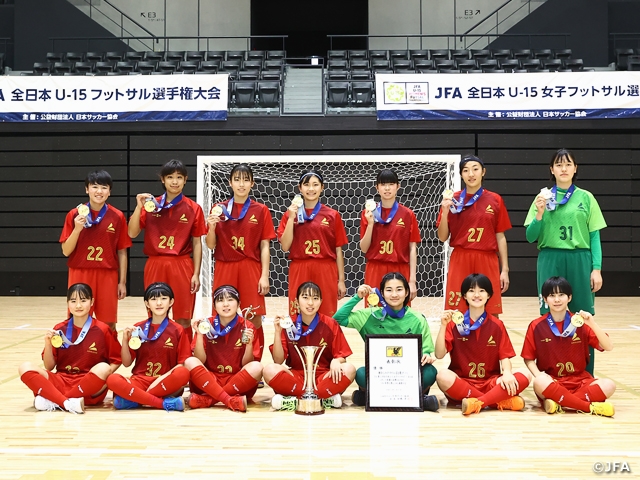 On Monday 9 January, the final round of the JFA 13th U-15 Japan Women's Futsal Championship took place at Nikkan Arena Tochigi in Tochigi Prefecture, where Asahi Intecc Loveledge Nagoya Statice (Tokai/Aichi) claimed their first national title.
TSUDA Anon, who had stated the day before that she wanted to "demonstrate a performance that would help the team win," did exactly what she had promised to do when Loveledge Nagoya faced Gonohe SC (Tohoku/Aomori) in the first semi-final match. After scoring the opening goal in the second minute, Tsuda forced a turnover deep in the opposing half to induce an own goal in the fourth minute. Gonohe were able to respond with a goal from AKIMOTO Yuka in the eighth minute, but they were unable to stop Loveledge Nagoya, who scored three goals in each half to win 6-1 and advance to their first-ever final.
In the other semi-final match, Hioki Seagulls FC (Kyushu/Kagoshima) took the lead in the third minute thanks to a goal from OTSUJI Kana, but Jumonji Junior High School (Kanto/Tokyo) responded just before halftime with a goal from NAGAMATSU Miyu in the 12th minute. Two minutes into the second period, Jumonji Junior High's NOJIRI Mutsumi connected with a long feed delivered by NEREI Kelly to head the ball into the net. After FUKUSHIMA Nanako scored back-to-back goals in the 17th and 18th minutes, Jumonji Junior High reached the final for the second year in a row.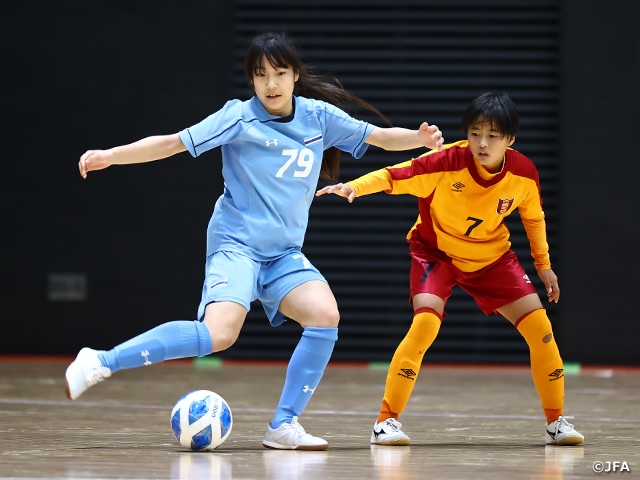 The defending champions Jumonji Junior High, who had never lost in their previous four final appearances, faced off against Loveledge Nagoya for the title. Tsuda's goal in the fourth minute gave the Nagoya side the early advantage in the match. Nerei of Jumonji Junior High attempted a mid-range shot immediately in response, but Loveledge Nagoya goalkeeper FUKUDA Minori made a superb save to stop her attempt. The 10th minute saw KONDO Yuzuki score directly from a free kick, giving Loveledge Nagoya a two goal lead going into the break.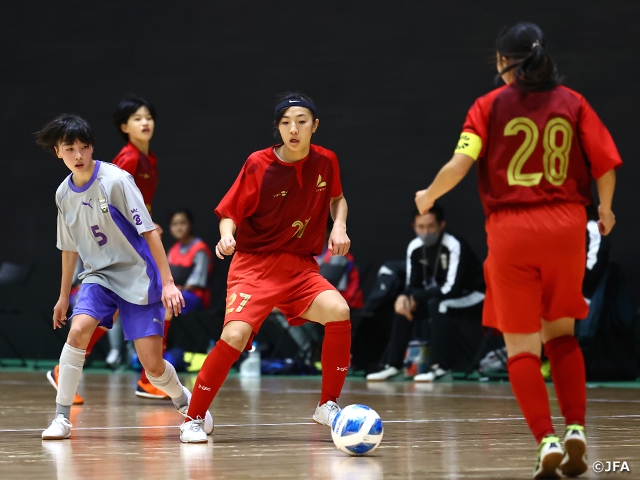 As coach OTAKI Osamu later remarked, "It was something we had never tried before, and it shows how much confidence we have in our player depth," Jumonji Junior High began the second period with their second set. Despite conceding another goal to Tsuda in the 13th minute, Jumonji Junior High rallied with back-to-back goals scored by KADONO Kohana and Nojiri in the 18th and 22nd minutes, respectively, to get within one goal.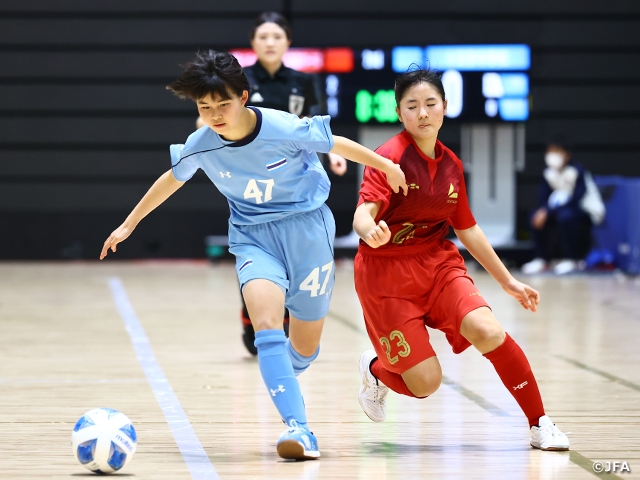 However, the goal scored in the 23rd minute sealed the victory for Loveledge Nagoya when Kondo fired a powerful shot to mark her second goal of the match. Despite the late surge made by Jumonji Junior High, who scored a goal in the closing seconds of the match, Loveledge Nagoya held onto their lead to claim the national title of the U-15 women's futsal category.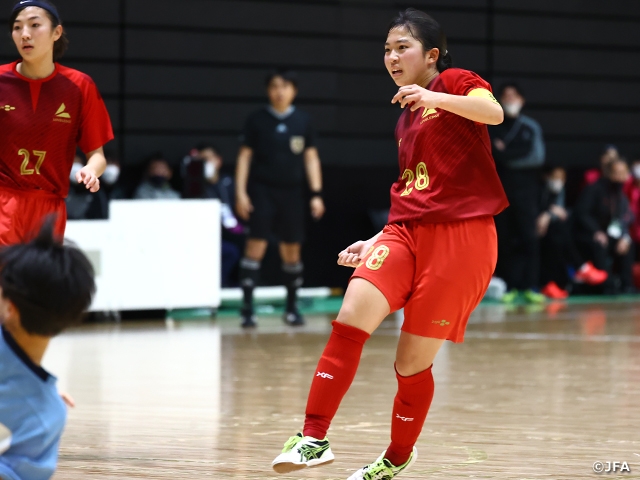 Coaches and Players' Comments
FP #12 NEREI Kelly (Jumonji Junior High School)
I was on the team when we won the title last year, but I only played for about 30 seconds. After working hard all year, I am happy that I was able to gain more playing time. We cannot score goals unless we take shots, so I made conscious efforts to take shots once we conceded the lead. I was made aware of my inability to take on opponents one-on-one, so I intend to develop in that area and come back to this stage the following year.
ONISHI Miki, Coach (Gonohe SC)
It was our first time winning the regional tournament and we didn't expect to make it this far, so we are proud of this result. We normally train five times a week as a team, but some of the players train with the boys on a regular basis, so we had to make some adjustments as we played in this tournament. We may have been out of sync, compared to other teams, but the players managed to get on the same page as we progressed through the tournament. I hope the players learned from their defeat against a superior opponent, as they were in some ways conceited in thinking we were better than most teams.
EGO Kenichi, Coach (Asahi Intecc Loveledge Nagoya Statice)
I am truly delighted with this win. We formed the teams based on the players' school years, and this futsal competition served as a sort of culmination for the third-year players. Our second year and third-year players faced each other in the final of the Aichi prefectural tournament, and the third-year players really showed their desire to finish their final tournament on a high note. Although we had a disappointing season in football, I am glad we were able to come together as one to win this futsal title at the end. It is a rare opportunity to become national champions, so I hope the players will gain confidence from this experience.
FP #28 KONDO Yuzuki (Asahi Intecc Loveledge Nagoya Statice)
With this being the last match for the third-year players, I entered the match with the intention of leaving everything on the pitch. As a defender, I was determined to defend the goal and to take chances when I had the opportunity to take shots, so I am glad I was able to contribute for the team's victory in that regard. Winning this tournament was our goal, so I am truly happy that I was able to lead the team to this victory as the team captain.
JFA 13th U-15 Japan Women's Futsal Championship
Tournament Dates: Sun. 8 - Mon. 9 January 2023
Venue: Nikkan Arena Tochigi (Tochigi)