NEWS
Ozu score late equaliser to share a point with Tosu - Prince Takamado Trophy JFA U-18 Football Premier League 2022
12 September 2022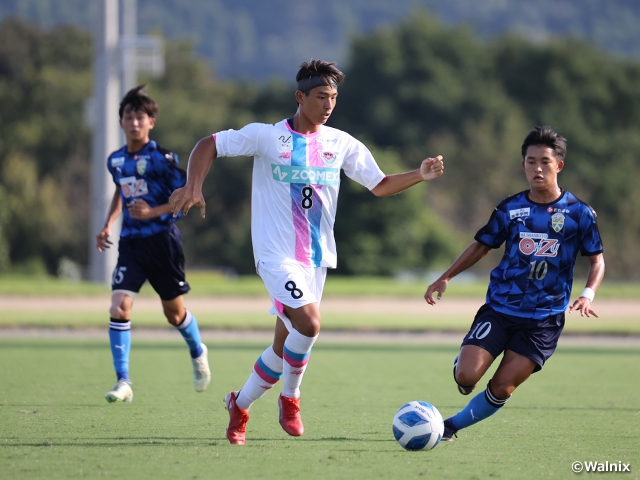 The 14th sec. of the Prince Takamado Trophy JFA U-18 Football Premier League 2022 WEST took place on Saturday 10 and Sunday 11 September. At Ozu Town Sports Park, Ozu High School (Kumamoto) faced Sagan Tosu U-18 (Saga).
Featured Match
Ozu High School 2-2 (0-0, 2-2)Sagan Tosu U-18
Despite their early season struggles, Ozu have shown great form as of late, recording two wins and two losses since their 2-2 draw against Shizuoka Gakuen High School (Shizuoka) on Sunday 10 July, as coach YAMASHIRO Tomohiro mentioned, "The players made progress during the summer, which enables us to play like we did last year."
This week, they faced the league leaders Tosu, who are without NARAHARA Yoshiki (#7) and FUKUI Taichi (#10), as the two players participate in the AFC U20 Asian Cup Uzbekistan 2023™ Qualifiers with the U-19 Japan National Team. "The two players are not guaranteed with a starting role. I played with the intention of winning a spot on the starting line-up," said KIDO Harunosuke (#8), as the Tosu side took the initiative by displaying great aggression from the start.
Tosu showed great ball movements to create chances, including the long-range shot taken by HAYASHI Sotaro (#16) in the 16th minute, but couldn't find ways to break down the opposing defence, as Ozu's TANABE Yoshihisa (#12) later reflected, "We knew our opponents were going to dominate us, so we made conscious efforts to keep the clean sheet intact."
Reflecting on their shortcomings in the first half, Tosu started to penetrate the space behind the Ozu defence, which led to the opening goal in the 47th minute, when MASUZAKI Kosei (#17) played a pass-and-go with SAKAI Shunya (#4) to break into the box before cutting the ball back to SAKAIYA Keisuke (#9), who struck a well-placed shot into the upper-corner of the goal. Tosu made it 2-0 in the 64th minute, when Kido collected a loose ball in the midfield before striking a brilliant left footed shot that captured the net.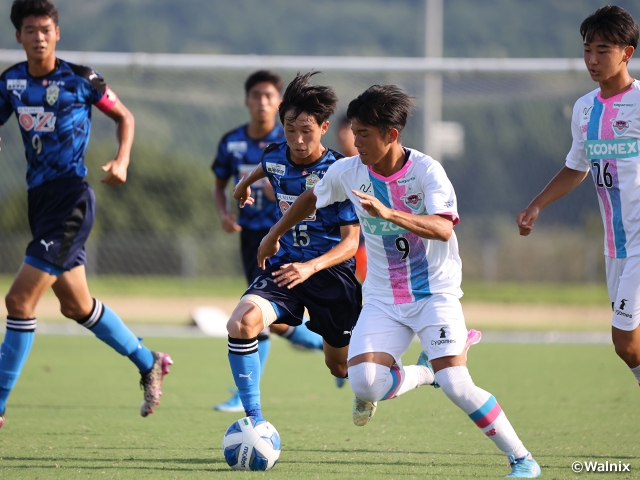 Despite trailing by two goals, the Ozu side continued to play with great composure as YAMASHITA Motonari (#11) later reflected, "We kept on telling each other to keep our cool." Three minutes after conceding the second goal, Ozu's CHUMAN Sota (#13) won the ball in his own half, carried the ball halfway into the opposing territory, and sent an early cross towards the box. It was Yamashita who responded to this delivery, as the striker managed to reach the ball before the opposing goalkeeper and snuck the ball into the net, as he later commented, "I knew I would have a chance to score once Chuman had the ball."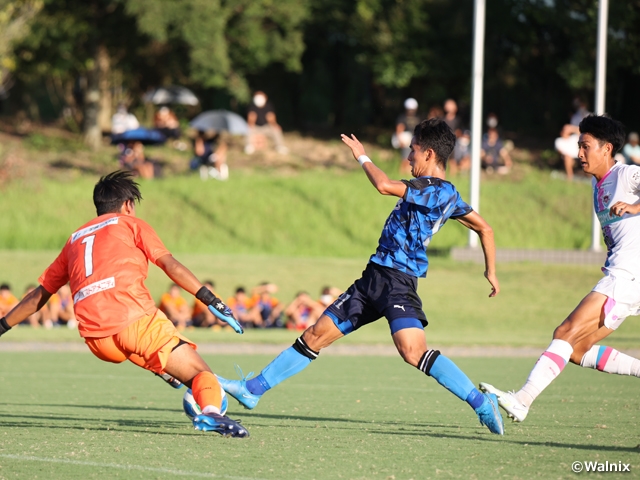 With momentum on their side, Ozu's coach HIRAOKA Kazunori introduced IWASAKI Hiroto (#7) and KAYAMA Taira (#17) in the 75th and 85th minutes respectively, adding more layers to their offence. These two substitutions came to fruition in the 90th minute, when Iwasaki converted the cross of Kayama to equalise the match, as Iwasaki later reflected, "I wanted to make the most of my playing time, so I was determined to score a goal." With this goal, the match ended in a 2-2 draw, as the two sides each walked away with a point.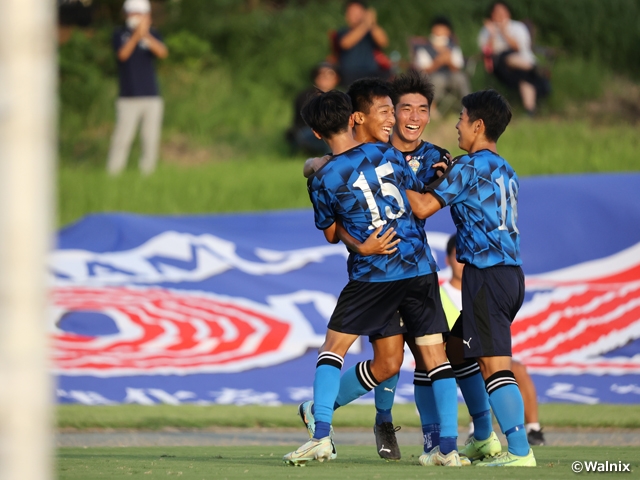 Coaches and Players' Comments
YAMASHIRO Tomohiro, Coach (Ozu High School)
I think it was a very good match between two Kyushu sides. We were able to conduct a productive training camp and played against good teams during the summer, and it felt like the players' tireless efforts have been paid off. SAKAMOTO Tsubasa (#3), who joined us from U-15 Sagan Tosu Karatsu, played a key role in today's match. He showcased a solid performance against his former team, just like KAWAZOE Taiki did last year.
FW #11 YAMASHITA Motonari (Ozu High School)
Despite conceding the second goal early in the second half, we managed to come from behind to equalise the match, which shows how much we have matured over the season. We struggled dearly in the first half of the season, so we want to make up for it in the second half. The team has been conceding less goals in the second half, which is a huge improvement. We have been focusing on our defence from our daily trainings, and it is showing in our results. This year, our goal is to remain in the Premier League, so we will continue to make efforts to achieve our goal.
TANAKA Tomonori, Coach (Sagan Tosu U-18)
Although it may seem like a disappointing draw after we took a 2-0 lead, the players worked extremely hard to showcase a very good match. I know the players are disappointed, but they proved that they are capable of putting up a solid fight without some of our key players. It also allowed me to reassess the abilities of some of the players who are usually used as late substitutes.
FW #8 KIDO Harunosuke (Sagan Tosu U-18)
The competition in the Premiere League is so high that a simple mistake can cost us a goal. This match really reminded me that I need to improve my skills even more. We will try to make the most of this experience to become a better team. We cannot afford to drop any more points, so we will continue to work hard to win the Premiere League title, especially after failing to win the Japan Club Youth Football Championship.
Results of other matches
Jubilo Iwata U-18 1-4 (1-1, 0-3) Nagoya Grampus U-18
Higashi Fukuoka High School 1-0 (0-0, 1-0) Gamba Osaka Youth
Riseisha High School Postponed Shimizu S-Pulse Youth
Vissel Kobe U-18 3-1 (2-0, 1-1) Cerezo Osaka U-18
Shizuoka Gakuen High School 1-1 (0-1, 1-0) Sanfrecce Hiroshima FC Youth
Despite conceding the opening goal to Jubilo Iwata U-18 (Shizuoka), Nagoya Grampus U-18 (Aichi) rallied back to win the match 4-1, snapping their four-game losing streak. YOSHIOKA Takumi (#23) scored the decisive goal in the 83rd minute to give Higashi Fukuoka High School (Fukuoka) a 1-0 win over Gamba Osaka Youth (Osaka). Vissel Kobe U-18 (Hyogo) defeated Cerezo Osaka U-18 (Osaka) 3-1 to mark their seventh win of the season. Shizuoka Gakuen High School (Shizuoka) and Sanfrecce Hiroshima FC Youth (Hiroshima) each scored a goal to share a point. The match between Riseisha High School (Osaka) and Shimizu S-Pulse Youth (Shizuoka) has been rescheduled to Saturday 24 September.
Prince Takamado Trophy Premier League Official Twitter
#高円宮U18 プレミアリーグ 2022
WEST 第14節(9/11)

試合結果#静岡学園 1-1 #広島#大津 2-2 #鳥栖

結果詳細はこちらhttps://t.co/GNr6Ievn0n#高校サッカー pic.twitter.com/WEunJUvpxd

— 高円宮杯 JFA U-18サッカープレミアリーグ (@jfa_u18) September 11, 2022
#高円宮U18 プレミアリーグ 2022
WEST(9/11時点)

暫定順位表
1⃣ #鳥栖
2⃣ #V神戸
3⃣ #静岡学園
4⃣ #磐田
5⃣ #東福岡
6⃣ #C大阪
7⃣ #広島
8⃣ #履正社
9⃣ #名古屋
1⃣0⃣ #大津
1⃣1⃣ #清水
1⃣2⃣ #G大阪

詳細はこちらhttps://t.co/UFlr6DqbvG#高校サッカー pic.twitter.com/eaCVsniRB8

— 高円宮杯 JFA U-18サッカープレミアリーグ (@jfa_u18) September 11, 2022
Prince Takamado Trophy JFA U-18 Football Premier League 2022
League Duration: Sat. 2 April - Sun. 4 December 2022