NEWS
Yokohama FM defeat Ryutsu Keizai Kashiwa to register third straight win at the Prince Takamado Trophy JFA U-18 Football Premier League 2021 EAST
05 July 2021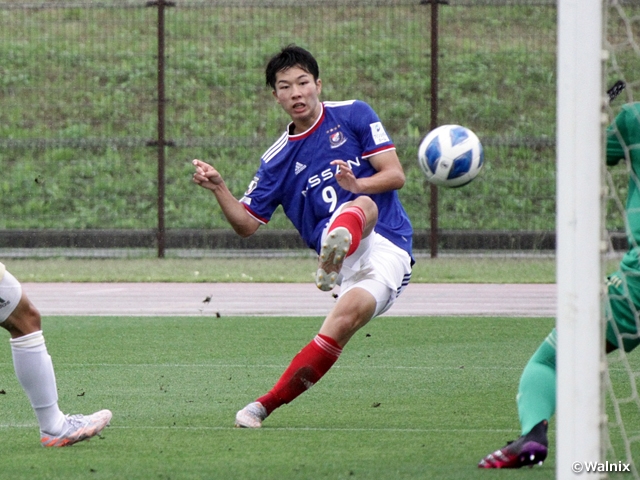 The ninth sec. of the Prince Takamado Trophy JFA U-18 Football Premier League 2021 EAST took place on Sunday 4 July, where four fixtures took place at various locations.
Pick-up Match
Yokohama F.Marinos Youth 3-2 (1-1, 2-1) Ryutsu Keizai University Kashiwa High School
At Nissan Field Kozukue, Yokohama F.Marinos Youth (Kanagawa) faced Ryutsu Keizai University Kashiwa High School (Chiba). After their match was postponed in the previous week, this was Yokohama's first league match in a while. As for Ryutsu Keizai Kashiwa this was an essential match for them to stay in contention for the title race, after league leader Aomori Yamada High School (Aomori) tied their match against FC Tokyo U-18 (Tokyo) earlier this day.
The match started with the two sides exchanging heavy blows, as Ryutsu Keizai Kashiwa applied aggressive pressure from their frontline to threaten the opposing goal, while Yokohama's ace UCHINO Kotaro (#9) created two major chances that nearly captured the goal.
NISHIDA Yusuke (#4) converted a corner-kick in the 30th minute to give Yokohama the lead, but Ryutsu Keizai Kashiwa responded in the 41st minute, when HASEBE Haruya (#12) scored the equaliser from a corner-kick to level the match before halftime. After seeing both sides capitalising on a set-piece in the first half, Ryutsu Keizai Kashiwa's SHIBUYA Ryota (#7) later reflected on their performance, "It wasn't great, but it wasn't all that bad neither."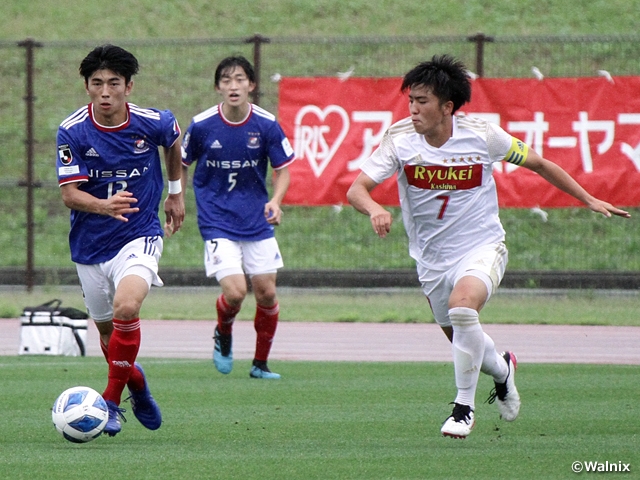 Both sides continued to showcase their arsenal in the second half, but the crucial moment came in the 57th minute, when Hasebe committed a hand-ball inside the penalty area, as he tried to block a shot taken by Yokohama. With this play, Hasebe was sent off from the match, while Uchino converted the PK to give Yokohama the lead.
Yokohama made good use of their numerical advantage, as SHIMADA Haruto (#13) assisted Uchino's second goal of the match in the 67th minute. Despite being down by a man, the Kashiwa side showcased a tenacious effort to stay in contention, scoring a goal during additional time to get within a goal, but fell short from tying the match. With this result, Yokohama FM has now won three consecutive league matches, showing off their explosive offence by scoring 13 goals in three matches.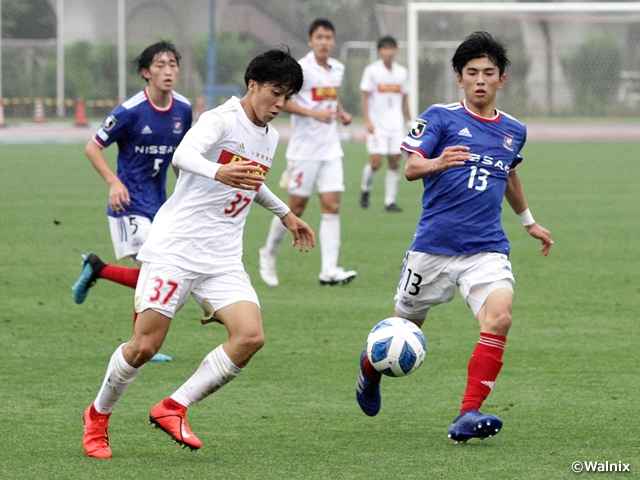 Following the match, Yokohama's coach OKUMA Yuji commented, "We still have long ways to go, but the players are showing improvements at the individual level, which is helping the team win matches." Ryutsu Keizai Kashiwa's coach ENOMOTO Masahiro also reflected on the match, "This is a very challenging league where we need to give our very best against each opponent." The coach continued to share his aspiration, "We saw many aspects we need to improve on, so we hope to make the adjustments and strive to become a better team."
The league will enter its intermission period during the summer, but Ryutsu Keizai Kashiwa is scheduled to play their postponed match against FC Tokyo U-18 (Tokyo) next week on Saturday 10 July.
Results of other matches
Aomori Yamada High School 1-1 (0-1, 1-0) FC Tokyo U-18
Kashiwa Reysol U-18 1-1 (0-1, 1-0) Funabashi Municipal High School
Yokohama FC Youth 4-3 (0-3, 4-0) Shimizu S-Pulse Youth
Urawa Red Diamonds Youth Postponed Omiya Ardija U18
First place Aomori Yamada High School (Aomori) welcomed FC Tokyo U-18 (Tokyo) at home, where they conceded the opener to NOZAWA Leon (#18) in the 32nd minute but managed to equalise with the goal scored by MARUYAMA Yamato (#5) in the 59th minute to share a point with FC Tokyo. Kashiwa Reysol U-18 (Chiba) conceded the opening goal to their prefectural rival Funabashi Municipal High School (Chiba) at home but walked away with a draw after MASUKAKE Yugo (#11) scored the equaliser in the second half. Despite conceding three goals to Shimizu S-Pulse Youth (Shizuoka) in the first half, Yokohama FC Youth (Kanagawa) rallied to score four goals in the second half to pick up a victory. The match between Urawa Red Diamonds Youth (Saitama) and Omiya Ardija U18 (Saitama) was postponed.

Prince Takamado Trophy JFA U-18 Football Premier League 2021
League Duration: Sat. 3 April - Sun. 5 December 2021