NEWS
Oita Trinita wins over National Institute of Fitness and Sports in Kanoya to advance through to the 4th round of the Emperor's Cup JFA 99th Japan Football Championship
15 August 2019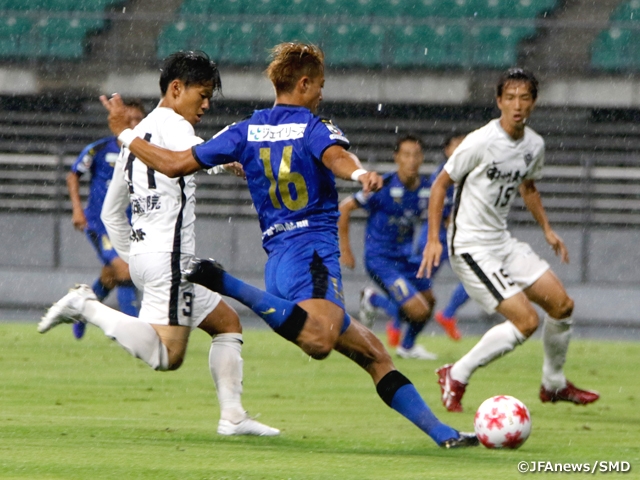 On Wednesday 15 August, the third round fixtures of the Emperor's Cup JFA 99th Japan Football Championship took place all around the nation, as 16 teams including Hosei University (Seeded) and Honda FC (Shizuoka) advanced through to the fourth round.
Pick-up Match
National Institute of Fitness and Sports in Kanoya 1-2 (0-0, 1-1, 0-0, 0-1) Oita Trinita
With the 10th typhoon of the year approaching western Japan, the match between National Institute of Fitness and Sports in Kanoya (Kagoshima) and Oita Trinita (J1) took place at Showa Denko Dome Oita. Due to the inclement weather, the dome had to open its roof and the match was held under a rough pitch condition, but it was the J.League side who prevailed at the end, after the two sides played through over time.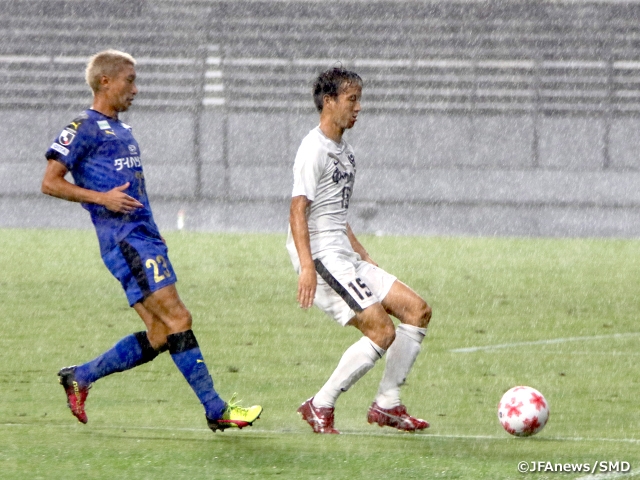 While the Oita players positioned themselves well to keep the ball moving, the Kanoya side, who defeated Nagoya Grampus (J1) 3-0 at the second round, anticipated for their opportunity to counter as they dropped deep in their territory. The defence showcased by Kanoya proved to be effective throughout the match, as Oita struggled to break through the solid block constructed in front of the Kanoya goal. The deadlock was finally broken in additional time of the second half, as Oita's MARUTANI Takuya delivered a lobbing pass to TAKAYAMA Kaoru, who sent a cross towards the centre, allowing HOSHI Yuji to score with a header. While most have thought that this was the deciding goal of this match, Oita conceded an own goal just two minutes later to send the match into overtime.
Despite giving up the ball possession to Oita, the university side displayed great intensity from the start of the match and showcased a solid performance in defence. However, in the 120th minute, when Kanoya's endurance finally showed signs of fatigue, Oita's ITO Ryotaro captured the game winning goal to give the J.League side the victory.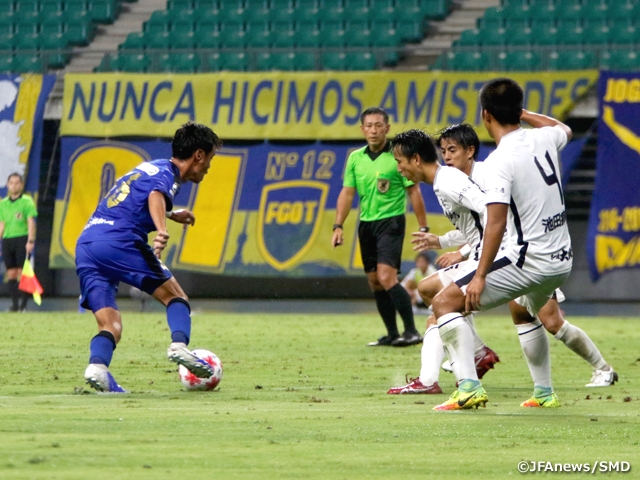 The fourth round fixtures will be determined on Friday 16 August.
Coaches and Players' Comments
KATANOSAKA Tomohiro, Coach (Oita Trinita)
Although we had to play through overtime, I am glad that we were able to advance through. The players kept their focus to fulfil their responsibility and made great efforts to execute our game plan. Our team kept the ball possession for a long time while the opponents sought for their opportunity to counterattack. Even against a university team, it was difficult to break through the block constructed in front of the goal. It would've been better if we had won the match within regulation time, but we ended up conceding the equaliser from our own mistake. We kept a good balance during overtime and Ito managed to score the winning goal for us. We will continue to strive for a higher level.
ITO Ryotaro (Oita Trinita)
I am glad we were able to win today. I personally wasn't able to showcase a satisfying performance in the first 90 minutes, so I entered overtime with a strong intention to score a goal. Although I haven't been able to play in much of our league matches, I have conditioned myself through our training matches to keep my top form, so that allowed me to run through the entire 120 minutes. The match opened up in overtime and I was anticipating for my opportunity to take a shot. I was able to make a case for myself with today's goal.
SHIOKAWA Katsuyuki, Coach (National Institute of Fitness and Sports in Kanoya)
Oita is very good at building up their plays, so we initially tried to apply pressure from our front line, but it didn't work out as we planned, so we shifted to playing a compact defence to find our rhythm. Although we kept looking for our chances to counterattack in the first half, we managed to carry the ball more often in the second half. Our opponent showed their dominance in ball possession and it was a difficult match for us, but we still kept working hard to create chances for ourselves. We ran out of gas in overtime, but I am proud of my players for keeping their legs moving throughout the match. This match has given us a wonderful learning experience.
YAMAGUCHI Takumi (National Institute of Fitness and Sports in Kanoya)
Oita was very good at moving the ball around. Although we went through their match films prior to the match, it was much different when you face them in real life. Our defensive approach wasn't effective against them and they kept evading our pressure. As a defensive midfielder, I kept my focus on keeping the defensive balance of our team and tried to keep the ball moving in offence. There were some aspects I managed to do well, but I also saw myself losing the battles to win the ball, so I must improve myself in that aspect. By facing professional teams like Nagoya and Oita, it has given us a wonderful learning experience.
Results of other matches
Fixtures and Results through the 3rd Round

【1st Round】Sat. 25, Sun. 26 May
【2nd Round】Wed. 3, Wed. 10 July
【3rd Round】Wed. 14 August
【Round of 16】Wed. 18 September
【Quarterfinals】Wed. 23 October
【Semi-final】Sat. 21 December
【Final】Wed. 1 January 2020