NEWS
"Focus on results and the quality of football" Interview with KINOSHITA Momoka - JFA 25th U-18 Japan Women's football championship
03 January 2022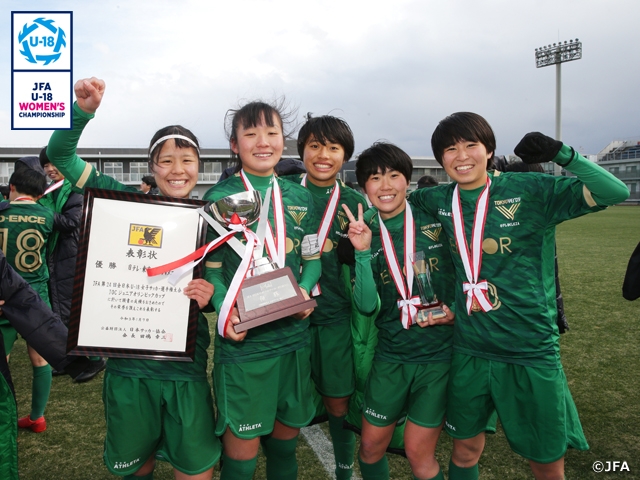 The JFA 25th U-18 Japan Women's football championship will be held at J-GREEN Sakai (Osaka) from Tuesday 4 to Monday 10 January 2022. Here we will share the interview conducted with KINOSHITA Momoka (Nippon TV Tokyo Verdy Beleza), the winner of the last tournament and a member of the Nadeshiko Japan (Japan Women's National Team) who competed in the Tokyo Olympics in 2021, where we asked her about the memories of the competition and her days in junior high and high school.
○This interview was conducted online on 17 November 2021
――You have participated in this tournament six times since the first year of junior high school. Which year do you remember the most?
KINOSHITA The first year of junior high school. Menina's sixth consecutive title was on the line, but we ended up losing. It was the first time I participated in a big competition, so I remember it very well. It's hard to imagine now, but MIURA Narumi and I played as the two strikers upfront.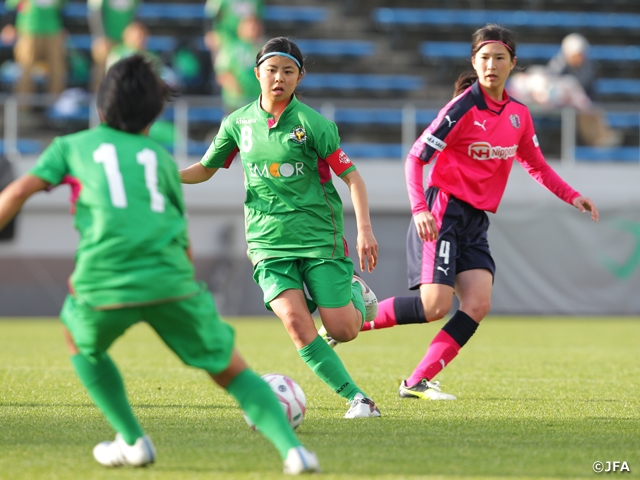 ――You played the full match in the final against Cerezo Osaka Sakai Girls, but lost in penalties. What was the atmosphere like in the final?
KINOSHITA Two of our main players were seriously injured in the semi-finals, so we had to play the final with a team consisting mainly of junior high school players. I was in my first year of junior high school, so naturally I was the youngest player, but we were in a situation where I couldn't make that as an excuse.
――What did that defeat in the final mean to you?
KINOSHITA First of all, I learned how great our seniors were, who had won the title five years in a row. In addition, I had the chance to participate in the tournament five more times, so I honestly wanted to win it five times in a row. But in the end, it was quite difficult.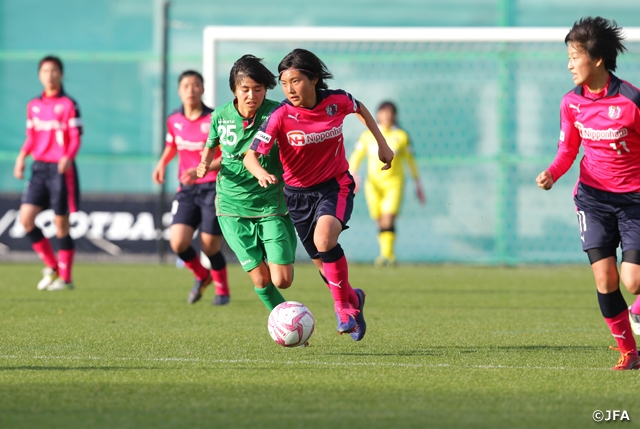 ――Last year, when you were in your third year of high school, you were with the top team, so you didn't have much time to train with the Menina players. Were you still keen to compete in this tournament?
KINOSHITA Under normal circumstances, this tournament would have been the culmination of the last six years of work. However, I hadn't practised with Menina, so it was difficult for me to take a central role in the team. There were some junior high school players who I had never spoken with before. It was nice to be able to spend time and to practice with them. It made me realise that Menina will definitely reach a higher level in the future. They will definitely be my teammates at Beleza. It was a great experience to see them play up close.
――After winning the first two rounds by a large margin, the team went on to defeat JEF United Ichihara Chiba Ladies U-18 1-0 in the semi-finals. Which match was the key to your team's success?
KINOSHITA From the moment the draw was made, we were aware that we would be playing Cerezo Osaka Sakai in the second round. Of course there was a lot of tension before the match. We didn't know what kind of team we were going to play, because we had never played against them before. The fact that we were able to win that match with a large margin gave us a lot of confidence, and I think it gave us a lot of momentum too.
――The team won the title by defeating Mitsubishi Heavy Industries Urawa Reds Ladies Youth in the final. Why do you think Menina have remained successful despite the fact that other clubs have also improved over the years?
KINOSHITA Indeed, I felt that the number of strong teams has increased over the years, notably Cerezo and JEF. However, Menina have continued to play a unique style of football. And I think that we have to show more and more that we are different from other teams in terms of how we value ball possession and individual skills.
――What was your life like in junior high and high school?
KINOSHITA I used to commute from my parents' house, so it was a long way to the Menina training ground. My first year in junior high school, I would go to school, attend the training of Menina, come home late at night, and go to school again the following morning. It took me a while to get used to, but once I got used to it, it was really fulfilling. I had a lot of fun in those six years.
――There must have been a lot of people supporting you during that time?
KINOSHITA Throughout junior and senior high school, my teachers were very understanding of my situation. Even though I missed many classes and school activities because of football, my teachers were always there to support me. I remember how happy they were to see me win the Empress's Cup when I was promoted to Beleza, and also when I played in the league for the first time. Their presence gave me the energy to work harder.
――Lastly, could you give a message to the players competing in this tournament?
KINOSHITA Achieving good results in competitions can open the door to becoming a professional footballer or even a member of the Nadeshiko Japan. That is why you should aim for good results and rankings. The other thing I want you to do is to focus on what I value most, which is the "quality of football." After experiencing the Olympic Games, I felt that if we do not improve the quality of our work, we will not be able to close the gap with the rest of the world. It's not just about winning, it's about how well you play to achieve that result. I think the environment in the developmental category is conducive to highlighting this aspect, so I would like you to focus on improving your quality. Best of luck to you.
※The full interview will be published in the tournament programme, which will be available at each venue.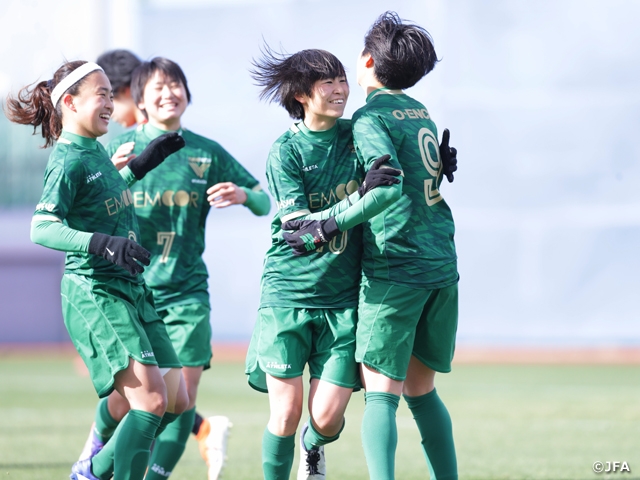 JFA 25th U-18 Japan Women's football championship
Date: Tue. 4 - Mon. 10 January 2022
Venue: J-GREEN Sakai (Osaka)