NEWS
JFA Academy Fukushima claim fourth title! - Princess Takamado Trophy JFA 27th U-15 Japan Women's Football Championship
28 December 2022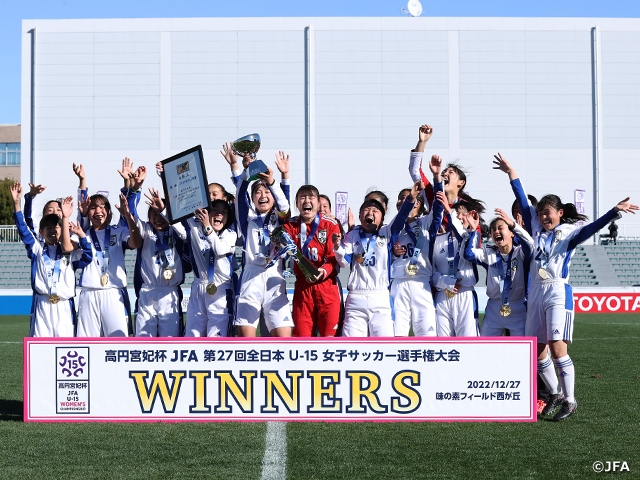 On Tuesday 27 December, the Princess Takamado Trophy JFA 27th U-15 Japan Women's Football Championship final took place at Ajinomoto Field Nishigaoka, where JEF United Ichihara Chiba Ladies U-15 (Kanto 8/Chiba) and JFA Academy Fukushima (Tokai 2/Shizuoka) played a fiercely contested match.
Final
JEF United Ichihara Chiba Ladies U-15 1-3 (0-0, 1-3) JFA Academy Fukushima
In the first half, AC Fukushima, standing on the windward side of the field, spent much of the time possessing the ball in the opponents' territory. In the 22nd minute, HARA Hibari responded to a lobbing pass of ASAHIDA Misato to create a close opportunity, followed by a shot taken by HANASHIRO Mei that struck the cross bar. UMEZUKI Mayuko also created chances with her crosses sent in the 25th and 38th minutes to threaten the opposing goal, as AC Fukushima recorded 10 shots just in the first half.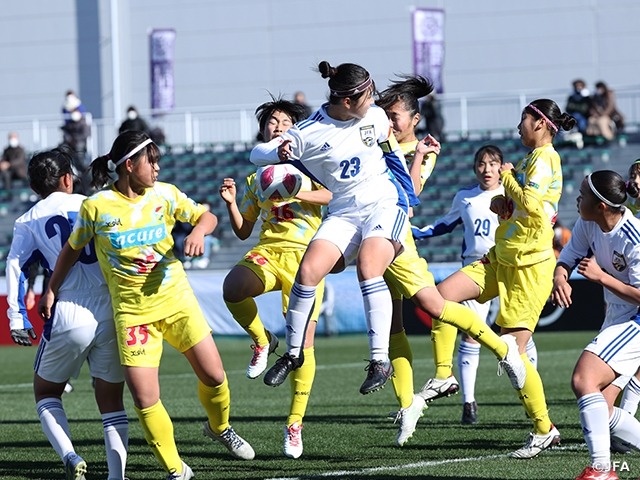 JEF on the other hand, showcased tenacious defensive efforts while seeking for their chances to counter. In the fifth minute, SUMIYA Runa dribbled up the field to set up the shot of YAMAMOTO Kyoko. The left footed shot taken by YOSHIKAWA Riko in the 18th minute came close to finding the net, but the first half ended scoreless.
The deadlock was broken in the 45th minute, when Asahida converted the corner kick delivered by FUKUSHIMA Noa to put the academy side ahead. In efforts to equalise, JEF added more layers to their offence, which led to the goal scored by KUBOTA Maho in the 62nd minute to level the score.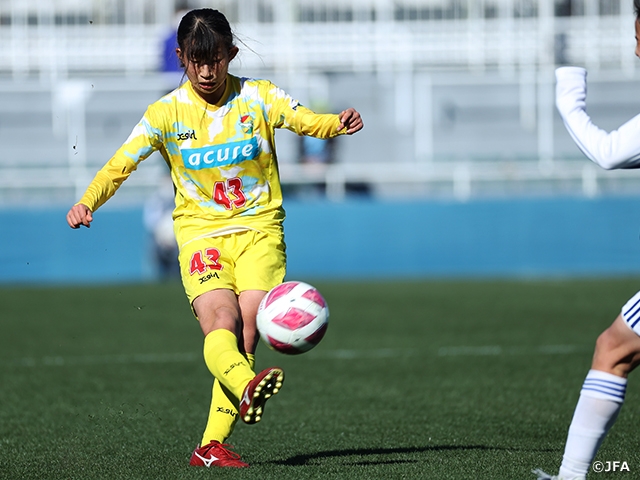 Despite conceding the equaliser, AC Fukushima showed great composure to keep the pressure on, and just a minute later, regained their lead with the goal scored by Hara. With Hara adding another goal in the 80th minute, AC Fukushima won the match 3-1 to claim their fourth title.
Coaches and Players' Comments
KANNO Yuiko, Coach (JFA Academy Fukushima)
I told my players that "this will be a tough match but let's try to showcase what we have been working all year." We repeatedly made attempts in the attacking third and although we couldn't score in the first half, I reminded the players that their persistence will pay off soon. We were able to score our first goal from a set-piece, which was something we had been working on, and the go-ahead goal came from a throw-in, which one of our injured players made a suggestion to improve on. Our opponents had some speedy players, but our defenders did well to manage the risks when we were pressing forward.
DF #23 ASAHIDA Misato (JFA Academy Fukushima)
We were able to fix the issues we saw during the first half to score three goals in the second half. I am happy that I was able to contribute with a goal scored from a corner kick. From our pre-match meeting, we were aware that our opponents had great speed down the line and that they were able to initiate quick counterattacks. Last year, we failed to defend our title after losing in the final, so I am glad we were able to win this time. This was only made possible with the support of everyone, so as captain, I would like to thank everyone for their support. It was a tough journey, but I am glad we made it this far.
FW #20 HARA Hibari (JFA Academy Fukushima)
I had gone on a slump after scoring four goals in the first round, which caused my team a lot of trouble. I'm happy that I was able to score from a throw-in that was devised by my teammates, who continued to support the team despite being unable to participate in the game. I had been running after matches and on my off days to improve my fitness level. I'm pleased with myself for being able to execute plays that best utilised the skills of my teammates.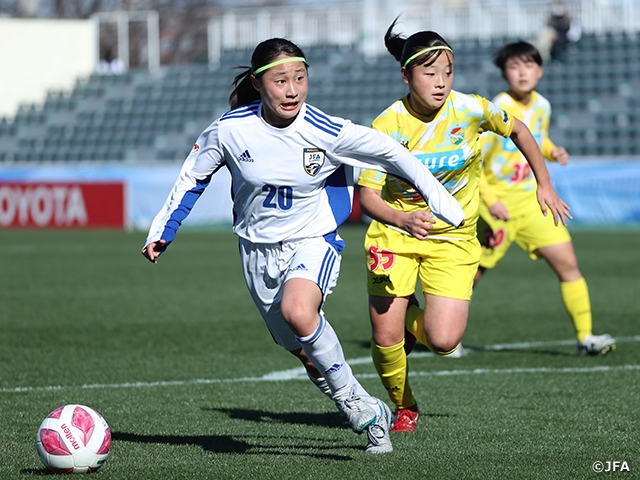 KATO Ryugo, Coach (JEF United Ichihara Chiba Ladies U-15)
We tried to possess the ball in this match but couldn't do so facing a team with superior skills. We need to be able to execute our game plan even against strong opponents like the teams we faced in the semi-finals and final. The team grew a lot through this tournament. We had struggled in the league competition, so it was great to see our side deliver results at this national tournament and showcase what we had been working all year.
MF #50 SUMIYA Runa (JEF United Ichihara Chiba Ladies U-15)
It was a tough match after we failed to score the first goal, and even though we managed to tie the score in the second half, we conceded again and couldn't "run" and "fight." I have been trying to dribble like MITOMA Kaoru and did my best to contribute for the team, even when we were trailing. As we moved up the tournament ladder, we were being matched up with more and more speedy players, and we had to be conscious of how we used our bodies and how we used our feet.
Princess Takamado Trophy JFA 27Th U-15 Japan Women's Football Championship
Tournament Dates: Sat. 10 - Tue. 27 December 2022