NEWS
【Interview with OHBA Shu】Tournament to determine the best U-15 Women's team - Princess Takamado Trophy JFA 27th U-15 Japan Women's Football Championship
09 December 2022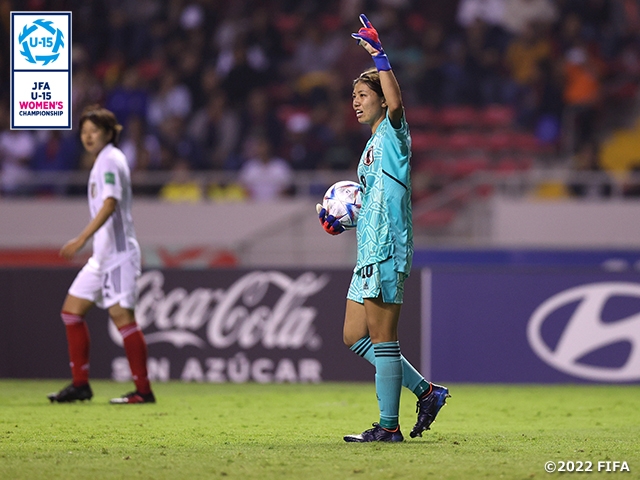 The Princess Takamado Trophy JFA 27Th U-15 Japan Women's Football Championship will kick-off on Saturday 10 December. 32 teams from 9 regions will take part in the tournament, with the best team in Japan being decided by a knock-out format.
Last year, Nippon TV Tokyo Verdy Menina (Kanto 2/Tokyo) won the title for the third time. In addition to Menina, last year's runners-up JFA Academy Fukushima (Tokai 2/Shizuoka) and Mitsubishi Heavy Industries Urawa Reds Ladies Junior Youth (Kanto 1/Saitama), who hold the record for most titles, will also be aiming to claim the throne. WE League youth clubs, local clubs, and junior high school teams, will compete to reach the final, which will take place at Ajinomoto Field Nishigaoka on Tuesday 27.
From this year's edition, the tournament has been renamed the "Princess Takamado Trophy" and is now attracting even more attention. Please stay tuned to find out which team will be crowned champions of Japan this year.
Interview
Here, we interviewed OHBA Shu (East Tennessee State University), who reached the tournament final in three consecutive years since the 20th edition as a member of JFA Academy Fukushima, to hear her memories of the tournament and her message to the current players.
○This interview was conducted online on 29 November 2022
――Since your first year of junior high school, you have participated in this competition for three consecutive years. What do you remember from your first year?
OHBA It was my first national competition since joining the academy, so I wasn't even aware of the significance of this tournament. We held many meetings and braided bracelets for one another as a good luck charm. Through such process, I learned that this was an important tournament. At the time, the tournament was held in the summer, and I have the impression that it was held on excellent environment and atmosphere of J-Green Sakai. I myself didn't get to play much, so I had a mixed feeling of disappointment and joy to gain experience at the national level.
――You were the starting goalkeeper in the second year.
OHBA The team prepared for the tournament in order to support the third-year players. We were able to beat JEF United Ichihara Chiba Ladies U-15 in the final and personally, it was the first time I had won a national competition, so I vividly remember the moment when we won in the final. There were schoolteachers from Shizuoka who came to cheer us on, supporters and parents, and we were happy to get a good result there.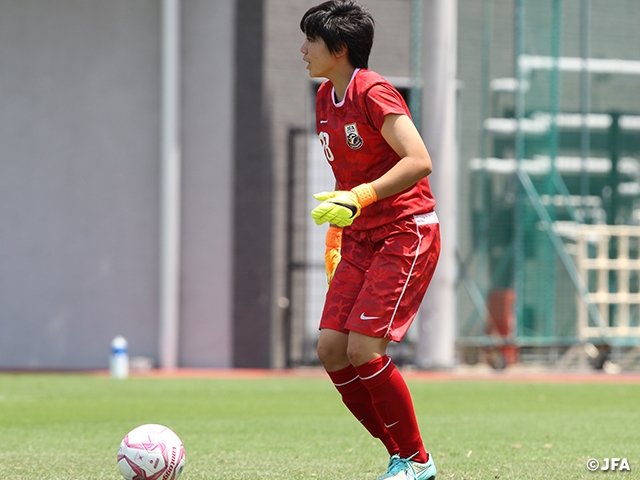 ――In your third year, as captain, you led your team to three consecutive finals. Unfortunately, you lost in the final, but how do you look back on it?
OHBA As the captain of the defending champions, I really wanted to help the team win the title, so there was a lot of pressure on me. The final against Urawa Reds Ladies Junior Youth (now Mitsubishi Heavy Industries Urawa Reds Ladies Junior Youth) was the most memorable match. We conceded a goal from my mistake, but my teammates helped me stay positive. I can't score on my own, but they tied the game to give us a chance to win again. We ended up losing in a penalty shoot-out, which was frustrating, but the tournament served as a reminder that we were a good team that supported each other. It made me proud to be a part of that team.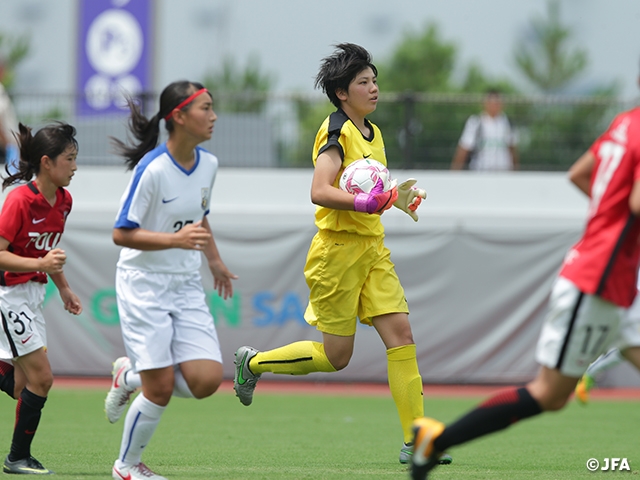 ――What is the significance of this tournament?
OHBA It was an important competition within the Academy, with high school players supporting us and sending messages of support. It is the biggest tournament for the junior high school players, and we worked hard every year to achieve results there. During the tournament, we spent a very special time at J-GREEN Sakai, where we stayed as a team and socialised with other teams. It was also a stage where we could compete with our friends from other teams, so it was a place where we could improve each other.
――How long have you played as a goalkeeper?
OHBA I started playing football as a field player, and I played maybe once during primary school. I was good at dodgeball, so my primary school coach suggested I try out for both a field player and goalkeeper, and I ended up getting selected as a goalkeeper for the academy. It wasn't until I joined the academy that I started to play goalkeeper full-time.
――What is the best thing about being a goalkeeper?
OHBA When I started playing as a goalkeeper, I don't think I really understood the appeal of it. Because our academy was so strong, the ball never came to the goalkeeper at times, which made me feel that it was a boring position. As we moved up to a higher level, it became more and more fun to work with the defenders to prevent goals and to defend together as a team. There are various types of shots, and I enjoy predicting the trajectory of the shot by looking at the direction of the opponent's body angle. It is very satisfying when I get it right to stop a shot.
――You reached the final of the FIFA U-20 Women's World Cup™ in 2022 and were also selected to the Nadeshiko Japan (Japan Women's National Team) for the first time. In addition, you are currently playing for a university in the USA. What are your goals for the future?
OHBA At the FIFA U-20 Women's World Cup™, I was impressed by the level of players of my generation. We may play against each other in future Women's World Cups, so I need to know more about the players and teams of other countries. The level around us is rising and we feel we have to keep up and surpass it. I am currently playing for a university in the US, amongst players who are physically strong and capable of taking shots with enormous power, so I want to try to become a player who can compete at the world level.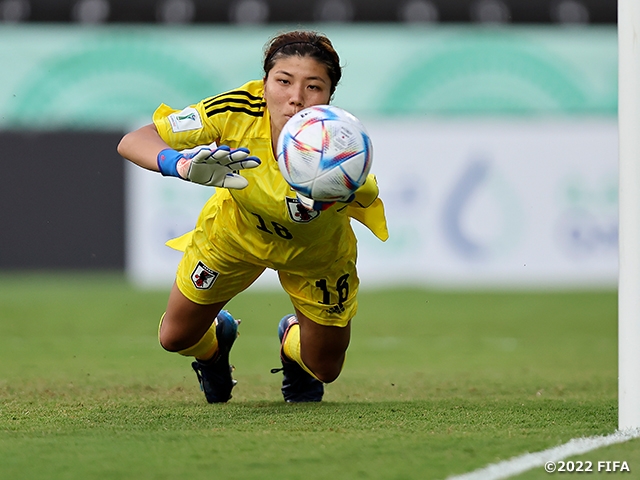 ――Players participating in this tournament had gone through a long period where many of their football activities were restricted due to the pandemic.
OHBA I remember being disappointed when the FIFA U-17 Women's World Cup™ was cancelled, but it made me realise that what we do when we can't play football together is also important. I believe that many players participating in this tournament have made the most of their time when they were not able to participate in team activities due to the pandemic and have taken on new challenges on their own initiative. I hope they can demonstrate what they have developed through that process.
――What would you like to tell the players taking part in the tournament?
OHBA Playing against players you have never met before gives you an idea of your current level, which I think becomes a motivation for you. I still believe to this day that we were able accomplish what we set out to do by working together as a team. You will advance through the competition if you relish the big stage and play without regrets, and when you think back on it in the future, it will be a pleasant memory.
Princess Takamado Trophy JFA 27Th U-15 Japan Women's Football Championship
Tournament Dates: Sat. 10 - Tue. 27 December 2022