NEWS
Interview between SUGITA Hina and YANASE Funa, two graduates of the defending champions Fujieda Junshin High School - The 30th All Japan High School Women's Football Championship
02 January 2022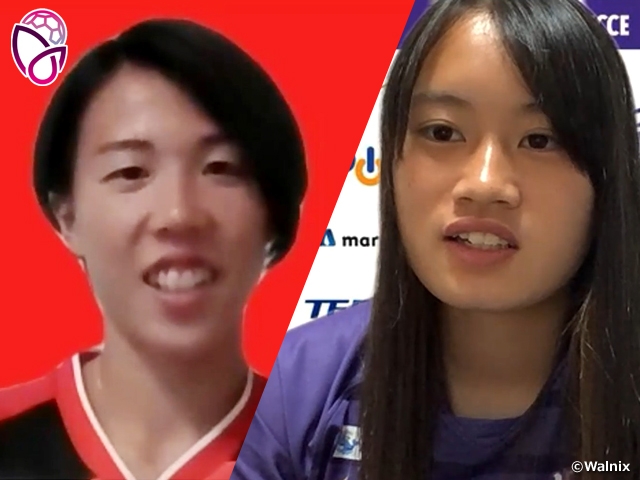 The 30th All Japan High School Women's Football Championship will start on Monday 3 January 2022. Here we will share the interview between SUGITA Hina (INAC Kobe Leonessa) and YANASE Funa (Sanfrecce Hiroshima Regina), who are both graduates of Fujieda Junshin High School, the winner of the last championship.
○This interview was conducted online on 16 November 2021
――You both graduated from Fujieda Junshin High School (Shizuoka), but not during the same time. How well do you know each other?
SUGITA We've played against each other in a pre-season match of the WE League, but we haven't talked much, have we?
YANASE No, but do you remember when you came to Fujieda Junshin's alumni match and you were matched up with me?
SUGITA I think it was when Ibuki (NAGAE Ibuki/INAC Kobe Leonessa) was in her third year? It was a very cold day. I remember that.
YANASE Yes, it was when I was in my second year. I was surprised by how strong you were because I was trying to win the ball, but you kept blowing me away. I remember that I couldn't win the ball at all that day.
――You have both played in the All Japan High School Women's Football Championship since your first year of high school. How did you feel when you were playing?
SUGITA Although I never won the title in my three years, I was allowed to play in the tournament from my first year. I knew that the All Japan High School Women's Football Championship was the last tournament for the third year players, but I think I didn't really understand what to make of it at the time. I knew we had to win, but it was my first big tournament, so looking back, it was a totally different feeling compared to my third year.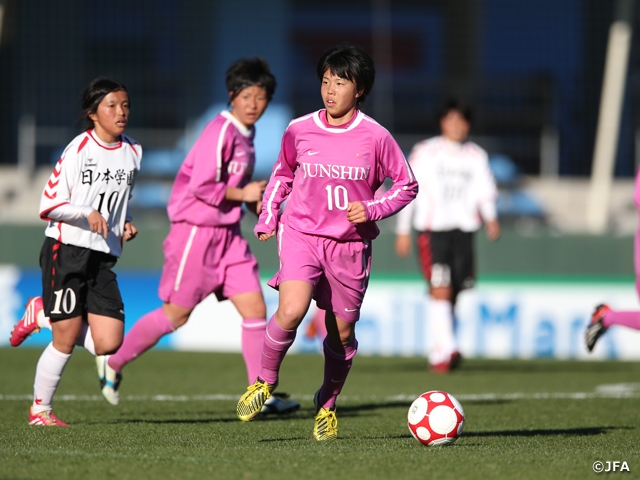 YANASE I joined Fujieda Junshin because I was fascinated by their passing game and the variations in the way the team attacked. I went to see the final of the 26th tournament (2017) where CHIBA Remina (University of Tsukuba) was the captain, and I dreamed of playing on that stage. But the All Japan High School Women's Football Championship ended before I knew it in my first year, after losing in the first round against Tokiwagi Gakuen High School (Miyagi) in penalties.
SUGITA I also lost to Tokiwagi in penalties in my first year. It was a rainy match played in Iwata City. I don't like cold weather, so I wore gloves to protect myself from the cold, but it didn't help at all, and we lost... So, it's a bitter memory for me.
――You both have one thing in common: you were captains in your third year.
SUGITA Although I'm not the type of person who can lead the team.
YANASE But I heard that "Hina-san was the kind of captain who led with her actions."
SUGITA No, it wasn't that impressive. But I don't like to cut corners, so I wanted to work as hard as I could and give 100% in every training session.
YANASE Hina-San and all the other captains were so great that I wondered if I could ever fulfill the role of a captain. Especially because I am also not the type of person that could be a captain.
SUGITA In my case, my teammates encouraged me to continue with my own style, so their presence really helped me.
YANASE I also couldn't have continued as captain without the support of my teammates. In fact, a week or two before last year's All Japan High School Women's Football Championship, it wasn't that we weren't motivated, but our coach said to us, "The team doesn't seem to be coming together at all," which made me wonder what it takes to have a cohesive team. It wasn't until we won our quarterfinal match against Shutoku High School (Tokyo) that we finally felt like we were coming together as a team.
――Do you have any questions for each other?
YANASE I would like to ask Hina-san one thing. After graduating from high school and joining the WE League, I have been feeling that things are not going well and that I am not up to par with the competition, what should I do?
SUGITA I've been down that road myself, so I know how it feels. In my first year, there were many regular members of the Nadeshiko Japan, including SAWA Homare-san (former player of INAC Kobe), so it was very difficult for me to even make the bench, let alone play in a match. In my first year at INAC Kobe, I was asked in an interview "Do you enjoy playing football?" and I was so upset that I answered, "No, not at all."
YANASE How did you overcome that situation?
SUGITA But when I looked back at why I wasn't enjoying myself, I realised that I was holding back and wasn't giving my best efforts. I had less experience than my seniors, so it was natural that things didn't go well, but that shouldn't have held me back from trying, so I knew I had to do the best I could and bring out the best in myself. So even if the first year didn't go so well, I was definitely more competitive and ambitious the next season.
YANASE Wow. I am surprised to hear that.
SUGITA Really?
YANASE For sure! I was full of confidence when I was in my third year of high school, but when I entered the WE League, the level of the players around me was so high that I honestly started to lose confidence…
SUGITA Does that mean we have a chance to attack when we play against Sanfrecce Hiroshima Regina?
YANASE No, I think I will have my confidence back by then. Especially after the good words I received from my senpai. I think things will change from here!
SUGITA I am looking forward for the matchup.
YANASE Even if I am playing on the other side, I will come over to challenge you, so watch out.
――Lastly, do you have any advice or message for the players competing in the All Japan High School Women's Football Championship?
SUGITA For the third year players, it is their last official competition in high school, and for the first and second year players, they may feel pressured to play in such tournament, but once the game starts, I hope they will experience the true joy of football. In order to have fun in the competition, I think it's important to be able to show what you are made of in practice and training matches. I want the players to play the way they enjoy playing.
YANASE I also want the players to have fun. I'm not the type of person who gets nervous, so I smiled and talked to my teammates when we huddled up before the match, and I tried to create an atmosphere where everyone could play comfortably. I think you can change the whole atmosphere by talking to each other, so I hope everyone can enter the tournament with the intention to enjoy the big stage.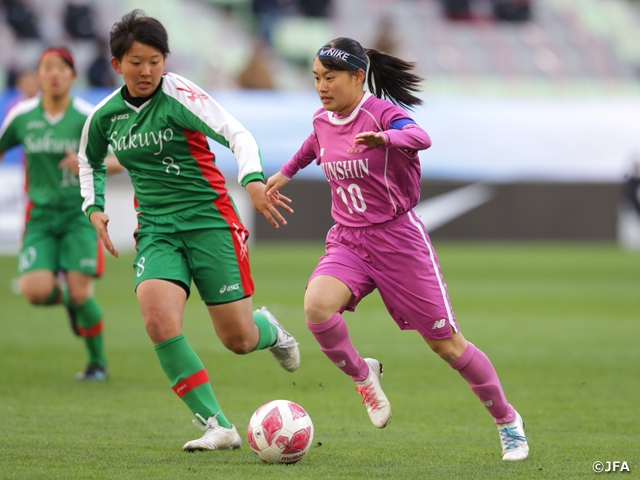 ※The full interview will be published in the tournament programme, which will be available at each venue.
The 30th All Japan High School Women's Football Championship
Date: Mon. 3 - Sun. 9 January 2022
Venue: Miki Sogo Bosai Park, Awaji Sports Park, Ibuki Forest Football Ground, Noevir Stadium Kobe
*All in Hyogo Prefecture