NEWS
Semi-finalists determined at the 29th All Japan High School Women's Football Championship
07 January 2021
The quarterfinals of the 29th All Japan High School Women's Football Championship took place on Wednesday 6 January.
Pick-up Match1
Tokiwagi Gakuen High School 1-3 (0-2, 1-1) Daisho Gakuen High School
The first match played at Miki Sogo Bosai Park Athletic Field featured a fixture between Tokiwagi Gakuen High School (Tohoku3/Miyagi) and Daisho Gakuen High School (Kansai1/Osaka). The match saw early action, as Daisho Gakuen's TAKAGI Rin scored the opening goal in the third minute. The Osaka side continued to create opportunities, as they penetrated the open space behind Tokiwagi Gakuen's fullbacks. In the 30th minute, MIYAMOTO Hinari converted the cross delivered by Takagi to make it 2-0 before the break.
In efforts to rally back, Tokiwagi Gakuen made adjustments during halftime, shifting their defensive shape, and started to utilise more through balls to create chances upfront. The Miyagi side started to find their rhythm by placing YAMAMOTO Yuina in spaces between the opposing defenders. In the 47th minute, Tokiwagi Gakuen took advantage of a passing error committed by the Daisho Gakuen defence line, as TAKATSUKA Ena scored a goal to cut the deficit in half.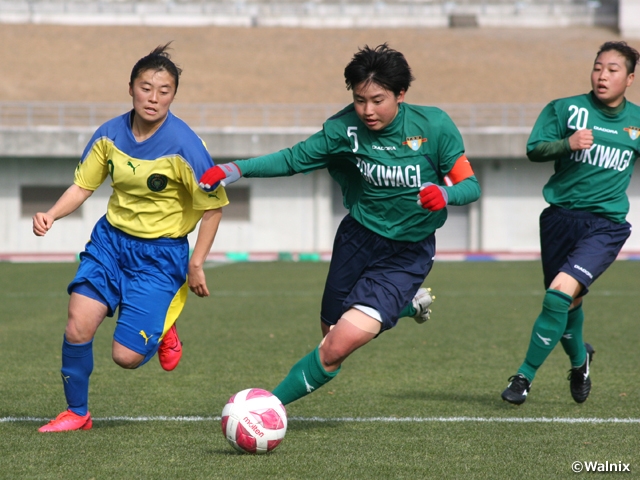 Despite conceding a goal, Daisho Gakuen kept their composure to showcase solid defence, while anticipating for their chances to initiate counterattacks. In the 69th minute, OSUMI Rikka scored the team's third goal from a counterattack, as Daisho Gakuen advanced to the semi-finals with a 3-1 victory.
Pick-up Match2
Japan Soccer College High School 1-2 (0-2, 1-0) Teikyo Nagaoka High School
The second fixture played at Miki Sogo Bosai Park Athletic Field featured a matchup between two Niigata sides, as Japan Soccer College High School (Hokushinetsu2/Niigata) and Teikyo Nagaoka High School (Hokushinetsu1/Niigata) squared off against each other. It was Teikyo Nagaoka who took the initiative in the early minutes, as they showcased great individual skills to keep the ball moving. JSC High School on the other hand, played with great patience to defend against the Nagaoka side, as they collected the ball to INAMURA Yukino who is capable of initiating attacks with her long feeds. The opening goal came in the 34th minute, when Teikyo Nagaoka's SUETSUGU Yui forced a turnover deep in the opposing territory and fired a shot that captured the net. With momentum on their side, Teikyo Nagaoka doubled their lead before halftime, as Suetsugu converted a cross during additional time of the first half.
After extending their lead, Teikyo Nagaoka applied more pressure to contain JSC High School's key player Inamura. With TSUJIHARA Rion marking the midfielder, the Nagaoka side shifted their formation to sustain their two goal lead.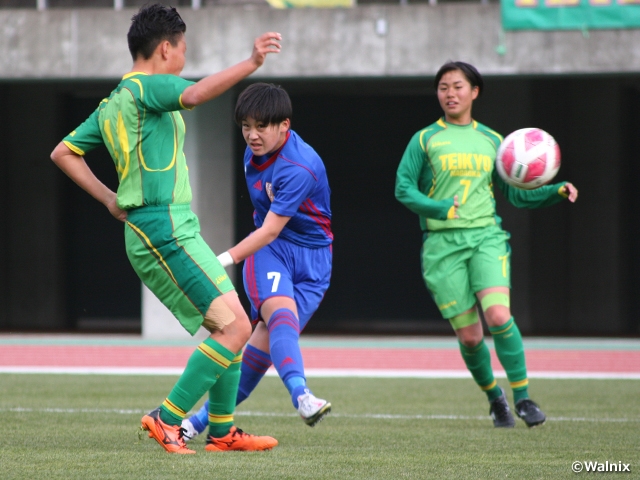 With Teikyo Nagaoka taking a more defensive approach in the second half, JSC High School started to gain momentum in offence, as they successfully connected more passes. In the 47th minute, KITAZAWA Ami struck a lobbing shot from distance that sailed over the head of the opposing GK to cut JSC High School's deficit in half.
Inamura came close to scoring the equaliser in the 49th minute, when she struck a direct FK that almost captured the goal. The two Niigata sides exchanged close opportunities in the remaining minutes, but both ends fell short from scoring another goal, as Teikyo Nagaoka ran away with a 2-1 victory to earn their first ever ticket to the semi-finals. 。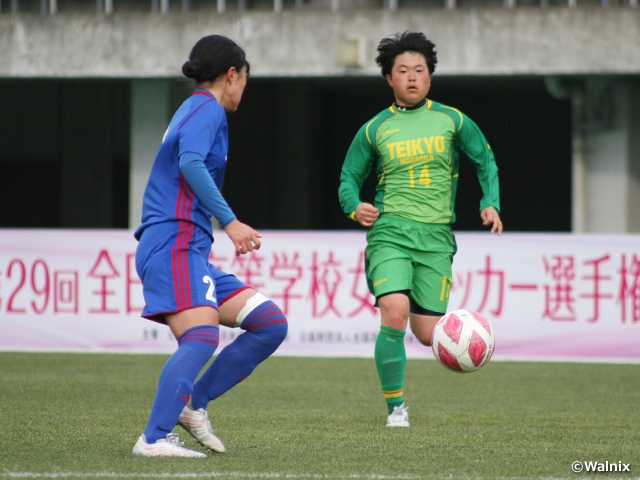 Coaches' Comments
OKAHISA Sho, Coach (Daisho Gakuen High School)
After watching our opponent's game footages, our players were on the same page to exploit the open space behind their 3-4-3 formation. However, it would have been better if we scored one or two more goals during the first half. After conceding a goal in the second half, I got the impression that our players started to play a bit passively. We were not able to make adjustments when our opponent changed their approach, so that is an aspect we can still improve on. Winning the national title has always been our goal, and our players are filled with confidence. I will make sure that our players are not sitting on their laurels and try to allow them to showcase their strengths at the semi-finals.
MATSUNO Tomoki, Coach (Teikyo Nagaoka High School)
Following the prefectural and regional finals, this was our third time facing JSC High School this season. We have always played a close match against them, so we were bracing ourselves to enter PKs today. Despite scoring two goals in the first half, our players looked a bit too eager to win this match and started to lose sight of their roles on the pitch. However, they managed to realise what they need to do after conceding that goal. Our men's team have also reached the semi-finals and their presence have allowed us to make a similar run at the national stage. We are not at the same stage as the men's team, so we hope to win tomorrow's match and give them courage through our performance.
The 29th All Japan High School Women's Football Championship
Tournament duration: Sun. 3 - Sun. 10 January 2021