NEWS
Sakuyo and defending champion Fujieda Junshin advance to final of the 29th All Japan High School Women's Football Championship
08 January 2021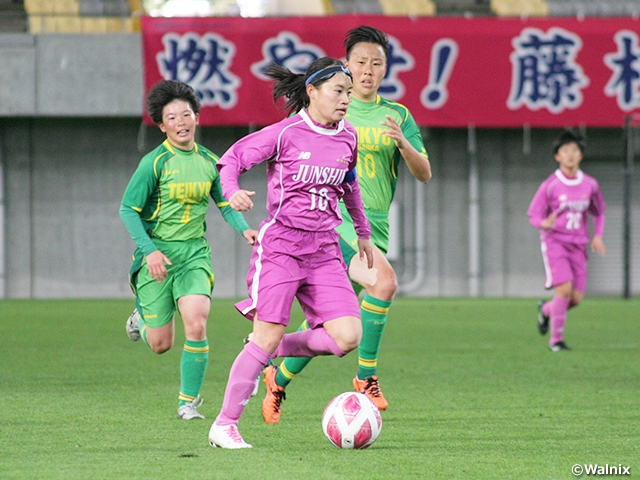 The semi-finals of the 29th All Japan High School Women's Football Championship took place on Thursday 7 January.
Semi-finals 1
Sakuyo High School 2-2 (1-0, 1-2, PK: 4-3) Daisho Gakuen High School
The first fixture of the semi-finals started with Sakuyo High School (Chugoku1/Okayama) taking the initiative through their quick ball movements, but Daisho Gakuen High School (Kansai1/Osaka) showcased solid defence to keep the Okayama side at bay. With Daisho Gakuen swiftly shifting their defence from side to side, Sakuyo struggled to find ways to break through, but their chance arrived during additional time of the first half, when their left fullback HONDA Mikako drove into the box and struck a shot. The shot was once blocked by the GK, but NAKANO Kotone was there to convert the deflection, giving Sakuyo the lead just before the break.
The tides changed after halftime, as the Daisho Gakuen eleven were sent off to the pitch with a pep-talk given by their coach OKAHISA Sho, as he questioned his players, "Do you want to finish like this?" Compared to the first half, where they played rather passively, the Osaka side showed great aggression from the start. In the 51st minute, Daisho Gakuen forced a turnover in the opposing half and delivered a pass to KITAOKA Riari, who fired a shot from 25 metres out to score the equaliser. With momentum on their side, Daisho Gakuen started to show more aggression, which led to the 60th minute goal scored by MIYAMOTO Hinari to take the lead.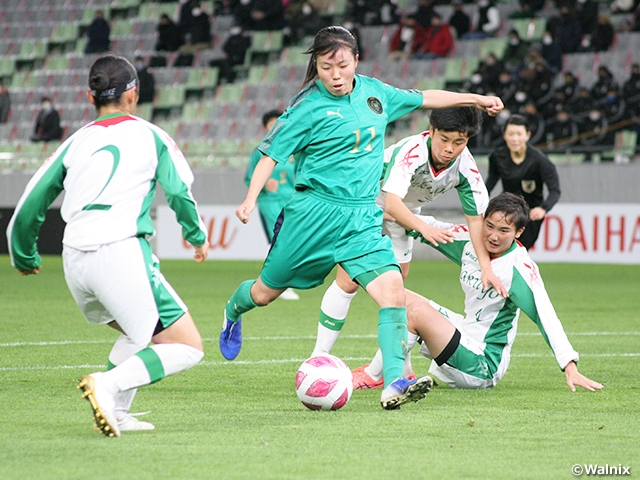 Despite giving up the lead, Sakuyo kept their composure, as their bench players cheered onto the pitch encouraging them to stay positive. In efforts to create opportunities, the Sakuyo players continuously shifted their positions, as coach IKEDA Hiroko mentioned, "We tried to create more situations where our players can face towards the goal." Their persistence was paid off in the 83rd minute, when ESAKI Seira capitalised on a loose ball in front of the Daisho Gakuen goal, levelling the match with just seven minutes left on the clock. Sakuyo High School carried their momentum into PKs to claim the victory, advancing to their first final in three years.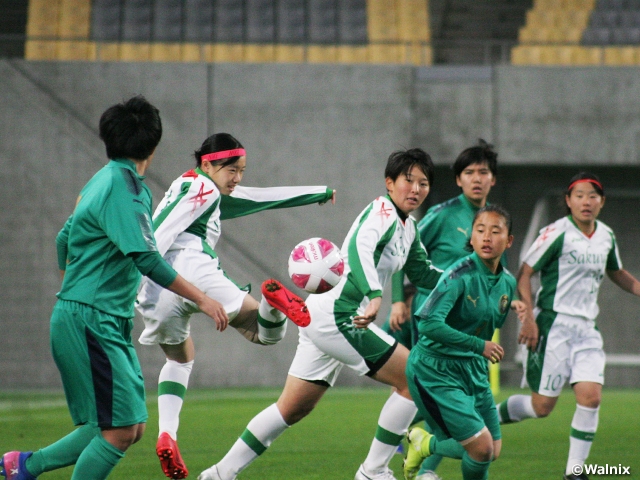 Semi-finals 2
Fujieda Junshin High School 2-0 (1-0, 1-0) Teikyo Nagaoka High School
The second fixture of the semi-finals featured a match between Teikyo Nagaoka High School (Hokushinetsu1/Niigata), who made their first semi-final appearance, and the defending champion Fujieda Junshin High School (Tokai2/Shizuoka).
The opener came in the 20th minute, when Fujieda Junshin's KIMOTO Kokoro converted a loose ball following a CK with a powerful volley shot. After entering halftime with a 1-0 lead, coach TATARA Kazuyuki shifted their system to a three-back formation, as he later explained, "Our opponent was playing two up top and they were creating chances from the flanks, so we needed to add layers in our midfield." With the change, the Shizuoka side applied more pressure in the midfield. In the 61st minute, Kimoto made a run into the left side before sending the last pass to HORI Maya, who redirected the ball into the net to give Fujieda Junshin a two goal lead.
In efforts to rally back, Teikyo Nagaoka sent KOBAYASHI Sari upfront, but failed to score goals. Although the two sides took the same number of shots (seven) throughout the match, it was Fujieda Junshin who took away the victory, as they advance to the final for the second straight year.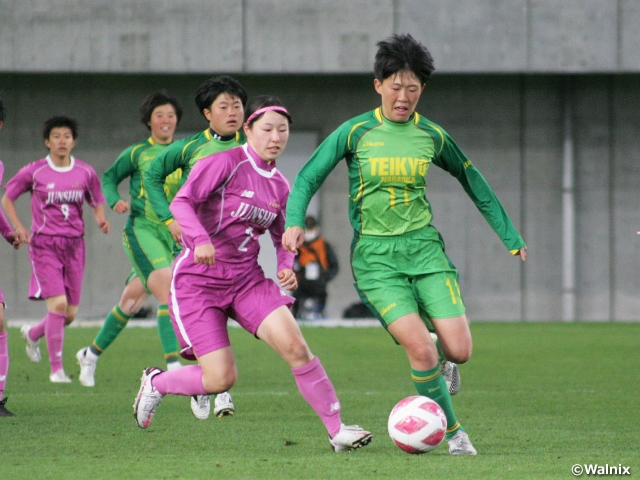 Coaches and Players' Comments
OKAMOTO Ako (Sakuyo High School)
Daisho Gakuen is a strong team, and we were forced to be in the defensive end for a long time, but it was great to see us fight through the entire match. I shifted my position mid-way into the match, from a fullback position to a side half. Our team started to win loose balls from that point, so I was focused on creating opportunities by sending more balls upfront. Today we were not able to display our usual football style, so we hope to showcase a more aggressive football style at the final.
OKAHISA Sho, Coach (Daisho Gakuen High School)
We are simply disappointed. We might have been overwhelmed by the atmosphere and started out the first half playing passively. During halftime, I told my players to win the second balls, and rather than talking about the tactics, I was more focused on the mental aspects. Although we were able to change our mindsets and take the lead in the second half, we let our guards down at the very end. But at the end of the day, our players played really well.
YANASE Funa (Fujieda Junshin High School)
We have been facing tough matches from the first round and despite not being able to showcase our best performances, we have made it this far, and I it really tells how much the team has improved over the matches. We have always kept high pressure and displayed quick transitions, as those are some of the aspects we are determined to showcase at all times. At the final, we will play on behalf of our fellow Shizuoka side, Tokoha University Tachibana High School, who lost to Sakuyo at the first round. We will give our best efforts to defend our title.
MATSUNO Tomoki, Coach (Teikyo Nagaoka High School)
We have created opportunities in the early minutes at every match, and we really had to convert our chance in this match. While we failed to convert our CK, which is one of our strong points, our opponent successfully capitalised on their set-piece. It would have been better if we managed to keep our distance and tempo, but we kept falling behind of our opponent today. We were given a great learning experience today. Throughout this tournament, our players really showcased their character, and reached the semi-finals in our third try. I regret that I couldn't help them through these difficult times, and I hope to be a better coach for them in the future.
The 29th All Japan High School Women's Football Championship
Tournament duration: Sun. 3 - Sun. 10 January 2021