NEWS
NHK Spring Yokohama defeat last year's semi-finalists Cerezo Osaka Sakai to reach the fourth round - Empress's Cup JFA 44th Japan Women's Football Championship
12 December 2022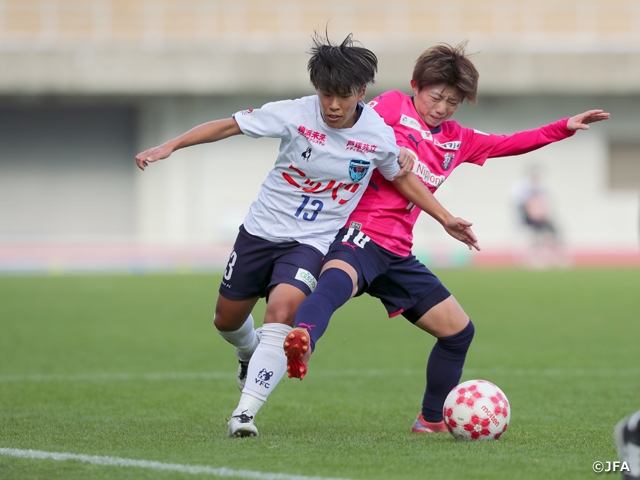 The third round of the Empress's Cup JFA 44th Japan Women's Football Championship concluded on Sunday 11 December. At Hyogo Prefectural Miki Disaster Management Park, two teams from the Nadeshiko League Division 1 clashed for the final seat in the round of 16.
Featured Match
Cerezo Osaka Sakai Ladies 2-3 (1-1, 1-2) NHK Spring Yokohama FC Seagulls
This season, NHK Spring Yokohama FC Seagulls (Nadeshiko 1/Kanagawa), who finished eighth in the Nadeshiko League Division 1, were defeated twice by Cerezo Osaka Sakai Ladies (Nadeshiko 1/Osaka), who finished fourth. The match started with Cerezo Osaka Sakai taking the initiative as SHIRAGAKI Uno and MATSUMOTO Nao fired a number of shots to threaten the opposing goal, and in the 39th minute, TABATA Haruna scored the opening goal to give Cerezo Osaka Sakai the lead.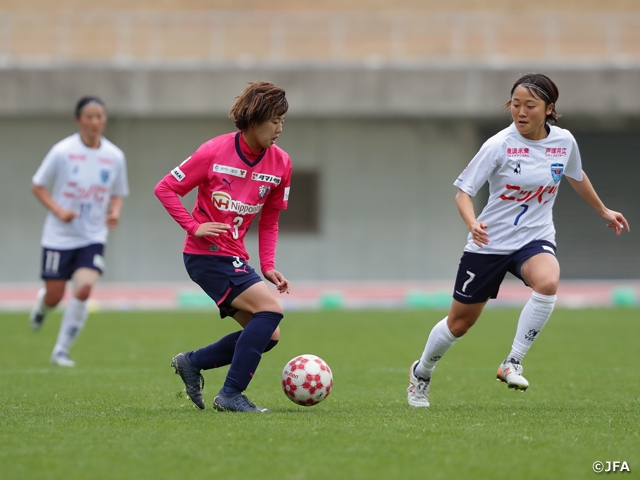 However, NHK Spring Yokohama responded just four minutes later, when HIRAKAWA Anna connected with a corner kick delivered by SAKURAI Madoka. UCHIDA Misuzu was able to capitalise on the deflection after this shot hit the crossbar to equalise the match before halftime.
Last year's semi-finalists, Cerezo Osaka Sakai, came out strong in the second half and regained the lead in the 54th minute when KOYAMA Shinomi assisted Tabata's second goal of the match. In efforts to rally back, NHK Spring Yokohama pressed up their two wingers to add depth to their offence, which led to the equaliser scored by MIYASHITA Nanami, who had announced her retirement after this tournament, in the 66th minute to bring the score back to even.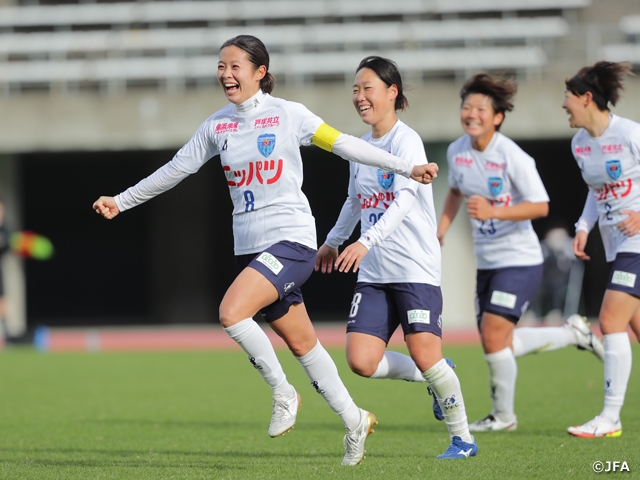 Led by the likes of Koyama and MOMONO Miyuka, Cerezo Osaka Sakai made tenacious efforts to retake the lead for their coach TAKEHANA Tomoya, who is set to retire after the season. However, it was NHK Spring Yokohama who scored the next goal. The decisive moment came in the 81st minute, when KOBAYASHI Hinata responded to a loose ball at the edge of the box and struck a left footed shot that found the back of the net, sending NHK Spring Yokohama to the fourth round with a 2-3 victory.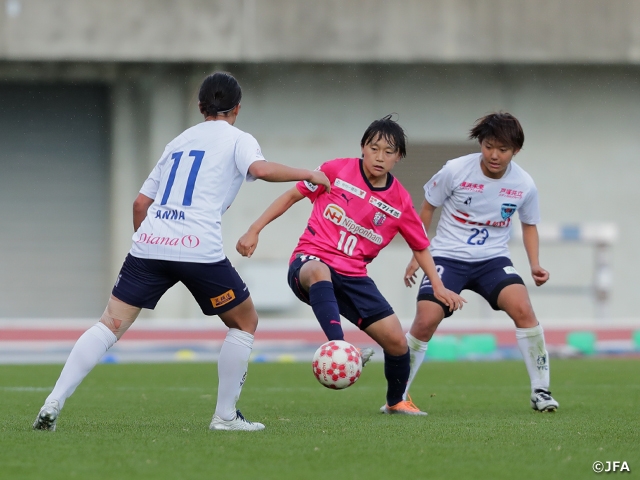 As a result, NHK Spring Yokohama will now face Sanfrecce Hiroshima Regina (WE/Hiroshima) on Sunday 18 December.
Coaches and Players' Comments
TAKEHANA Tomoya, Coach (Cerezo Osaka Sakai Ladies)
For nearly 10 years, we have pursued Cerezo Osaka Sakai's playing style, which put emphasis on front-line press and high intensity. Not just me, but a lot of other people were involved, and the current players gave it their all even though many players left to try out for other leagues. The team's slogan was "Let's go back to Yodoko" (where the final is scheduled to be held), but I regret that I didn't have what it takes to get them there. I am hoping they will dominate the WE League, which they will join next season, with their talent and tough mentality, which they can display even under high pressure.
MF #3 TABATA Haruna (Cerezo Osaka Sakai Ladies)
We believed we had the technical edge, but we were unable to win the match. We need to be more creative in front of the goal, and although we were able to produce some quality attacks, we need to produce more of them if we want to outscore our opponents. Coach Takehana, who has coached me for nearly five years, is like a father figure to me, so I really wanted to win the championship with him. Once we join WE League, we will demonstrate the hard working football style he taught us and prove that he was leading us in the right direction.
DF #8 MIYASHITA Nanami (NHK Spring Yokohama FC Seagulls)
We didn't alter our approach based on the opposition, and we entered the match believing that our momentum from last week would help us win. We never gave up, which is why we were able to come back twice in this match. Although I am a defender, I am always anticipating for my opportunity to take shots. Kobayashi laid off a great ball for me, so I just focused on hitting the ball hard without getting under it. I'm not really thinking about my impending retirement after this competition, and I'm really excited for our upcoming match against Sanfrecce Hiroshima Regina because I've never played against them before.
MF #13 UCHIDA Misuzu (NHK Spring Yokohama FC Seagulls)
Having lost twice to Cerezo Osaka Sakai this season, we were determined not to lose three in a row. I was lucky to score today, but I think it's important that I was at the right place at the right moment, so it was nice to score that goal. Some players will retire after this tournament while others have suffered serious injuries, so we want to enter the next match against Sanfrecce Hiroshima Regina as challengers and strive to showcase our football to win against a WE League team.
Empress's Cup JFA 44th Japan Women's Football Championship
Tournament Duration: Sat. 26 November 2022 - Sat. 28 January 2023
【1st Round】Sat. 26, Sun. 27 November
【2nd Round】Sat. 3, Sun. 4 December
【3rd Round】Sat. 10, Sun. 11 December
【4th Round】Sat. 17, Sun. 18 December
【Quarterfinals】Sun. 15 January 2023
【Semi-Finals】Sun. 22 January 2023
【Final】Sun. 28 January 2023