NEWS
Which teams will earn their right to challenge the WE League clubs? - Empress's Cup JFA 44th Japan Women's Football Championship
09 December 2022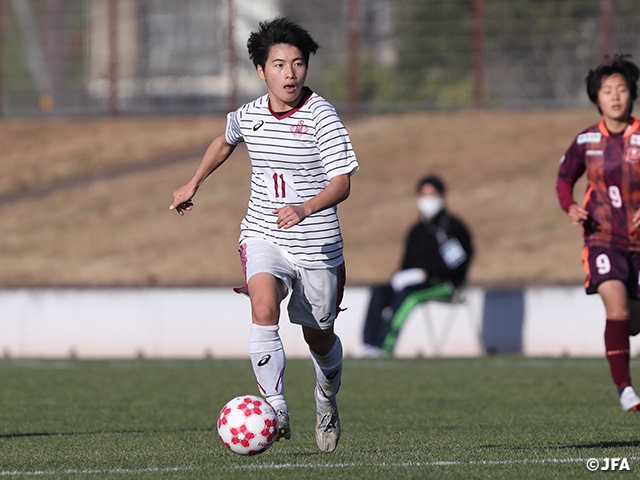 The third round of the Empress's Cup JFA 44th Japan Women's Football Championship will take place on Saturday 10 and Sunday 11 December.
After the second round, seven Nadeshiko League teams, two university teams and one high school team have survived so far. The top three teams in the Nadeshiko League, which entered the competition from the second round, won their respective matches in order to advance to the third round.
Sakuyo High School (Chugoku 4/Okayama) is the only high school team still in the competition. They won their first round against Kamimura Gakuen High School (Kyushu 2/Kagoshima) and defeated University of Tsukuba (Kanto 6/Ibaraki) in the second round. In the third round, they will go up against AS Harima Albion (Nadeshiko 1/Hyogo), who finished third in the Nadeshiko League. Sakuyo High School, who have won both of their matches by a one-goal margin, may have a chance to win if they can keep the game close even against teams from higher categories. The winner of this match will face the inaugural WE League champions INAC Kobe Leonessa (WE/Hyogo) in the fourth round.
The university sides that finished at the top of the fiercely contested Kanto qualifiers are also putting up a strong fight. Toyo University (Kanto 1/Gunma) won 5-0 against Norddea Hokkaido (Hokkaido 1) in the first round and 4-0 against Ange Violet Hiroshima (Nadeshiko 1/Hiroshima) in the second round. Their opponents in the third round are Sfida Setagaya FC (Nadeshiko 1/Tokyo), who claimed their first Nadeshiko League Division 1 title. Which team will win the right to challenge Nojima Stella Kanagawa Sagamihara (WE/Kanagawa) in the fourth round?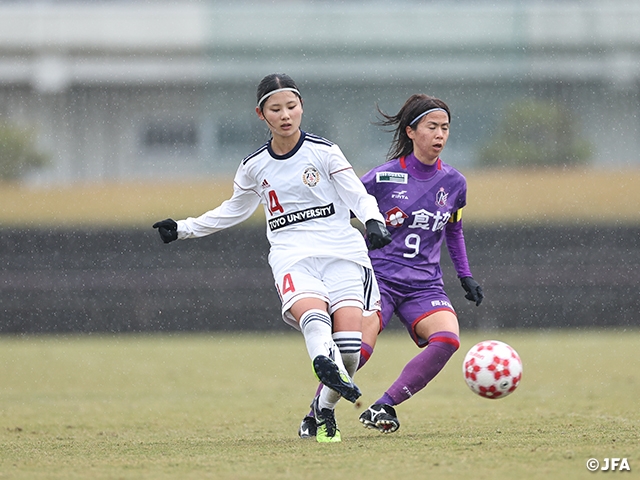 Waseda University (Kanto 2/Tokyo), who finished second in the Kanto qualifiers, won their first two rounds against Bunnys Gunma FC White Star (Nadeshiko 1/Gunma) and Asahi Intecc Loveledge Nagoya (Nadeshiko 1/Aichi), who are both Nadeshiko League Division 1 teams. They will face another Nadeshiko League Division 1 side, Orca Kamogawa FC (Nadeshiko 1/Chiyoda), in the third round. Will Waseda University get their third straight win over the Nadeshiko league teams, or will Orca Kamogawa put a stop to their run? It's certainly going to be a hotly contested match.
Elsewhere, there will be two Nadeshiko League showdowns between Iga FC Kunoichi Mie (Nadeshiko 1/Mie) and Ehime FC Ladies (Nadeshiko 1/Ehime), and Cerezo Osaka Sakai Ladies (Nadeshiko 1/Osaka) and NHK Spring Yokohama FC Seagulls (Nadeshiko 1/Kanagawa).
Which teams will earn their right to challenge the WE League clubs in the fourth round? Please stay tuned.
Empress's Cup JFA 44th Japan Women's Football Championship
Tournament Duration: Sat. 26 November 2022 - Sat. 28 January 2023
【1st Round】Sat. 26, Sun. 27 November
【2nd Round】Sat. 3, Sun. 4 December
【3rd Round】Sat. 10, Sun. 11 December
【4th Round】Sat. 17, Sun. 18 December
【Quarterfinals】Sun. 15 January 2023
【Semi-Finals】Sun. 22 January 2023
【Final】Sun. 28 January 2023