NEWS
Kashima Antlers reach Emperor's Cup Final with win over V-Varen Nagasaki in search for their 21st title - The Emperor's Cup JFA 99th Japan Football Championship
22 December 2019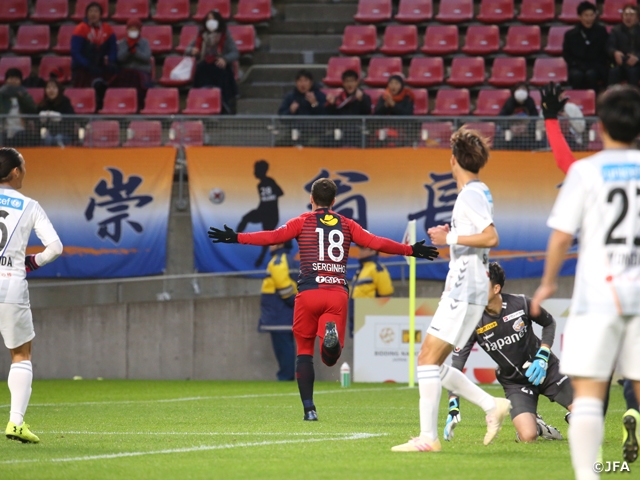 On Saturday 21 December, Kashima Antlers, who is in search for their 21st major title, faced V-Varen Nagasaki at the semi-finals of the Emperor's Cup JFA 99th Japan Football Championship, where they won 3-2 to clinch their spot into the final. Kashima's coach OIWA Go, who has announced his resignation after the season, mentioned, "I told my players that we must continue to strive to become a better team and prepare ourselves so that win can win the final."
The match started with Kashima taking the initiative in the early minutes, as the opening goal was scored by SERGINHO in the fourth minute, when he converted the deflection created by MISAO Kento's shot. In the 23rd minute, a free kick taken by Leo SILVA induced an own goal to double the lead for Kashima, but Nagasaki responded by scoring a goal in the 37th minute to make it 2-1 at halftime.
Kashima converted a corner kick in the 73rd minute to extend their lead but gave up a goal to Nagasaki in the 76th minute to make it a one goal game. However, Kashima managed to hold onto their lead to clinch their spot into the final.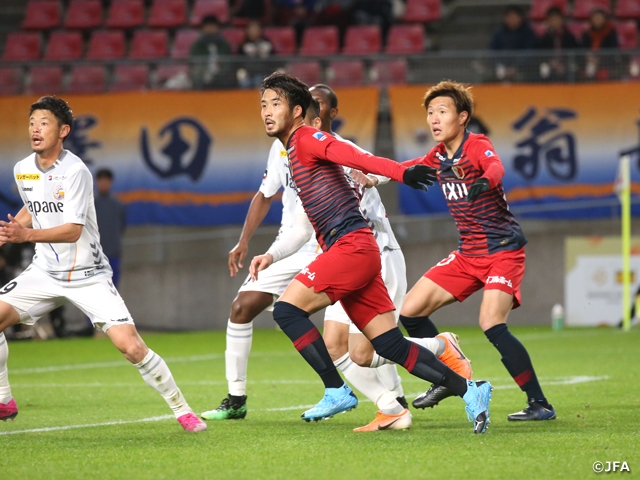 Nagasaki entered this match with a 3-6-1 formation. In the 37th minute, YONEDA Shunya connected with a through ball delivered by YOSHIOKA Masakazu to score the team's first goal. Despite conceding three goals to Kashima, SAWADA Takashi converted the deflection created by GOYA Hiroto's shot to get within a goal against the J1 side. Following their loss, coach TEGURAMORI Makoto mentioned, "We wanted to bring our fans to the new national stadium. I feel sorry for our fans."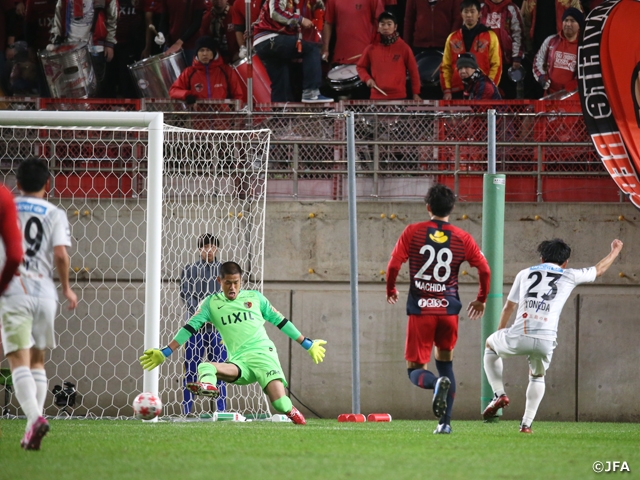 Ahead of the Emperor's Cup final to be played on New Year's Day, coach Oiwa Go shared his aspiration, "We will do whatever it takes to win the match." Kashima Antlers, who showed their dominance during the Heisei era, will seek to win the first Emperor's Cup title of the Reiwa era.
Coaches and Players' Comments
OIWA Go, Coach (Kashima Antlers)
This was a very tight match, so I am glad that we were able to earn our spot into the final. I told my players that we must continue to strive to become a better team and prepare ourselves so that win can win the final. (At the final) I don't care how we achieve it, we will strive to win the match at all costs. The main philosophy of our club is to give our utmost effort for the game in front of us, so we will prepare ourselves in the best way possible.
SERGINHO (Kashima Antlers)
Our coach told me to make runs behind the opponent's defence line. I was able to capitalise on a deflection to score the opening goal and it gave us great momentum during the early minutes of the match. We knew this was going to be a tough match, but we showed great teamwork to support each other, which led us to this victory. The final is fifty-fifty at this point. We will prepare ourselves thoroughly and enter the match with great confidence. We are very fortunate to be able to play at the final, so we will give our best efforts to showcase our football style.
TEGURAMORI Makoto, Coach (V-Varen Nagasaki)
I feel like we were able to put up a close match against Kashima. We managed to execute our game plan to showcase a football style that irritated Kashima, but our opponent was simply the better team. We didn't give up any clear opportunities , but they still managed to score three goals, and that itself shows how strong they are. In order for us to become a force to be reckoned with, we must win matches against teams like Kashima, and today we were able to showcase our potential. The players showed their capabilities ahead of the next season. We will remember this bitterness and strive to become a team that can represent Japan.
YOSHIOKA Masakazu (V-Varen Nagasaki)
We entered the match poorly and conceded an early goal, which is a crucial factor in a cup match. Although we managed to pick up our pace and take control of the game for a while, we lacked quality in the final third to take the lead. We struggled to make our adjustments towards the three-back formation at first, but we worked hard all week to implement the new system, and I feel like it functioned pretty well in this match.
Emperor's Cup JFA 99th Japan Football Championship
【1st Round】Sat. 25, Sun. 26 May
【2nd Round】Wed. 3, Wed. 10 July
【3rd Round】Wed. 14 August
【Round of 16】Wed. 18 September
【Quarterfinals】Wed. 23 October
【Semi-final】Sat. 21 December
【Final】Wed. 1 January 2020